How to make chicken hakka noodles restaurant style perfectly at home
Chicken hakka noodles description:
Chicken Hakka Noodles got its name from the people who invented it. It belongs to Indo-Chinese cuisine (a.k.a. Indian Chinese cuisine). Indo-Chinese cuisine is a fusion of Indian and Chinese food. It is invented by Indian people with Chinese heritage.
They originate from the Hakka region in China. They settled in Kolkata, India. The story dates back to the 19th century during colonial times. A few Chinese families migrated to India for better life.
It is unknown exactly when this particular dish was invented. It has become popular all over India in the last 2-3 decades.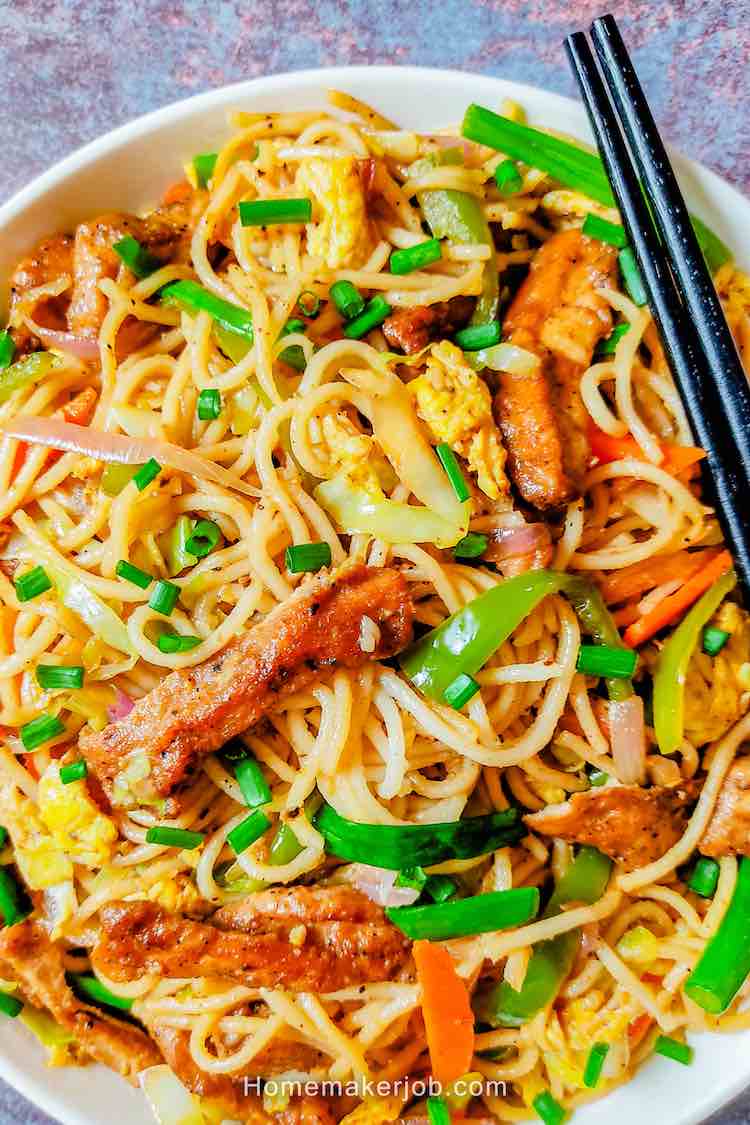 Taste:
It is a fried noodle dish with a light brown color due to the soy sauce in it. It shares a common taste profile with other Indo-Chinese dishes. It has a slightly tangy and salty taste. As boneless chicken pieces are coated with corn flour, they taste crispy and chewy.
The coating also contains egg white, soy sauce, and black pepper. It adds sourness and spice to the taste. The noodles will be dry and soft, fried with different Chinese sauces along with different vegetables. So, all these ingredients together create a tasteful mix of sour, salty, spicy, crispy, and chewy.


Chow Mein vs. Hakka Noodles:
Chow mein is different dish from Hakka Noodles though they are similar in many aspects. Chowmein belongs to the original Chinese cuisine, while later belongs to Indo-Chinese cuisine. There is a difference between the raw noodles used in both recipes.
Hakka noodles is dry in nature, while chowmein is juicy as it has more sauces. Chowmein has a sweeter taste, while hakka noodles are saltier. Chow mein has more vegetables than hakka noodles. There is another difference of green chilies and eggs, which are used in hakka noodles but not in the chowmein.


How to choose right ingredients:
Noodles:
We need special type of noodles for this recipe which are hakka noodles. You should buy an off-the-rack packet of hakka noodles. These are dry, uncooked noodles and can be boiled to make them ready for further use. These are easily available everywhere nowadays. These are specially made for hakka dish. They will give the best texture and taste to the dish.
If you don't get them, you can buy any other Chinese noodles packet.
Avoid noodles like Maggi or any other instant ramen. Use them only if you have no other better option available. Chinese noodles are specifically made to suit Chinese cuisine. They will be thick and non-curly unlike their instant counterparts. They will be non-sticky and will not break easily when cooking. They don't become too soft, even if a bit overcooked.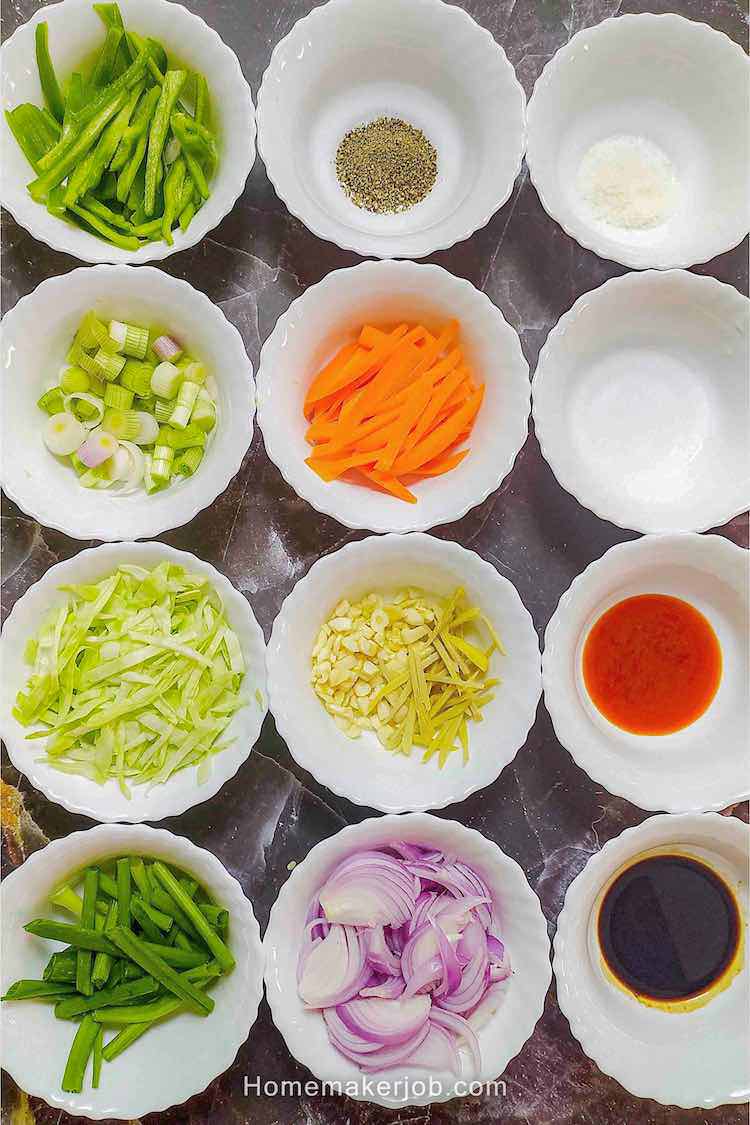 Chicken:
This recipe needs boneless chicken. Chicken breasts are preferred for this recipe. The texture and hardness of the breast part makes it ideal for the chewy taste. Chicken thighs are also fine as long as the pieces are not too soft.
Cut chicken into medium-sized stripes/cuboids or small cubes. Make sure there aren't any bone(s) in any of the pieces. Make the cuts as fine as possible.


Ginger and garlic:
The most common ingredients in Indo-Chinese cuisine are ginger and garlic. Chop garlic into tiny pieces to make ginger julienne.
This is different from the ginger garlic paste. For the marination, we need ginger garlic paste too. It adds a nice aroma to the recipe.


Vegetables:
Carrot, capsicum, and cabbage:
Take a julienne of fresh medium-sized carrots, capsicums, and cabbage.
Onions:
We need two types of onions: regular onions and spring onions. Both spring onions and green onions (scallions) are suitable for this recipe. Choose whichever is available to you.
Regular onions are chopped into thin slices. It mixes with noodles and improves the taste and texture of the dish. Cut the white part of the spring/green onion and put it in a different bowl. Chop it into thin slices. This part brings a touch of sweetness to the taste.
Chinese sauces and spices:
Soy sauce:
Any Indo-Chinese recipe is incomplete without soy sauce. There are few recipes that are exceptions to this rule. Soy sauce adds a sour and salty taste to the recipe. It gives the color to this dish that we see. It adds a nice aroma and increases the acidic profile of the dish.
Red chili sauce:
This sauce is used to add heat to the dish. It is not highly spiced but mildly spicy. It adds a slight red color to the dish.
Vinegar:
White vinegar or rice vinegar is preferable. You can choose any vinegar, except flavored ones.
Black pepper:
Black pepper is a standard ingredient in Chinese recipes to add a spicy taste. If it's not available, you can substitute it with white pepper.


Equipment:
For any Indo-Chinese recipe, wok is the perfect equipment. If you don't have wok, you can use any Kadhai or frying pan. Just make sure it's big enough and has good depth to allow occasional stirring.


Cooking Process:
Boiling the noodles:
Boil the raw noodles for 7 to 8 minutes on medium heat till they become soft. Drain the water. They shouldn't be raw, but they shouldn't be overcooked either. Check for the instructions provided on the packet you purchased. The boiling steps might differ based on what type of noodles you are using.
Spread boiled noodles on a plate and leave them aside to cool down. Follow the instructions in the recipe card for proper boiling.


Marinating the chicken: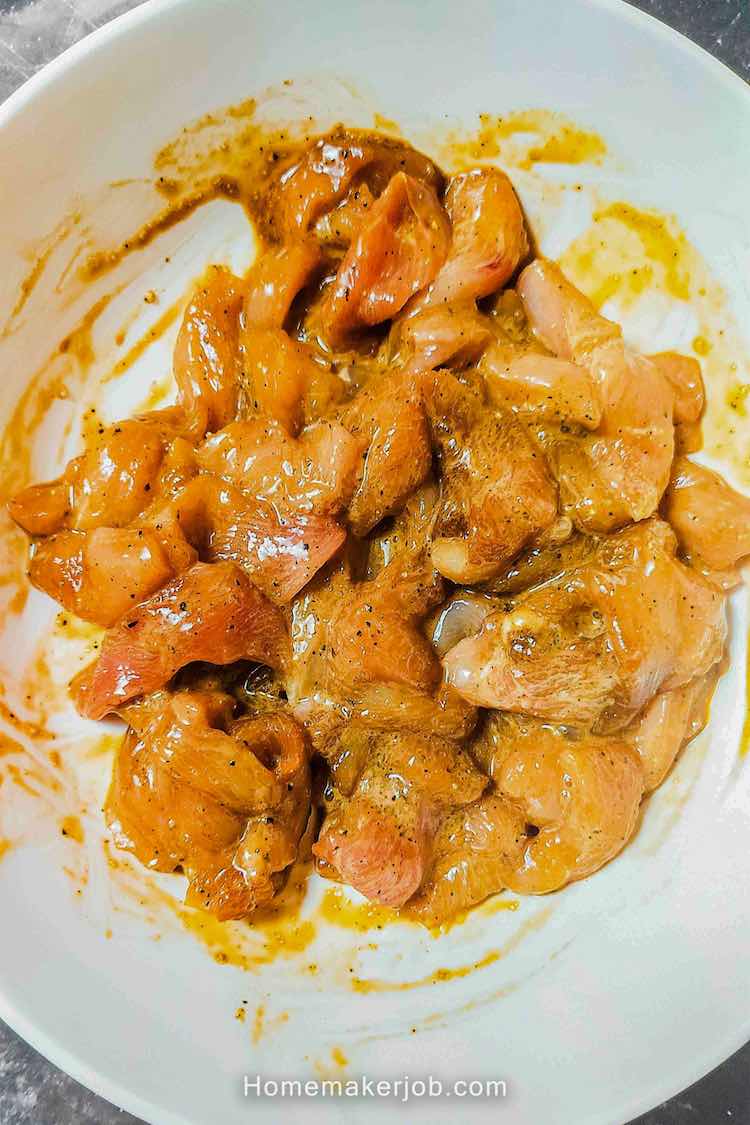 To make the marinade, mix black pepper, soy sauce, salt, egg white, and corn flour together. Follow the exact amounts mentioned in the recipe card to avoid making the coating too thin or too thick.
Too much corn flour can make pieces too hard and difficult to chew.
Make sure all sides of the pieces are covered well with marinade. Leave it for 10 to 15 minutes, so that the chicken absorbs the taste of the ingredients.


Frying:
Authentic Chinese recipes use stir frying like their Indo-Chinese counterparts. In stir frying, ingredients are frequently stirred and tossed in a low amount of very hot oil. You can get away with stirring if you are not an expert at tossing. Just make sure, you keep stirring everything frequently.
Don't let any ingredient sit idle in the wok/pan. You should stop frying once the chicken starts to light brown and the outer coating becomes crispy. Don't fry for longer than necessary, as we'll be cooking it again later.


Making Scrambled Eggs:
Take eggs and beat them well. It is necessary to beat them well so that they become fluffy and soft after cooking. Add it in kadhai/wok and scramble it well.


Serving Suggestions:
This dish will taste the best with schezwan sauce or chutney. Other items like vinegar, chili sauce, soy sauce and green chili sauce etc can be served with the dish. It'll allow if someone wants dish to be spicier or more sour.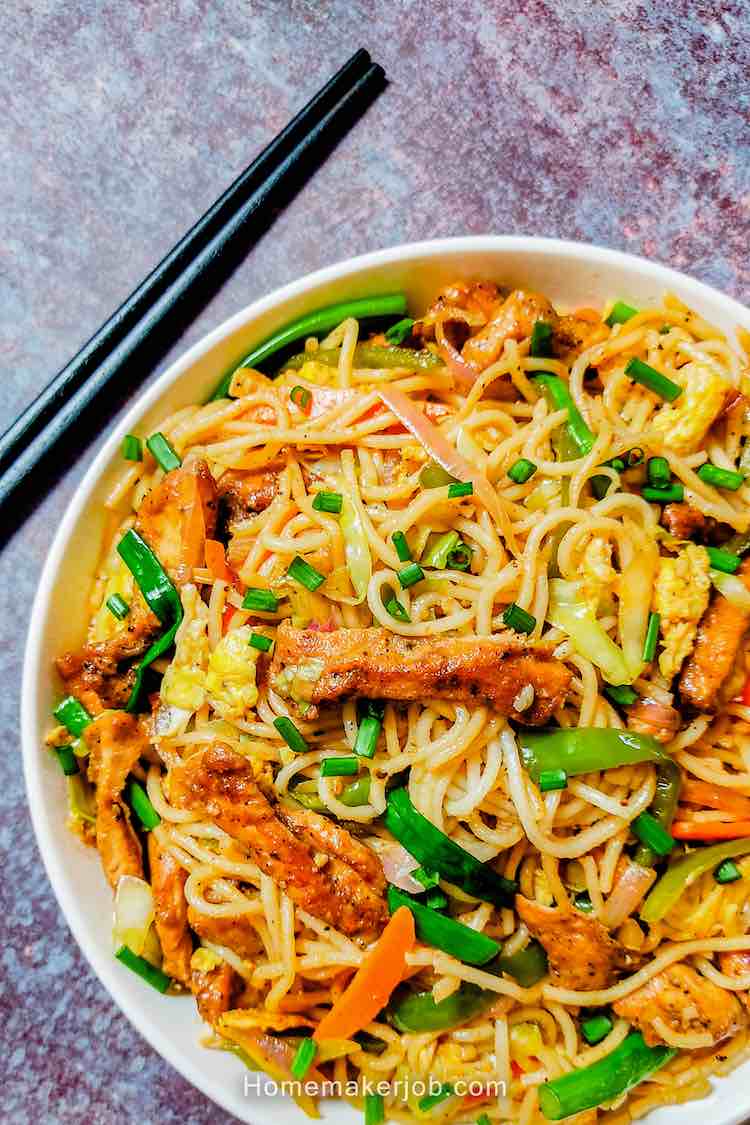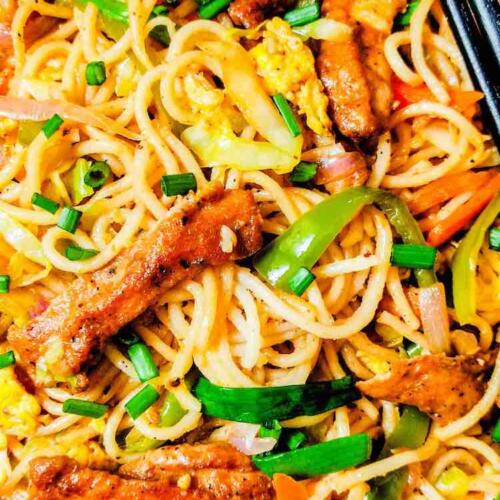 Chicken Hakka Noodles
Chicken Hakka Noodles is one of the most popular street food. Everyone who loves Chinese food might have tried this dish at least once. It has chewy fried chicken, scrambled eggs, crunchy veggies, and sweet and sour sauces. It has a unique taste and if you've never tried it, treat yourself. It needs a bit of preparation and effort, but it is worth it.
Ingredients
To boil the noodles
200

gm noodles

1

tbsp

salt

1

tbsp

oil

8

cup

water

(2 liter approx.)
To fry the chicken
250

gm chicken boneless

1

tsp

soy sauce

½

tsp

black pepper powder

½

tsp

salt

1

tbsp

corn flour

1

egg white

4

tbsp

oil
To make the scrambled eggs
3

eggs

¼

tsp

black pepper powder

¼

tsp

salt
To make the hakka noodles
2

tbsp

oil

1

tbsp

garlic chopped

1

tsp

ginger julienne

4

green chillies sliced

½

cup

onion sliced

¼

cup

carrot julienne

½

cup

capsicum julienne

¼

cup

spring onions whites chopped

1

cup

cabbage shredded

¼

cup

spring onion greens

1

tbsp

soy sauce

1

tbsp

red chilli sauce

1

tbsp

vinegar

1

tsp

black pepper powder

½

tsp

salt
Instructions
Boiling noodles
Take 8 cups water in a big pot and keep it to heat on medium high heat. Bring it to boil.

Add 200 gm hakka noodles and 1 tbsp of salt to boiling water. Let the noodles boil till al dente.

Drain the water and rinse the noodles with cold water to stop them from further cooking.

Add 1 tbsp of oil to the noodles and coat them well, so they don't become sticky.
Frying the chicken and making the scrambled eggs
Take 250 gm of boneless chicken pieces in a mixing bowl. Add 1 tsp soy sauce, ½ tsp black pepper powder, ½ tsp salt, 1 egg white and 1 tbsp corn flour. Combine thoroughly. Leave it aside for about 15 minutes for marination.

Heat 4 tbsp oil in a pan on medium high heat. Gently drop chicken pieces in hot oil and cook them for 7-8 min. Keep turning the pieces while frying to cook them from both sides. Cut the pieces with a knife to check if they are cooked.

Remove chicken pieces once they're cooked and remove extra oil. Keep around 1 tbsp oil in a pan to heat on medium low heat for making scrambled eggs.

Crack 3 eggs in a bowl and add ¼ tsp black pepper powder and ¼ tsp salt. Beat the eggs until combined and smooth.

Pour egg mixture into pan. Keep heat on medium low and let it cook for a few seconds. Use a spatula and start to fold the egg mixture to make scrambled eggs. Keep folding until it's dry and thickened. Remove on a plate and keep aside.
Making chicken hakka noodles
Heat 2 tbsp oil on medium high heat in a pan or wok. Add 1 tbsp of chopped garlic, 1 tsp ginger julienne. Fry for 15-20 seconds. Add ½ cup sliced onion and 4 sliced green chilies. Fry onions for a minute.

Add1/4 cup carrot, ½ cup capsicum, 1 cup cabbage, and ¼ cup spring onion whites. Mix well and fry for 2 min.

Next, add 1 tbsp soy sauce, 1 tbsp red chili sauce, 1 tbsp vinegar, 1 tsp black pepper powder, ½ tsp salt, fried chicken and scrambled eggs. Mix everything well together.

Add the boiled noodles and toss to combine well. Let the noodles cook for a minute.

Finally, add 1 tsp sesame oil and ¼ cup chopped spring onion greens. Toss and mix well with noodles. Let it cook for another 2 min.

Serve hot. Garnish with finely chopped spring onion greens and serve.
Notes
Boil hakka noodles as per your packet's instructions. If you boil noodles for a long time, they will become sticky
Adjust the level of spices as per your taste.
Slice all the veggies to the same size to cook them evenly. Do not overcook veggies, keep them a bit crunchy.
Subscribe with us to get delicious recipes directly to your inbox: