Chicken Manchow Soup Recipe with Dry Fried Noodles
Chicken manchow soup is a popular Indo-Chinese soup dish. This soup is a bit spicy and tastes better when consumed warm. Its ingredients like chicken, veggies, egg, ginger, and garlic make it a delicious and healthy recipe. The soup gets a nice dark brown color because of the soy sauce. It is a very easy recipe to make and is always served with fried noodles.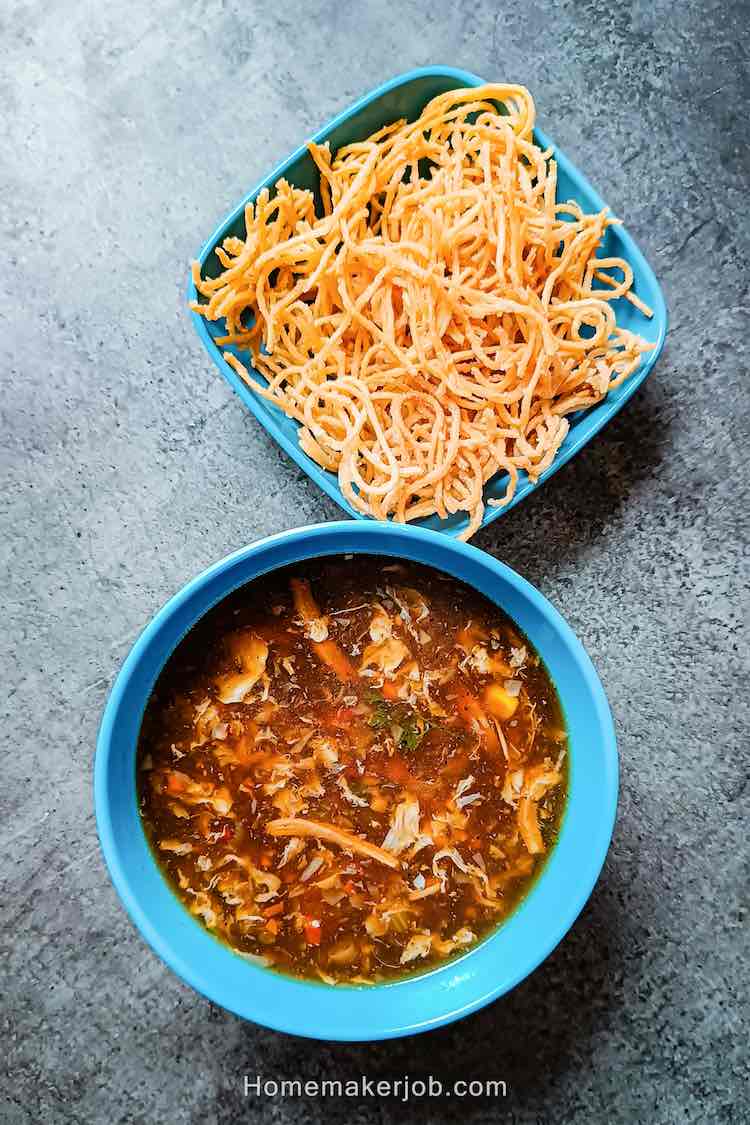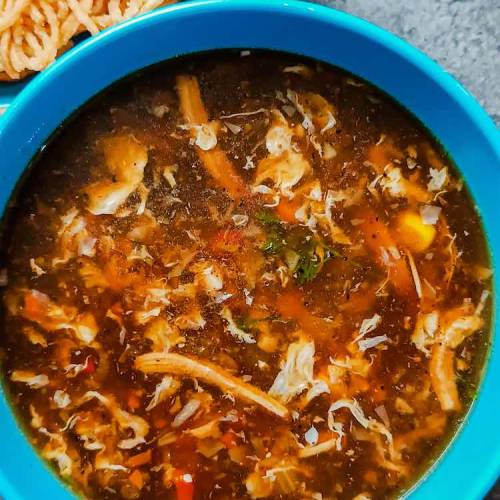 Chicken manchow soup recipe with fried dry noodles
Ingredients
1

cup

chicken

(boiled and shredded)

750

ml

chicken stock

1

tbsp

garlic, chopped

1

tsp

ginger, chopped

1

tsp

green chilies, chopped

½

cup

carrot, chopped

½

cup

cabbage, chopped

¼

cup

mixed capsicum, chopped

(green, yellow, red)

¼

cup

celery, chopped

¼

cup

corns

¼

cup

green onions

(greens and whites chopped)

1

tsp

black pepper powder

½

tsp

salt

2

tbsp

light soy sauce

1

tbsp

dark soy sauce

2

tsp

vinegar

1

tbsp

cornstarch

1

tsp

brown sugar

1

egg, beaten

2

tbsp

oil
Instructions
Heat 2 tbsp oil in a kadai or a wok on a medium high flame. Add 1 tbsp garlic, 1 tsp green chili and 1 tsp ginger and saute for 1 minute.

Add ¼ cup chopped green onions and sauté well. Next, add ½ cup chopped carrot, ¼ cup chopped mixed capsicum, ¼ cup corns, and ½ cup chopped cabbage. Mix well and cook for 2 min. Add ½ cup celery and mix well.

Add 1 tsp black pepper powder and ½ tsp salt. Mix well and cook for a minute.

In a small bowl, mix light soy sauce, dark soy sauce, and vinegar. Add this sauce mix to the kadai and combine well with the veggies. Stir well for a few seconds.

Add the chicken stock and stir well. Then add the boiled shredded chicken to the kadai.

Take 1 tbsp cornstarch in a bowl and add some water. Mix well with the water to make the cornstarch slurry. Stir well to make a lump-free slurry.

Add the cornstarch slurry and 1 tsp brown sugar in the kadai. Stir well for 1-2 min.

Use a spoon and drizzle a beaten egg in manchow soup. Add the chopped coriander leaves and stir well. Cook for a few seconds and keep it aside.

Boil hakka noodles as per packet instructions. Rinse them with cold water and spread them on a plate to dry.

Sprinkle some cornflour on a boiled hakka noodles and toss them well.

Heat oil in the kadai to fry the hakka noodles. Once the oil is hot, add the boiled noodles to the kadai. Fry them till they become crispy and turn slightly golden brown in color.

Serve hot chicken manchow soup with fried noodles.
Notes
You can use only egg whites to drizzle it in the soup.
Add the vegetables of your choice and chop them finely. You can add more ginger if you like.
This soup tastes better when served warm.
Soup should be a little thick. You can add more cornstarch slurry if you want it to be thicker.
Keep stirring the soup occasionally.
You can garnish the soup with chopped green onions.
Don't skip the fried noodles. This soup is incomplete without fried noodles
Subscribe with us to get delicious recipes directly to your inbox: