Chicken manchow soup recipe with dry fried noodles
About Chicken Manchow Soup:
Chicken manchow soup is a popular Indo-Chinese soup dish. This soup is a bit spicy and tastes better when consumed warm. Its ingredients like chicken, veggies, eggs, ginger, and garlic; make it a delicious and healthy recipe. The soup gets a nice dark brown color because of the soy sauce.
It is a very easy recipe to make, and it is always served with fried noodles.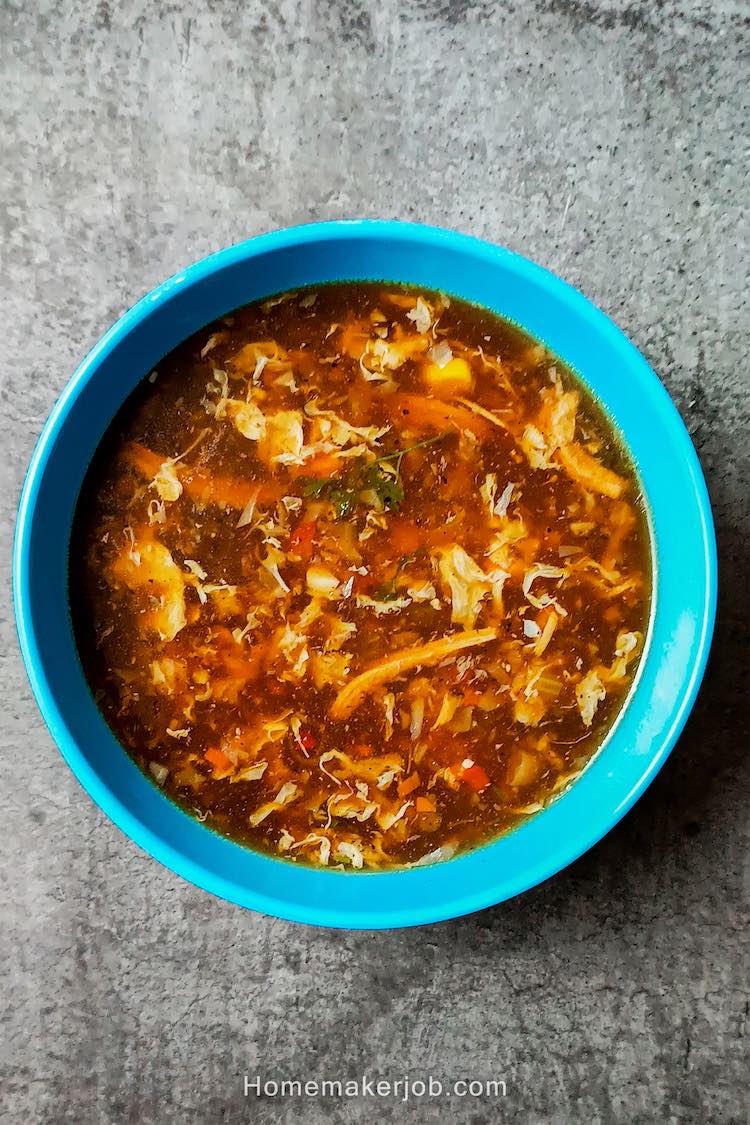 'Manchow soup' is a very noticeable name. The word 'manchow' in the name is assumed to be inspired by the word 'Manchuria', which is a region in China.
It's possible that the word was coined by combining 'manchurian' and 'chow'. The word chow comes from the Taishanese dialect of Cantonese, which means stir-fried. So, it could literally mean 'manchurian fried noodles'.

Actually, it makes sense too, as fried dry noodles are an important part of this dish. Yet, to our surprise, this dish has no connection to actual Manchurian cuisine. You'll not find this dish in the actual region.
The dish most probably originated in India. The exact region of origin within India is unknown, as there is no authentic source for its origin.
Some unofficial sources claim that it originated in Kolkata with the Chinese community that migrated to India a few centuries ago.
Some claims suggest it originated in Mumbai. Some sources claim it originated in Meghalaya, a state in India.
Chicken manchow soup description: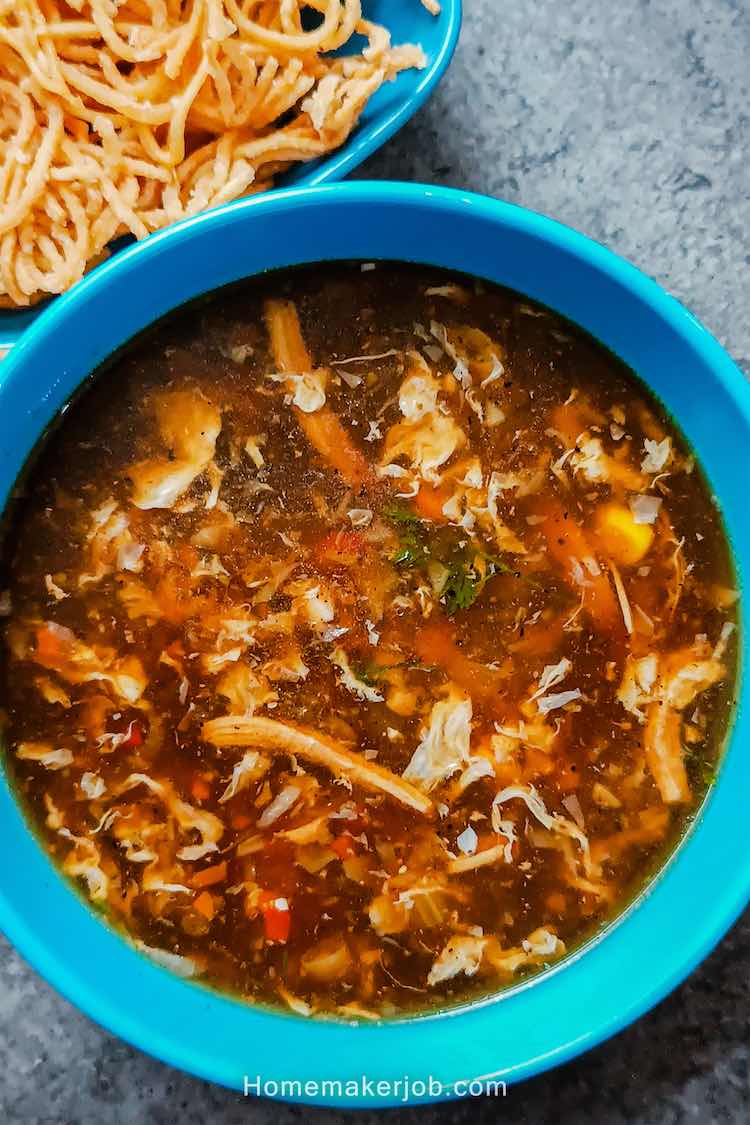 It has a translucent dark-brown color. It has a typical aroma similar to other Indo-Chinese dishes but is a bit strong and sour.
The soup is a bit thick due to the cornflour in it. The small pieces of chopped vegetables and shredded chicken will make it more suitable to eat than drink.
It'll have small floating layers of egg white, similar to milk skin, in it. It makes each sip an amazing experience.
This dish has a sour and slightly hot taste. Lightly fried, crunchy vegetables, especially sweet corn, add a light sweetness. Chewy chicken pieces and floating egg white skin layers give it a rich flavor.
The overall experience of this dish is amazing and cannot be described in words. Try it to know it.

This dish doesn't need an occasion. Though, it can be consumed in any season, its popularity increases in cold weather.
It tastes best when served hot during the winter, when the temperature is low.
Chicken manchow is good for cough. It has ginger and garlic in it, which offer some relief during a cold or cough.
Though it gives relief for some time during a cold or cough, it is neither a remedy nor a cure for either of them.
Chicken manchow soup ingredients: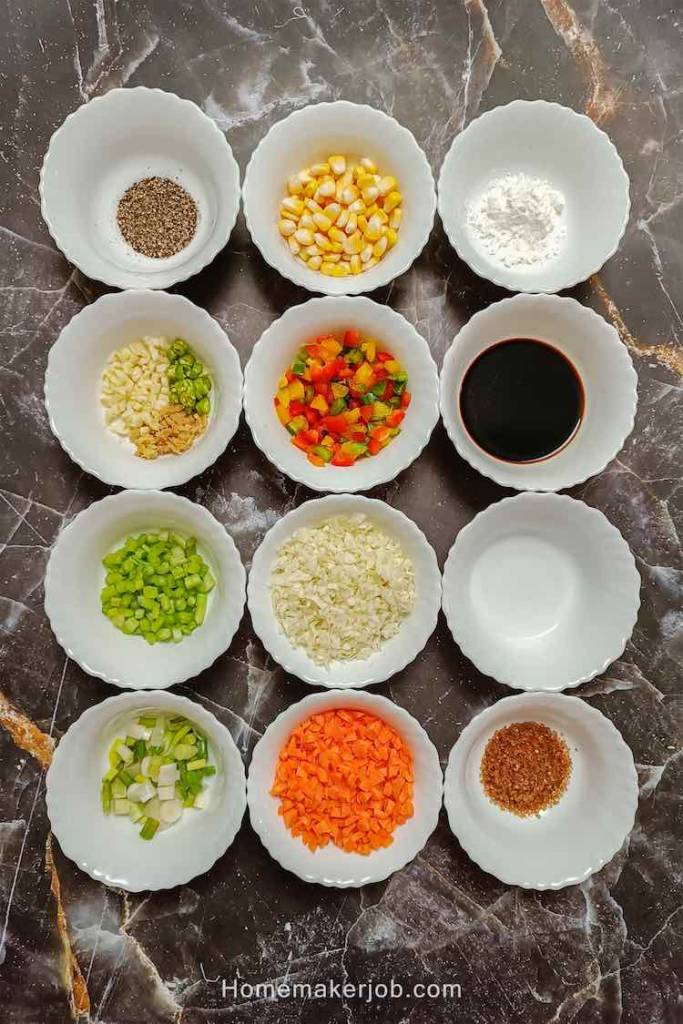 Chicken:
Use boneless chicken for manchow soup. Chicken breast is more suitable for this dish. You can mix boneless pieces of the thigh part if you prefer.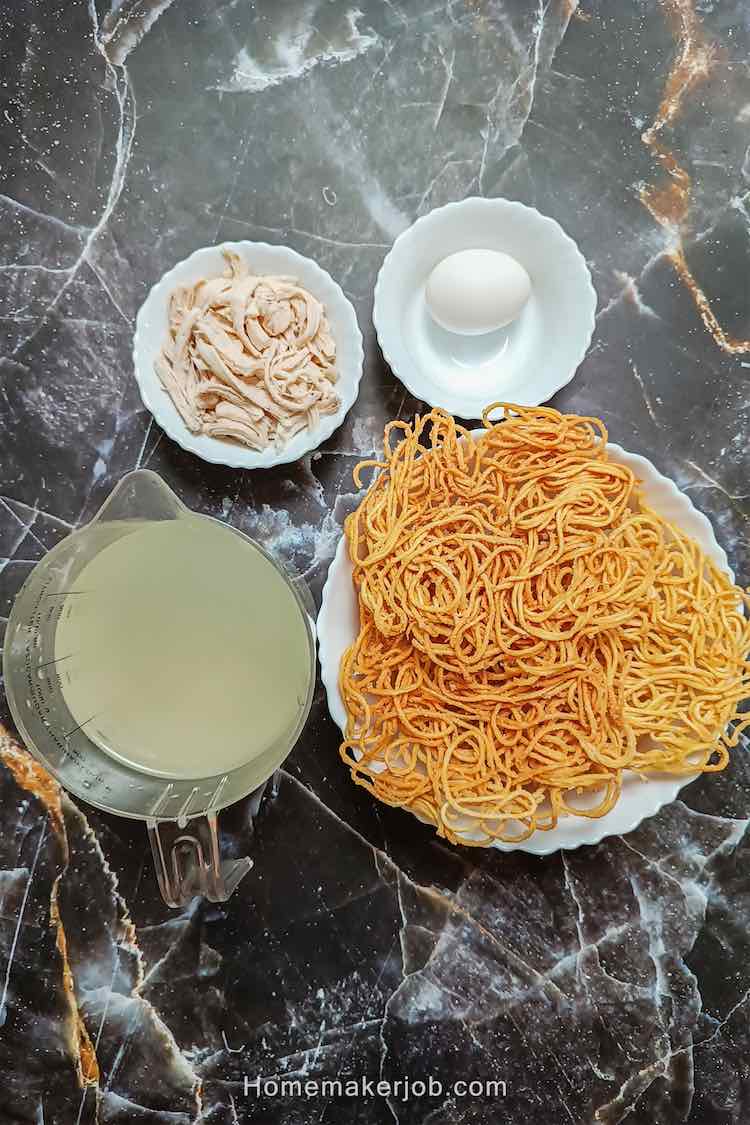 Vegetables and herbs in Manchow soup:
Carrots:
Carrots add sweetness and crunchiness to the taste. Use fresh, medium-sized carrots. Wash and peel the skin. Chop it into extra-small pieces, but not too small.
Keep them big enough so that it's possible to chew them.
Cabbage:
Take fresh, green, leafy cabbage. Chop it into small pieces the same way we chopped the carrots.
Capsicum:
I've taken capsicums of three colors. You can use green capsicum if other colors are not available. Use fresh capsicums.
When choosing capsicums for manchow soup, press them with your fingers. If they feel soft and get pressed without any effort, avoid them.
Choose the hard ones for the best experience.
Sweet corn:
Choose fresh, small sweet corns. The smaller ones will taste sweeter. This ingredient is optional. You can avoid it if you don't like it.
For me, it's tasty and healthy. I like to use it in my manchow recipe.
Celery:
Take some fresh celery. Cut the stems and remove the strings. Chop it into small pieces, like the carrots and cabbage we chopped earlier.
Ginger and garlic:
These are important ingredients in any Indo-Chinese dish. The main base aroma and taste of most Indo-Chinese dishes, is due to ginger and garlic.
Take some fresh ginger and garlic. Choose garlic with bigger cloves.
Green chili and black pepper powder
These are used to make the dish hot in taste.
Optional vegetables:
You can add any vegetable of your choice as long as it doesn't dominate the taste. A few alternatives that come to mind are beans, baby corn (finely chopped), mushrooms, etc.
Avoid vegetables that are not crunchy, cannot be brought down to small pieces, or may dominate the overall taste.
Sauces:
Vinegar and soy sauce:
These are the base sauces for the soup. The dominant taste and color of the soup will be due to these sauces. I've used a mix of both dark and light soy sauce. You can use either or both.
Increase the amount by twice if you're using only light soy sauce. Vinegar is a must.
Other ingredients:
Corn flour:
Corn flour is used to add thickness to the soup. Add a sufficient amount of water to make a thick slurry of corn flour.
Equipment Details:
You'll need a deep pot to boil the chicken and make the stew. It should be large enough to hold a few liters of water.
You'll need a bowl to beat the eggs.
You'll need a wok or kadai to make the soup. Use a utensil with a larger surface area, as it won't trap the steam and won't cook it quickly. We need to give the vegetables enough time to simmer and leave their taste in the soup.
Chicken Manchow Cooking Explanation:
Chicken:
Boil the chicken breast in water and make the chicken stock. Consider the amounts in proportion to the measurements in the recipe card.
Filter the stock and remove the pieces on a separate plate. Shred the chicken into half inch long pieces by hand.
Frying the Vegetables:
Chop all the vegetables into small pieces. Fry them in oil with chopped ginger, garlic, and chili. Don't overcook the vegetables. We need to keep them crunchy.
Beating the egg:
Beat the egg. You don't need to beat it a lot, just enough so that the white and yellow parts are mixed well together.
Making the soup:
Add the chicken stock and shredded chicken to a wok or kadai. Add the sauces and cornflour slurry. After a while, use a spoon to slowly pour the beaten eggs into the soup in a small torrent. Follow a spiral path.
Don't hold your spoon in one place for long. It should form small chunks similar to milk skin. This is important for taste and texture.
Mistakes to avoid:
One of the common mistakes made while cooking manchow soup is not cooking the ingredients enough or cooking too much. Chicken should be cooked well before shedding. A properly cooked chicken will be easy to shred and taste better. It'll also be easier to chew.
Vegetables should be cooked till they get tender, but not too much, as they can get mushy. Overcooking will destroy the taste, texture, and nutrition of the vegetables.
Another mistake is not using enough seasonings. Not using enough seasonings will make the soup taste bland. Use enough seasonings, especially soy sauce and vinegar. They're essential for a soup's flavor.
Adding too much cornflour Avoid adding too much cornflour, as it'll make the soup too thick.
Chicken Manchow Serving Suggestions: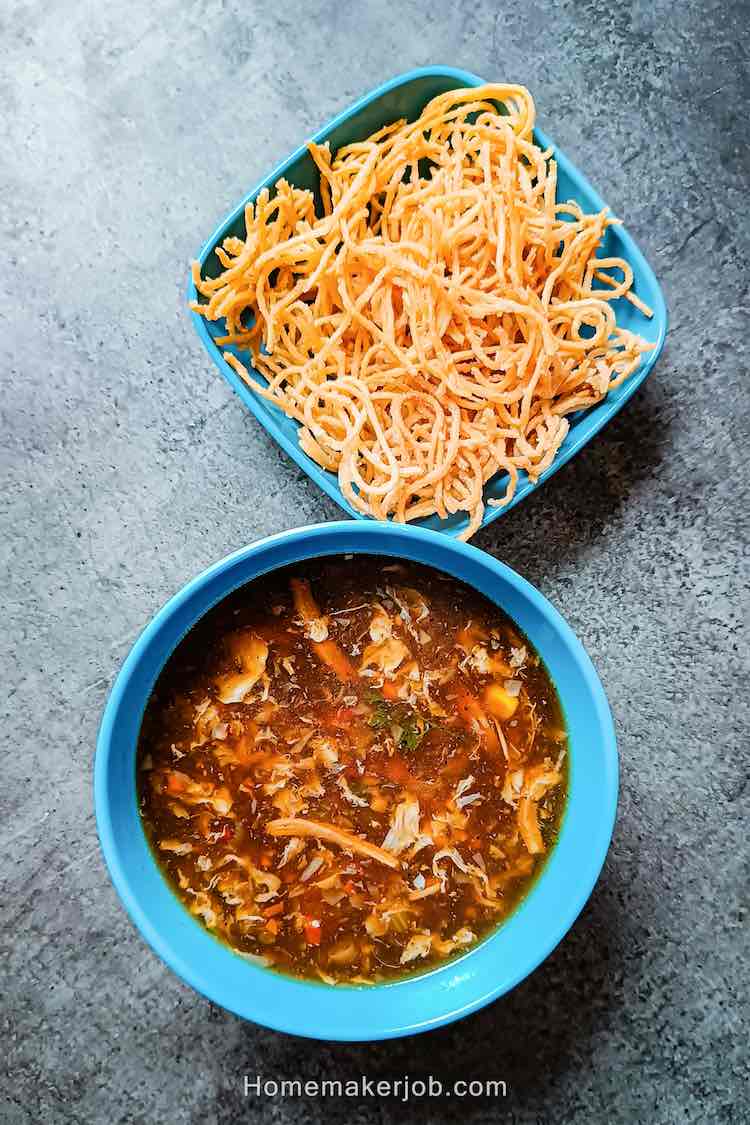 Garnish it by sprinkling some chopped green onions on it. You can use cilantro for garnishing if you prefer.
This soup tastes best with dry noodles. Add some dry noodles to the hot soup and let them soak up the soup. Later, add some dry noodles and keep them crispy. They'll add crunchiness to the soup.
You'll love the experience.
Similar recipes: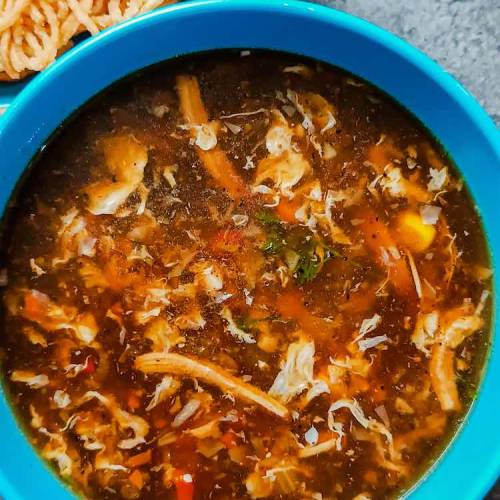 Chicken Manchow Soup: A Delicious and Warming Soup with Dry Fried Noodles
Chicken manchow soup is one the highly popular Indo-Chinese recipes. You'll find it on the menu of any Indo-Chinese restaurants.
Ingredients
1

cup

chicken

(boiled and shredded)

750

ml

chicken stock

1

tbsp

garlic, chopped

1

tsp

ginger, chopped

1

tsp

green chilies, chopped

½

cup

carrot, chopped

½

cup

cabbage, chopped

¼

cup

mixed capsicum, chopped

(green, yellow, red)

¼

cup

celery, chopped

¼

cup

corns

¼

cup

green onions

(greens and whites chopped)

1

tsp

black pepper powder

½

tsp

salt

2

tbsp

light soy sauce

1

tbsp

dark soy sauce

2

tsp

vinegar

1

tbsp

cornstarch

1

tsp

brown sugar

1

egg, beaten

2

tbsp

oil
Instructions
Heat 2 tbsp oil in a kadai or a wok on a medium high flame. Add 1 tbsp garlic, 1 tsp green chili and 1 tsp ginger and saute for 1 minute.

Add ¼ cup chopped green onions and sauté well. Next, add ½ cup chopped carrot, ¼ cup chopped mixed capsicum, ¼ cup corns, and ½ cup chopped cabbage. Mix well and cook for 2 min. Add ½ cup celery and mix well.

Add 1 tsp black pepper powder and ½ tsp salt. Mix well and cook for a minute.

In a small bowl, mix light soy sauce, dark soy sauce, and vinegar. Add this sauce mix to the kadai and combine well with the veggies. Stir well for a few seconds.

Add the chicken stock and stir well. Then add the boiled shredded chicken to the kadai.

Take 1 tbsp cornstarch in a bowl and add some water. Mix well with the water to make the cornstarch slurry. Stir well to make a lump-free slurry.

Add the cornstarch slurry and 1 tsp brown sugar in the kadai. Stir well for 1-2 min.

Use a spoon and drizzle a beaten egg in manchow soup. Add the chopped coriander leaves and stir well. Cook for a few seconds and keep it aside.

Boil hakka noodles as per packet instructions. Rinse them with cold water and spread them on a plate to dry.

Sprinkle some cornflour on a boiled hakka noodles and toss them well.

Heat oil in the kadai to fry the hakka noodles. Once the oil is hot, add the boiled noodles to the kadai. Fry them till they become crispy and turn slightly golden brown in color.

Serve hot chicken manchow soup with fried noodles.
Notes
You can use only egg whites to drizzle it in the soup.
Add the vegetables of your choice and chop them finely. You can add more ginger if you like.
The manchow soup tastes better when served warm.
Soup should be a little thick. You can add more cornstarch slurry if you want it to be thicker.
Keep stirring the soup occasionally.
You can garnish the soup with chopped green onions.
Don't skip the fried noodles. Manchow soup is incomplete without fried noodles
Subscribe with us to get delicious recipes directly to your inbox: