Chicken lung fung soup | Chinese dragon phoenix soup recipe
Chicken lung fung soup is an Indo-Chinese soup that is very delicious and easy to make. It has a sour and mildly spicy taste. The soup is transparent brown in color, and the egg whites look like floating icebergs on the surface of the soup. It is very similar to other Indo-Chinese soups, but ginger and black pepper give it a nice, strong taste. Black pepper powder and green chilies give a hot and spicy taste to the dish. Follow my recipe to make this very simple, easy, and delicious soup at home.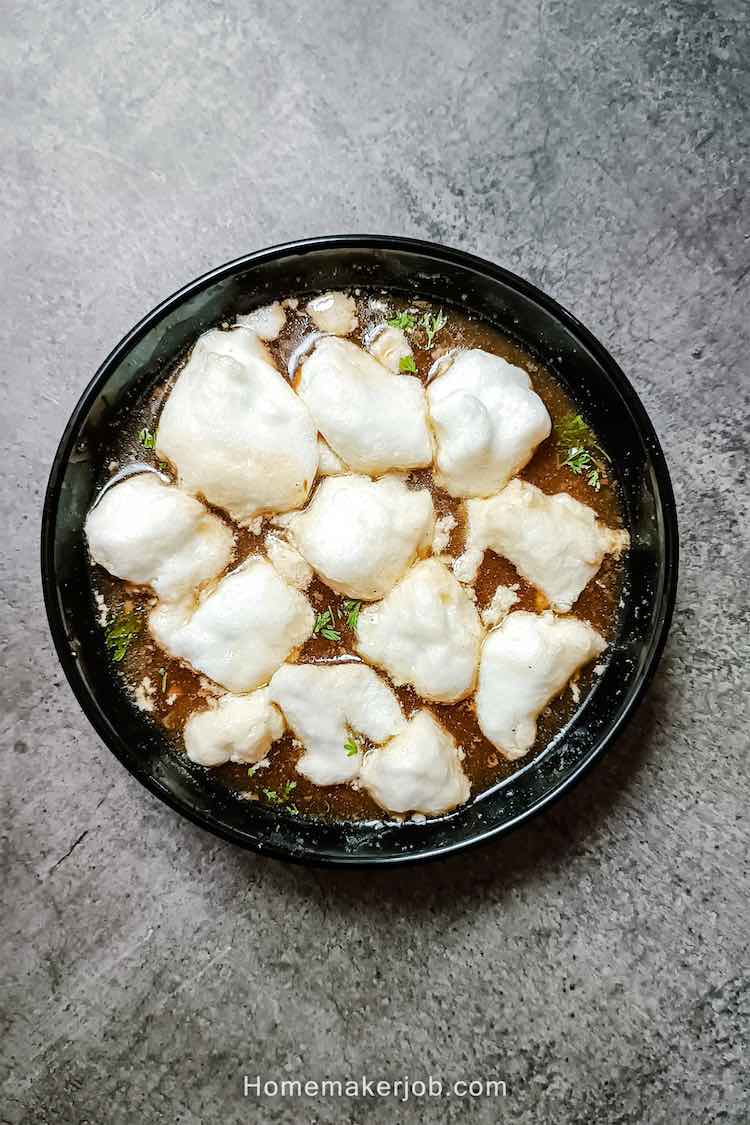 Similar recipes: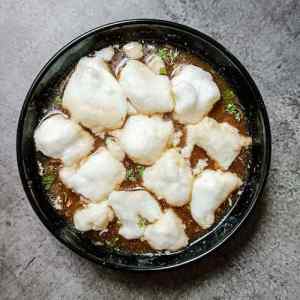 Chicken lung fung soup | Chinese dragon phoenix soup recipe
Chicken lung fung soup is a delicious Indo-Chinese soup. It is also known as Dragon phoenix soup. This recipe is very simple and easy to make. This unique dish is tasty and healthy. Follow my recipe step by step to make this comforting and flavorful soup at home.
Ingredients
100

gm

chicken, finely chopped

1

tsp

oil

1

tbsp

garlic, chopped

1

tsp

ginger, chopped

1

tsp

green chili, chopped

½

tsp

black pepper, coarse powder

¼

tsp

salt

1

tbsp

dark soy sauce

4

tbsp

cornflour slurry

1½

cup

chicken stock

1

egg white
Instructions
Heat 1 tsp oil in a kadai on medium heat.

Add 1 tbsp chopped garlic, 1 tsp chopped ginger, and 1 tsp chopped green chili. Stir well and cook for 15-20 seconds.

Add the chopped chicken to a kadai and mix well. Fry for 4 min.

Next, add ¼ tsp salt and ½ tsp black pepper powder. Mix well. Then add 1½ cup chicken stock and let it boil for 2 min.

Add 1 tbsp dark soy sauce and 1 tbsp corn flour to a bowl. Add ¼ cup water and mix well together to make a slurry.

Stir the boiling chicken stock and add the slurry to it. Keep stirring and boiling for a minute.

Place 1 egg white in a small bowl. Beat till you get thick and foam like texture of the egg whites.

Turn the heat to low and gently drop the foamed egg whites into the soup. Use a spatula or a spoon to break the egg whites into small portions.

Boil the soup for another 1-2 min and turn off the heat.

Transfer lung fung soup to a serving bowl and serve hot.
Notes
Let it boil for some more time if you like it thick in texture.
You can add chopped coriander leaves to the boiling soup or garnish with coriander if you like, but it is an optional step.
Add more ginger if you want a strong taste.
Use boneless chicken and cut it into very small pieces.
Subscribe with us to get delicious recipes directly to your inbox: