Chicken lung fung soup | Chinese dragon phoenix soup recipe
Chicken lung fung soup, a.k.a. dragon phoenix soup, is an Indo-Chinese soup that is very delicious and easy to make. It has a sour and mildly spicy taste.
The soup is transparent brown in color, and the egg whites look like floating icebergs on the surface. It is very similar to other Indo-Chinese soups, but ginger and black pepper give it a nice, strong taste.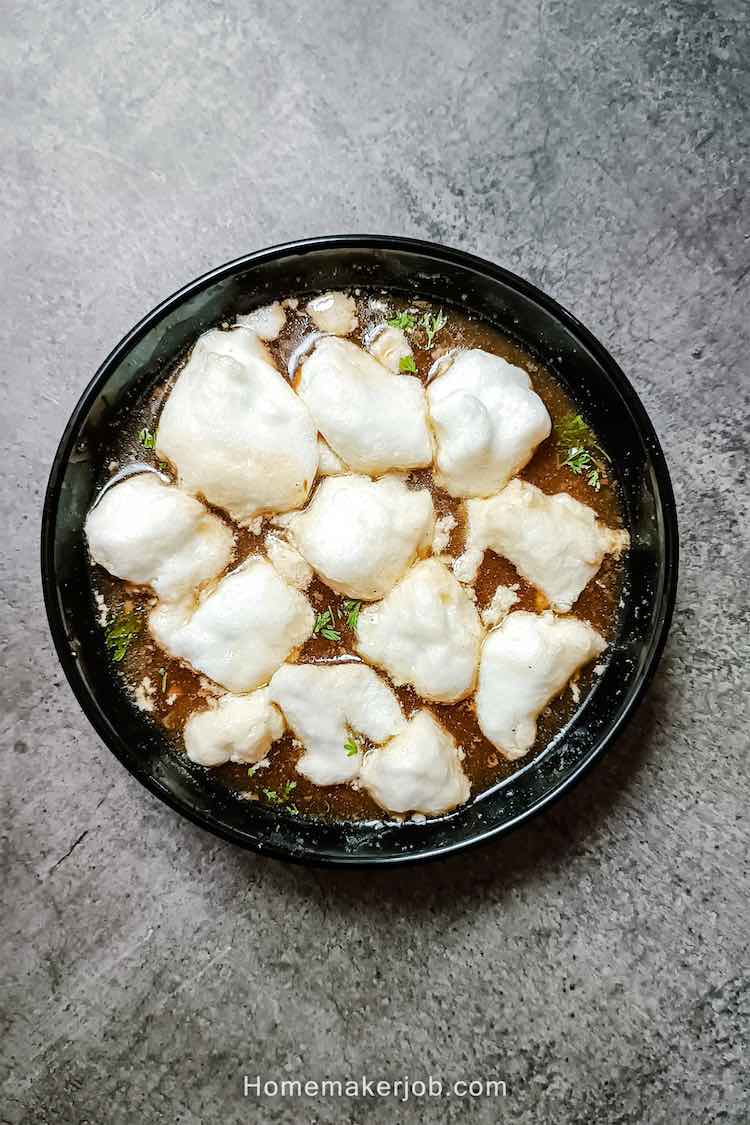 Black pepper powder and green chilies give a hot and spicy taste to the dish. Follow my recipe to make this very simple, easy, and delicious soup at home.
About lung fung soup ingredients: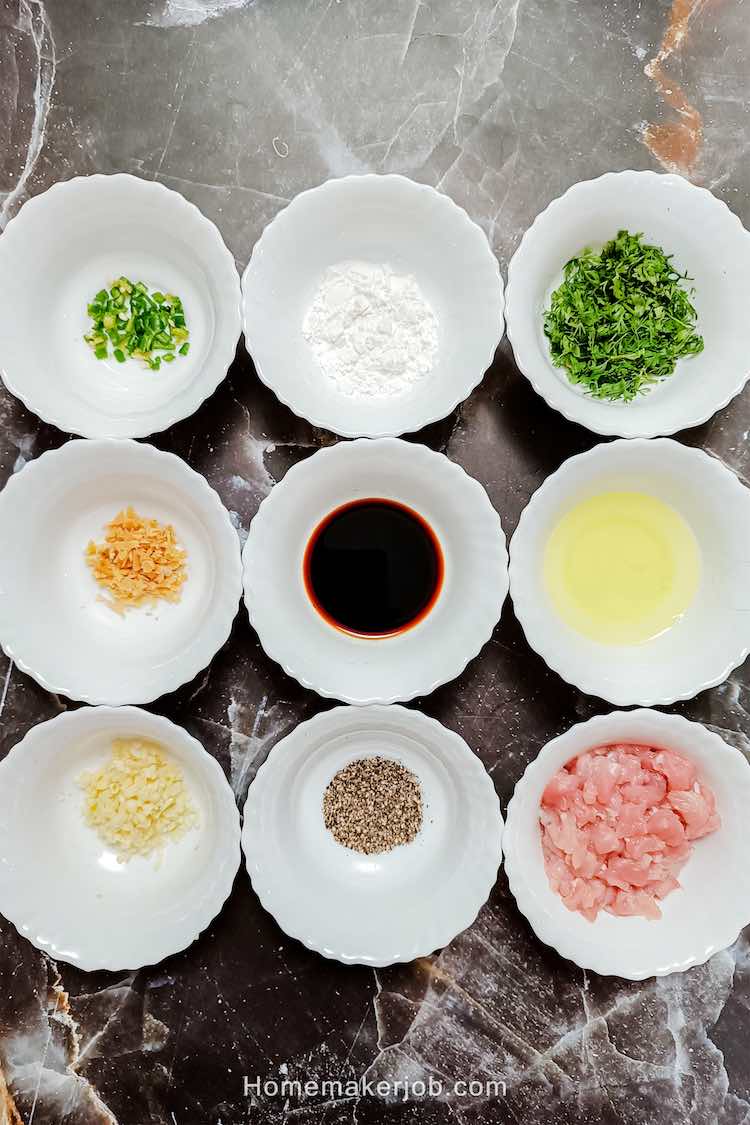 Chicken:
You should use boneless chicken for this recipe. Usually, bone-in chicken has a better taste, but boneless chicken is more suitable for soups. Boneless chicken makes it easier to consume the soup, resulting in a better eating experience. Moreover, Chinese soups are usually made with boneless chicken.
Ginger garlic:
Ginger and garlic are the base ingredients for most Indo-Chinese dishes. Most of these dishes will start with either ginger-garlic paste or a chopped ginger-garlic combo. This recipe is no exception.
Choose fresh ginger and garlic. Make sure they don't have any bad smells or aren't rotten.
Green chili:
Green chili is used for its spicy and hot flavor. You can choose green chilies based on your preferred level of heat. You can use chili flakes for an extra-hot flavor.
Black or white pepper powder:
You can use either of the two, whichever is available to you. I've used black pepper powder. It adds a hot and spicy flavor. In Indo-Chinese recipes, black or white pepper powder is preferred instead of chili powder to add a spicy and hot flavor.
Dark soy sauce:
Dark soy sauce adds a dark brown hue to the soup. It has a stronger flavor and color density compared to light soy sauce. Its flavor is sour, a bit salty, and sweet. It gives bold umami flavor, aroma, and color to the recipe.
Chicken stock:
I've used chicken stock instead of water. I think it's a better choice, as it gives a better taste to the dish. Unlike water, it doesn't dilute the taste of the dish, and it gives it more complex flavors.
Egg white:
We need only the white part of the egg for this recipe, not the yellow yolk. It's needed to make the white foam pieces floating in the soup. Make sure that the egg is fresh.
Salt:
Salt enhances the taste, like in any other dish. Be careful when using salt, as we're using dark soy sauce, which is already salty. So, adjust the amount of salt as per your preferred taste.
How to make lung fung soup:
Cutting the chicken pieces:
First, trim any excess fat from the chicken to avoid an overly greasy soup. You can either shred the chicken or cut it into strips. Try to keep these pieces as equal as possible. This ensures uniform cooking. Don't keep them too big.
Chop ginger, garlic, and green chilies:
Chop them in very small pieces. Keep their size smaller than the size of cut (or shredded) chicken pieces.
Making the black pepper powder:
Roast the black peppers on slow gas in a pan for 3 minutes. Grind them to make a coarse powder. Don't make it too fine; keep it a bit thick.
You can use the ready-made powder from the market, but I prefer making it with the above-mentioned process.
Making the corn starch slurry: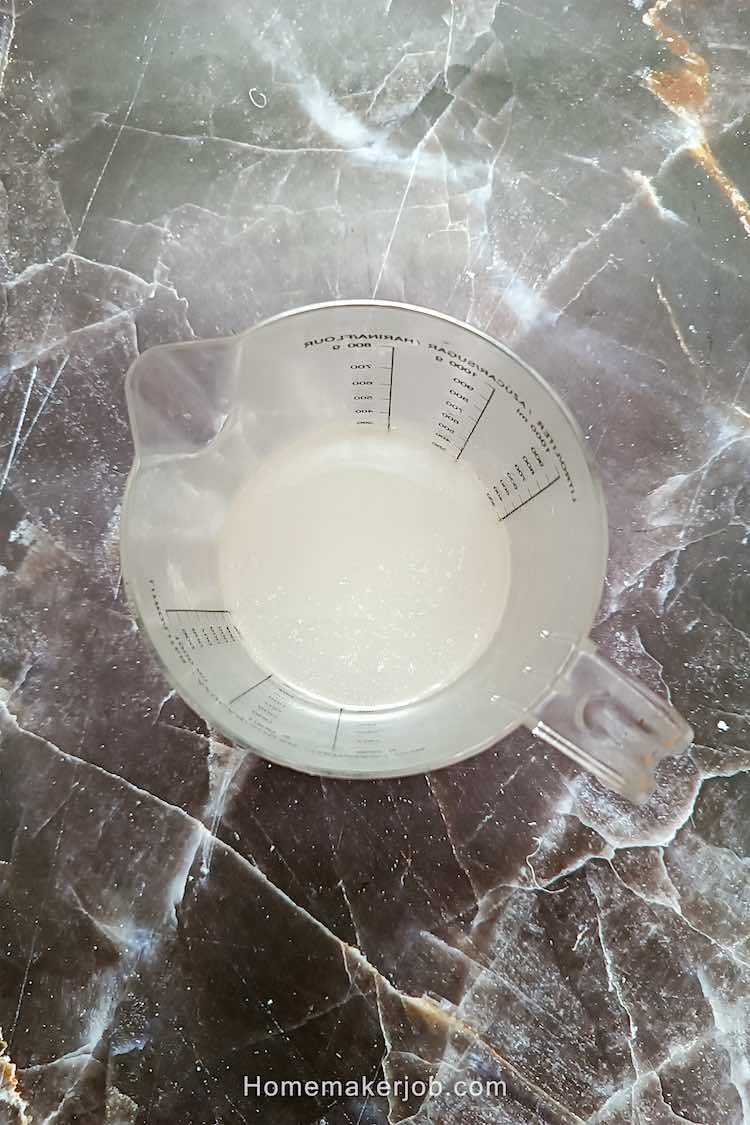 Add corn starch to one or two spoons of water. The amount of water should be approximately twice the amount of cornstarch. Don't add too much cornstarch. Refer to the recipe card for the correct amount.
You can vary the amount of cornstarch in proportion to the amount of your ingredients. Adding it in excess of what is necessary will make the soup too thick. When adding it, stir the soup constantly. This will make it mix well with the soup and prevent lumps from forming.
Making the soup:
Once you start making the soup, start adding the ingredients as mentioned in the recipe card. In this dish, the chicken will be cooked in the soup itself. Just make sure it doesn't get overcooked.
When adding cornstarch slurry, add it in small steps with a small amount in each step. Once the soup reaches the thickness you prefer, you can stop adding the slurry.
Important tips:
Make sure there is no piece of bone left in the chicken. It should be completely boneless.
Don't overcook the chicken.
Use fresh herbs and spices only.
Use chicken broth instead of water.
Simmer the soup gently over low heat. Avoid boiling it vigorously, as it can toughen the chicken and lead to cloudy broth.
Serving Suggestions:
The chicken lung fung (dragon phoenix) soup is finally put into individual bowls. This should be done carefully and gently.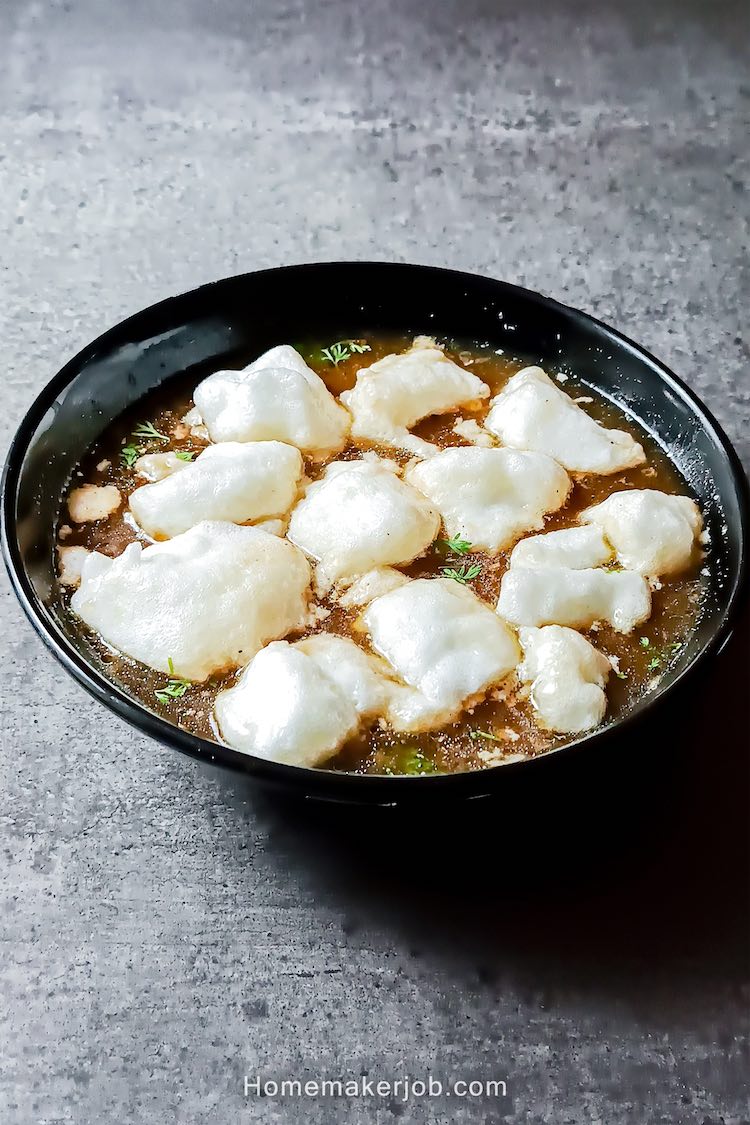 You've got to gently move the egg foam chunks in the soup to one side with a spoon or ladle. Move all of the chunks to the bottom half of the bowl. This will make it easy to pour the soup from the remaining part into the bowls.
Before pouring, serve a few chicken pieces into the bowls using a ladle or spoon, and then add the soup to the bowl.
Lastly, lift the egg icebergs gently with the help of a spoon or ladle. Then drop them one-by-one to the top of the soup in the bowl. It'll be easier to pick up and drop one egg iceberg at each turn.
Similar recipes: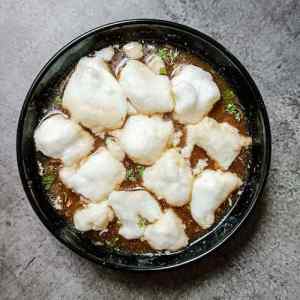 Chicken lung fung soup | Chinese dragon phoenix soup recipe
Chicken lung fung soup is a delicious Indo-Chinese dish. It is also known as dragon phoenix soup. This recipe is very simple and easy to make. This unique dish is tasty and healthy. Follow my recipe step-by-step to make this comforting and flavorful soup at home.
Ingredients
100

gm

chicken, finely chopped

1

tsp

oil

1

tbsp

garlic, chopped

1

tsp

ginger, chopped

1

tsp

green chili, chopped

½

tsp

black pepper, coarse powder

¼

tsp

salt

1

tbsp

dark soy sauce

4

tbsp

cornstarch slurry

1½

cup

chicken stock

1

egg white
Instructions
Heat 1 tsp oil in a kadai on medium heat.

Add 1 tbsp chopped garlic, 1 tsp chopped ginger, and 1 tsp chopped green chili. Stir well and cook for 15-20 seconds.

Add the chopped chicken to a kadai and mix well. Fry for 4 min.

Next, add ¼ tsp salt and ½ tsp black pepper powder. Mix well. Then add 1½ cup chicken stock and let it boil for 2 min.

Add 1 tbsp dark soy sauce and 1 tbsp cornstarch to a bowl. Add ¼ cup water and mix well together to make a slurry.

Stir the boiling chicken stock and add the slurry to it. Keep stirring and boiling for a minute.

Place 1 egg white in a small bowl. Beat till you get thick and foam like texture of the egg whites.

Turn the heat to low and gently drop the foamed egg whites into the soup. Use a spatula or a spoon to break the egg whites into small portions.

Boil the soup for another 1-2 min and turn off the heat.

Transfer lung fung soup to a serving bowl and serve hot.
Notes
Let it boil for some more time if you like it thick in texture.
You can add chopped coriander leaves to the boiling soup or garnish with coriander if you like, but it is an optional step.
Add more ginger if you want a strong taste.
Use boneless chicken and cut it into very small pieces.
Subscribe with us to get delicious recipes directly to your inbox: