Bangada Fish Fry Recipe | Spicy Fried Indian Mackerel | Bangda (Ayala) Fish Tawa Fry Recipe
Bangada fish fry is a highly tasty dish. It is an affordable source of nutrition. It has soft salty meat covered by a crispy spicy coating.
About Bangada (Mackerel):
Indian mackerel belongs to the scombrid family. It is a widely available fish. It is oily and rich in omega-3 fatty acids. It is one of the types of mackerel. Other types are short mackerel, island mackerel, blue mackerel, atlantic chub mackerel, chub mackerel, and atlantic mackerel.
In India, it has various names in different languages:
Ayala in Malayalam
Bangda in Marathi
Kajol Gouri in Bengali
Kana keluthi or kanangeluthi in Tamil
Bangude in Tulu and Kannada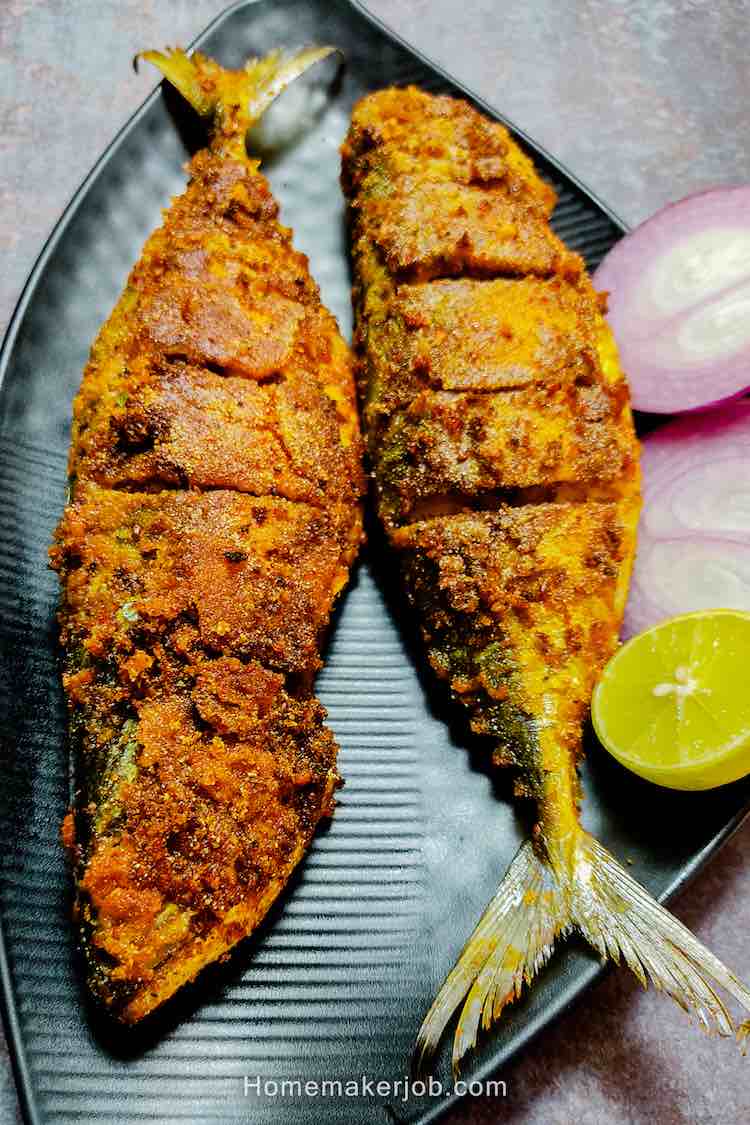 Read below article to know more about bangda fish:
Your guide to Bangda Fish(Indian Mackerel)

Bangada Fish Fry Description:
The cooking methods for this deep-fried mackerel dish vary based on the regions. The popular ones are Goan fry, Mangalorean style fry, Maharashtrian style, and Konkani style. The major difference between them is the main ingredient used for marinating and souring.
In Goan style fry, vinegar is used in marination with recheado masala paste. In the Mangalorean style, tamarind paste is used. The Maharashtrian style uses lemon, while the Konkani style uses dried kokam. I've used Maharashtrian style for this fry.
Raw fish has a shiny silver color due to its skin. After frying, the cooked bangada will get a light brown color with a reddish yellow tint. The color will be due to the coating of marinade on the skin.
The aroma of fried fresh will be salty and spicy. It will be different from the raw fishy smell due to marination and frying. If a smell is too strong or bad, check the freshness of the fish.
Outside, it'll have a crispy texture with a hard coating of spices over it. It'll have a soft, oily, and fiber-like texture inside. It has an amazing taste. When you take a bite, you'll experience a crispy piece breaking and then a mix of tastes spreading on your tongue. A spicy, crispy skin with a salty, fishy flavor will give you satisfaction.
Bangada has high availability along the coastal lines of India. This makes it affordable for anyone. This is the reason that this is one of the few fish that can be seen in street food. This is a cheaper alternative to getting proteins and nutrients for many people.
About bangada fry ingredients:
1. How to choose the right bangada piece:
Make sure you choose fresh piece. A fresh bangada will have a shiny silver skin. The bad or spoiled one will have a dull silver color. A fresh fish will be harder when pressed, while a spoiled one will turn very soft. Another test is to check the area below the grills. It should be clean and red. Spoiled piece will have a dark brown or blackish color. It may develop a creamy material inside it.
Choose a piece as big as possible. If big piece isn't available, choose at least a medium-sized piece. Don't buy smaller ones. The small piece will have more and thinner bones compared to the bigger pieces. It'll be difficult to eat compared to the one with less thick bones.
In a bigger piece, you can remove the middle reed with bones by splitting the whole piece in half horizontally.
2. How to cut and clean the fish for making the fry:
You can ask the seller to cut and clean the fish. They'll know what to do. Most sellers will clean the materials in the stomach.
If you did not get the cleaned piece when you bought it, you can cut and clean it at home.
If you prefer to cut the tail and head off, don't cut the fish in half. Keep it longer. So cut the head at the point just after the grills end. Some people prefer to keep the upper part with eyes while cutting below the head. While cutting the tail, don't cut the whole tail. Keep a small part at the end of the stomach. It'll keep the fish closed from another end. Cut all the fins from all sides. Remove the scales if there are any.
If you cut the head, pull everything out of the stomach through the opening created by the cut head. Remove all the materials, including the intestines, from the stomach. There is a black thread inside the stomach on one of the sides. Remove it.
There will be a black film-like layer on the inner walls of the stomach. It's necessary and important to remove it. If it's not cleaned properly, the fish will taste bitter and can cause stomach ache. It's not good for human consumption. You can put fish under the tap water on the open side. Clean it while water helps to flush it out. Rub the finger on the inner walls to remove the black film.
Many people prefer to keep the head and the tail. It makes the piece easy to handle during frying. In this case, give a nice long cut from the bottom edge of the stomach. Then clean the fish as mentioned in the earlier paragraph. Instead of head-side, use the side cut to remove all material.
For the fry, give four parallel vertical cuts on the stomach of the fish from both sides. For every cut, start just below the reed on the stomach and continue till just above the bottom of the stomach. Leave enough space between the two parallel cuts. We need these cuts to penetrate the marinade inside. It'll reach inside the fish and will increase the overall taste.
3. Marinade Ingredients:
To make the marinade, we need ginger garlic paste, red chili powder. We also need coriander powder, cumin powder, turmeric powder, garam masala, and salt. We also need lemon juice. Check the card for exact proportions.
Mix all these ingredients. Lemon juice should turn it into a paste. If not, then you can use 2 tbsp of water.
Equipment:
As this recipe involves shallow frying, we need a flat-surfaced utensil suitable for frying. Use a tawa or frying pan. Avoid deep cooking pots, woks, kadai, etc.
Bangda fry Cooking Process:
1. Marinating the bangda fish:
Apply the marinade paste we made earlier to all sides of the fish. Put some marinade in the vertical parallel cuts we made earlier. Put some marinade inside the stomach with your finger. If you miss this process, the marinade will only remain on the outside, and the inside will taste bland after frying.
Leave the marinated pieces for 10 minutes approx. Let it absorb all the spices and the flavors.
2. Making the coating for the bangda fry:
Use rice flour to make the coating for the fry. It makes a nice crispy coating. To add some taste to it, add salt and red chili powder. Check the card for the exact amount of ingredients.
You can use rava (semolina or suji) along with rice flour if you want to make bangda rava fry. Some people prefer to only use rava (semolina or suji) and avoid the flour. I've used rice flour as I like it better than rawa fry. But there isn't much difference between the two. You can make either version just by making small changes to the ingredients of the coating.
After the marination, the bangada will be covered by wet paste. Dip the marinated fish in the coating material. Due to its wetness, the coating will stick to the fish. Make sure to cover it from all sides.
Pick the piece from the tail end with two fingers so that your hand won't cover the larger part of the fish. It'll make it easier for you to handle the piece during the coating process. You'll be able to apply a coating from all sides.
3. To fry the fish:
We use the tawa fry method for this dish. Tawa fry means shallow frying on a relatively flat surface. Use your preferred cooking oil. We need a small amount of oil as we are not going to deep-fry. Let the oil heat before frying. Put coated pieces in the oil. At most, fry two pieces at the same time.
Don't fry more than 2 pieces if you have an average sized pan. You need to leave enough space between them. You need to turn the pieces over after one side turns light brown. It doesn't take much time to fry bangda. You can fry both sides for a few more turns if you prefer a bit of burnt flavor. But don't overdo it, or you'll kill the taste.
After frying, remove the pieces from the pan and put them on tissue paper to absorb excess oil.
Serving:
Serve the crispy fried bangada (Indian Mackerel) fish with lemon and onion rings.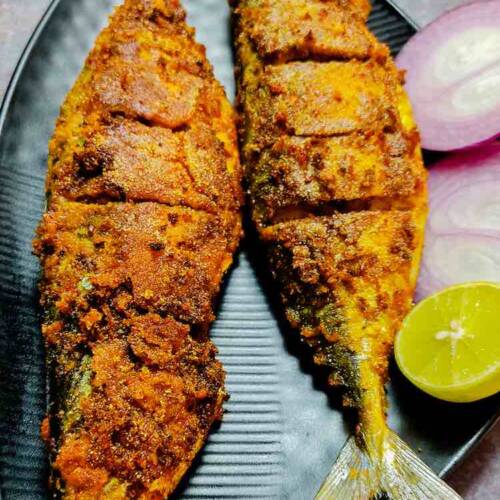 Bangada Fish Fry
Bangada Fish Fry is a nice mix of taste with spicy crispy coating outside while soft, salty and fishy taste inside. It's an easy and affordable source of nutrition. Try this recipe at home and experience it yourself.
Ingredients
4

bangda fish

(Indian mackerel)
For Marination
2

tbsp

ginger garlic paste

2

tsp

red chilli powder

2

tsp

coriander powder

1

tsp

cumin powder

½

tsp

turmeric powder

½

tsp

garam masala

1

tsp

salt

3

tsp

lemon juice
For Frying
4

tbsp

rice flour

¼

tsp

red chilli powder

¼

tsp

salt

oil for frying
Instructions
For first marination
In a bowl, add 2 tbsp ginger garlic paste, 2 tsp red chilli powder, 2 tsp coriander powder, 1 tsp cumin powder, 1/2 tsp turmeric powder, 1/2 garam masala and 1 tsp salt. Mix all the spices well together. Add 3 tbsp lemon juice and mix again. Add 2 tbsp water to make a smooth paste of the spices.

Wash and clean the fish with fresh water. Cut all the fins. You can keep or cut the tail. Make 3 deep cuts to both sides of fish. Now apply spices mixture to it. Put mixture inside the cut made on fish and coat it completely with the mixture from both sides.

Let it marinate for at least 15 min.
For frying
Heat oil in a kadai or pan on medium high heat. Once oil is hot enough turn heat to medium.

In a plate, take 4 tbsp rice flour, 1/4 tsp salt and 1/4 red chilli powder, mix well.

Take marinated fish and coat them well with rice flour. Shake of extra coating.

Gently drop 2 bangda pieces in a hot oil and shallow fry them for 5-6 min or till they turn golden brown in color. Then flip the piece to other side and again fry for 5-6 min.

Remove them and place it on kitchen paper to absorb excess oil.

Nicely arrange bangda fish fry on serving plate. Serve hot with lemon wedges and onion rings.
Notes
Adjust spices level as per your taste.
Always use fresh piece to make the recipe.
You can let bangda marinate for 1-2 hour for better taste.
Fish can stick to the kadai or pan if oil is not hot enough.
Subscribe with us to get delicious recipes directly to your inbox: