White Chicken Gravy | Safed Murgh Korma | White Chicken Korma Recipe
White chicken gravy is also known as white chicken korma. This recipe is very delicious and rich in taste. It's a perfect delicacy for anyone who wants to try less spicy Indian gravy.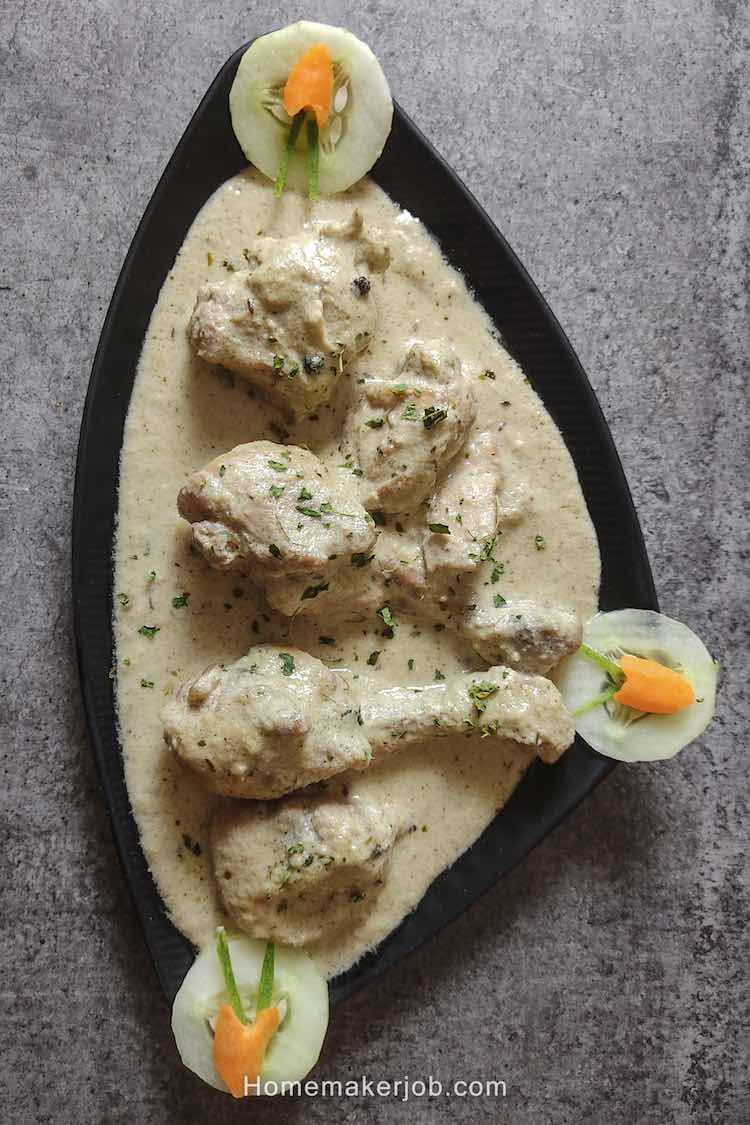 About the recipe:
The exact origin of this dish is unknown. It might have been derived from a well-known dish, chicken korma.
It is also known by the name 'safed murgh korma' in Hindi, which translates to "white chicken korma" in English. It got its name due to the dominantly white color of its gravy. A white color unusual for most of the Indian gravies. Indian gravies and curries are usually red or brown. So, if any gravy has a huge difference in color, then it might be recognized by its color. E.g. There is another chicken curry with a green color. It's called "Indian green chicken curry."
Precisely speaking, its color isn't exactly white, but creamy white, due to its ingredients. This dish uses only white ingredients like cream, onions, yogurt, cashews, and almonds to give it a white color. It uses whole spices, which don't give it any specific color. It avoids usual curry ingredients like turmeric, powdered spices, etc. to maintain its white color.
This dish has a mild but rich aroma instead of a strong aroma, unlike usual Indian curries. The aroma due to spices like cumin, cardamom, and coriander is prominent. It gets a nice fragrance from ginger and garlic. There'll be a hint of the aroma of cream and yogurt. The aroma of chicken will add richness. This is one of the Indian gravies that doesn't leave a strong aroma.
Indian white chicken gravy is thick and smooth. The gravy gets a creamy, velvety texture due to cashew paste, cream, and yogurt.
In this dish, the chicken is marinated in yogurt and spices. Then it's cooked until it becomes tender and absorbs the flavors of the gravy. It makes the meat rich in taste. The gravy gets a hint of a sweet flavor due to cashews, almonds, and cream. It gets a bit of a tangy flavor due to the yogurt. The spices give it a slightly spicy flavor. Overall, the taste of chicken white gravy is mild, creamy. It has a hint of tanginess and sweetness, and a perfect balance of spices.
If you want to try Indian gravy that isn't too hot for your taste buds, this is one of the best options.
Difference between chicken white gravy and kali mirch chicken:
This dish often gets confused with 'kali mirch chicken'. Both are popular Indian recipes and have white gravies. They are very different dishes. Though they look similar, they have different aromas and tastes.
Safed murgh korma is mild and creamy in taste, while kali mirch chicken is tangy and spicy. Both dishes use different types of spices, but kali mirch chicken makes a dominant use of black pepper. In white chicken gravy, lemon juice and cream are used. They're not part of the ingredients in kali mirch. In kali mirch, spices are powdered, but spices are used in their whole form in safed murgh curry. This dish is usually prepared for special occasions like family gatherings.
About white chicken gravy ingredients: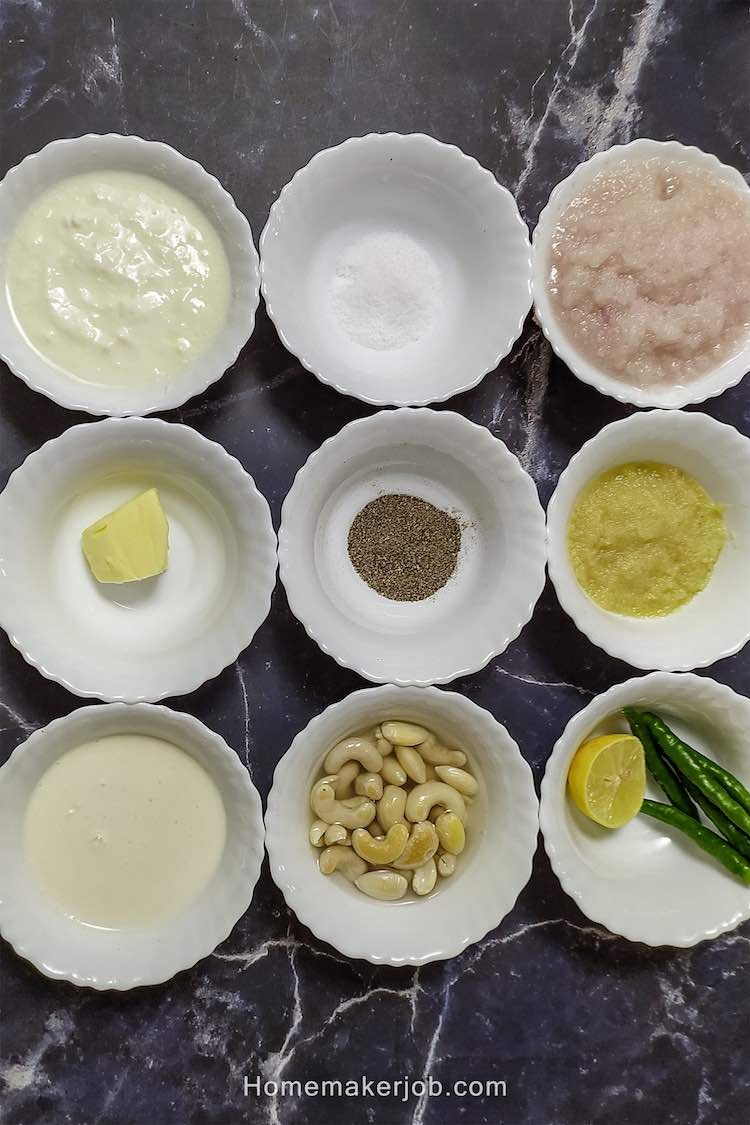 Fresh spices:
Use good-quality cashews and almonds. Use good-quality, fresh, and thick cream. Yogurt should not be too sour. It's better if it's homemade. Green chili is used for the hot taste. You can vary the quantity according to your taste preferences.
Chicken:
Use bone-in pieces for this recipe. It'll give you a better taste.
Curd and cream:
These are important ingredients in this recipe. They add softness and creaminess to the taste. Use fresh, thick cream. The curd should be fresh too. Curd adds tanginess, helps to tenderize the meat, and helps balance the flavors of other ingredients.
Onion paste:
Onion paste adds smoothness and thickness to the gravy. It also helps to maintain the white color of the gravy. If available, use white onions though red onions work fine, too. Use medium-sized onions to get the best taste and texture.
Spices:
Spices add depth to the taste of the gravy. Use whole spices, not powdered spices.
Overall, ingredients are carefully chosen to work together. They not only give us white gravy but also a rich, creamy taste with mild spice.
Equipment Details:
Use a kadai or frying pan with a lid for this recipe. If you don't have either, then use any utensil with a good depth and a thick bottom. You'll need something to cover the top while cooking.
Cooking preparation:
Marinate the chicken:
Mix the chicken with ginger garlic paste, yogurt, black pepper powder, lemon juice, and salt. Leave it to marinate for at least 20 to 30 minutes. You can let it marinate for another 15 minutes if you prefer softer meat. Marinating the meat makes it tender and helps it absorb the spices when cooking.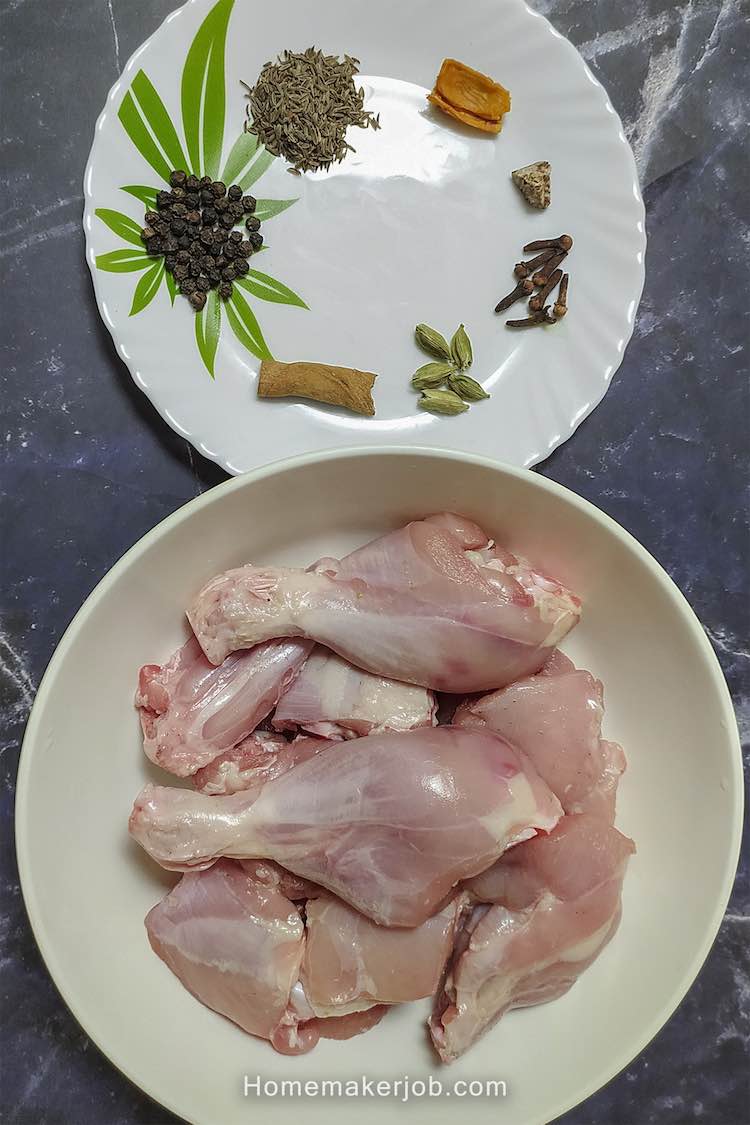 Making the onion paste:
Use fresh raw onions, soaked cashews and almonds, green chili, and some water to make a smooth, fine paste.
Refer to the recipe card for exact measurements and cooking steps.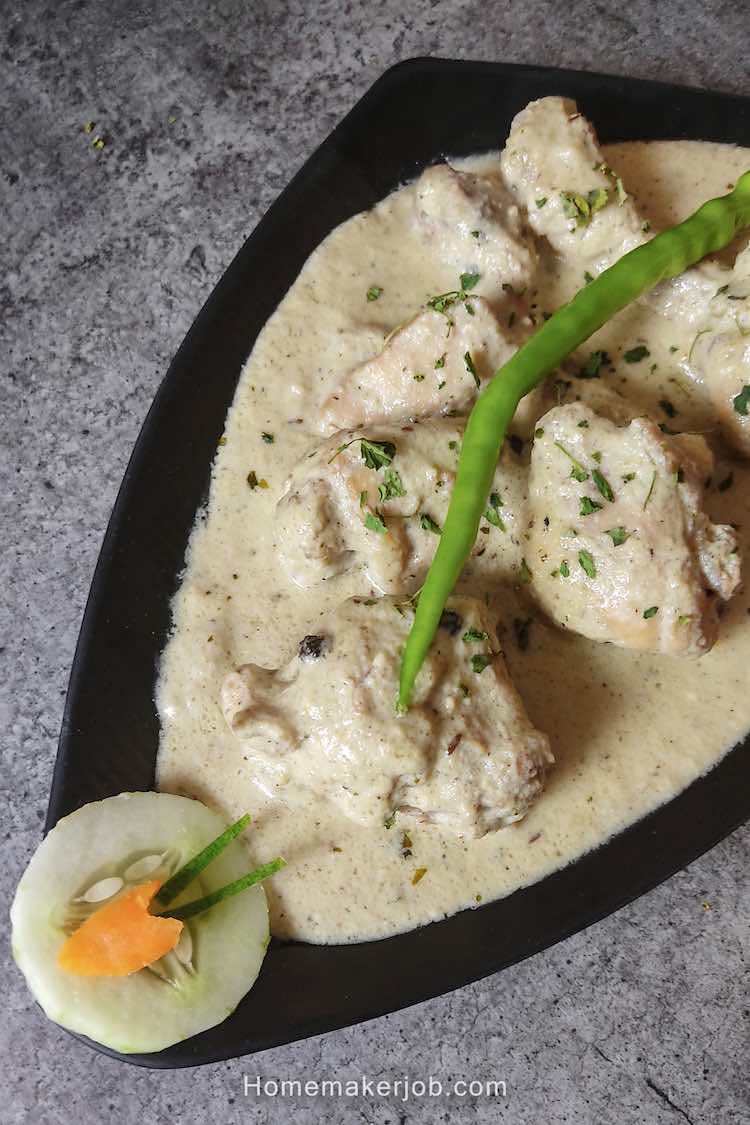 Serving Suggestions:
You can serve it with roti, kulcha, paratha, naan, etc.
Similar main course recipes: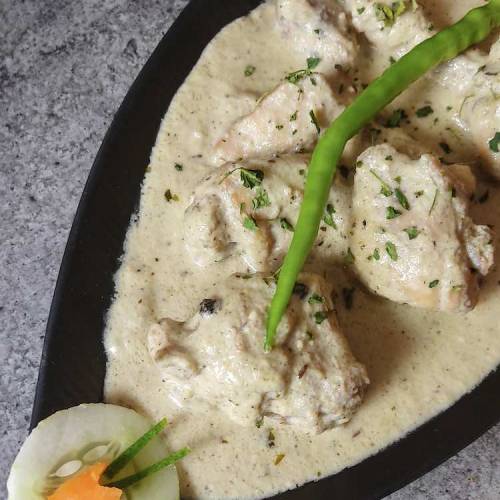 Chicken White Gravy
White chicken gravy is also known as white chicken korma. This recipe is very delicious and rich in taste. The chicken is marinated with curd and cooked with onion paste, cream, cashew and almond paste. Green chili and black pepper powder are used for spiciness instead of red chili powder to maintain the white color of the gravy. This is a must-try recipe for its unique taste.
Ingredients
700

gm

chicken

1

tsp

salt

1

tsp

black pepper powder

2

tbsp

ginger garlic paste

4

tbsp

curd

2

tsp

lemon juice

10-12

cashews

7-8

almonds

4

green chilies

1

inch

cinnamon

1

bay leaf

5

green cardamom

7-8

cloves

nutmeg

(small piece)

javitri a.k.a. mace

(a small piece)

10-12

black pepper whole

½

tsp

shahi jeera

(black cumin)

1

cup

onion paste

1

tsp

salt

3

tbsp

cream

½

tsp

kasuri methi

2

green chili

2

tbsp

oil

2

tbsp

butter
Instructions
Take 700 gm chicken in a mixing bowl. Add 1 tsp salt, 1 tsp black pepper powder, 2 tbsp ginger garlic paste, 4 tbsp curd, and 2 tsp lemon juice. Mix well with the chicken and let it marinate for 20 min.

In a mixer jar, add 1 cup onion and make a paste of it. Transfer the onion paste to a plate and keep aside.

10-12 soaked cashews, 5-6 soaked and peeled almonds, 3-4 green chilies, and a little bit of water. Blend it and make a smooth paste of it.

Heat 2 tbsp oil and 2 tbsp butter in a kadai on a medium flame. Add 1 inch cinnamon, 5 green cardamoms, cloves, and a small piece of javitri (mace). Then, add small piece of nutmeg, 10-12 black pepper whole, and ½ tsp shahi jeera. Fry for 10-12 seconds.

Add onion paste in a kadai and saute for 3-4 min. Don't let the onion paste change its color. If the onion paste turns brown, this curry won't turn white.

Next, add the marinated chicken with the remaining marinade and mix well. Cook for 5 min on a medium-high flame.

Cover with a lid and cook for 15 min. Keep chicken turning in between.

Add cashew paste to the kadai and mix well with the chicken. Add ¼ cup water if needed. Let the chicken cook on a low flame for 15 min.

Add 3 tbsp cream and mix well. Add ½ tsp kasuri methi and cook for 5 min.

Serve hot with naan, roti, or rice.
Notes
You can use the chicken thigh pieces for boneless meat pieces.
Don't overcook the chicken. It will break the meat from the bones. It may dilute the taste.
Use good-quality curd/yogurt and cream.
Cook the dish on low heat to allow the flavors to develop and mix together.
Do not add water if you want the gravy to be thick. Adjust the consistency of the gravy by varying the amount of water, but don't add too much water. Too much water will make the curry thin. The taste of this dish is richer when it is moderately thick.
Use a thick bottom pan to ensure that everything gets heated evenly and to prevent burning or sticking.
If you want it to be spicier, add more chilies while making the cashew paste.
Don't skip the marinating process.
Subscribe with us to get delicious recipes directly to your inbox: