Chicken sukka recipe | Sukha chicken masala fry recipe
About the recipe:
The word "sukka" in chicken sukka literally means "dry" in English. This recipe gets its name due to the texture of its curry and the cooking style.
The curry is roasted in "sukka" style till it becomes almost dry and sticks to the chicken pieces. It uses relatively less water to get its dry texture.
This dish has the minimum amount of liquid ingredients so that it can stay dry. The only liquid ingredient is either water or coconut milk. The choice of using water or coconut, is based on the region.
Maharashtrian style uses water, and Mangalorean style uses coconut milk. The dry technique helps to infuse all the spices and ingredients well with the chicken.
This dish is also known by other names like:
Chicken Sukka Masala
Chicken Sukha
Chicken Dry Curry
History and origin:
This recipe is believed to have originated in the western coastal region of India, specifically Konkan. It stretches across Daman, Maharashtra, Goa, and Karnataka regions of India.
The fishermen in that region used to dry roast the spices and use them to flavor and cook their catch of the day. Over time, it was adapted for chicken and became more popular. This recipe has its origins in Kokan part of Maharashtra. It's slightly different from another variation that originated in Karnataka's coastal region.
Chicken sukka (sukha) description:
Its color can vary from deep red to brown due to powdered spices. Herbs used for garnishing add a vibrant green color to the dish.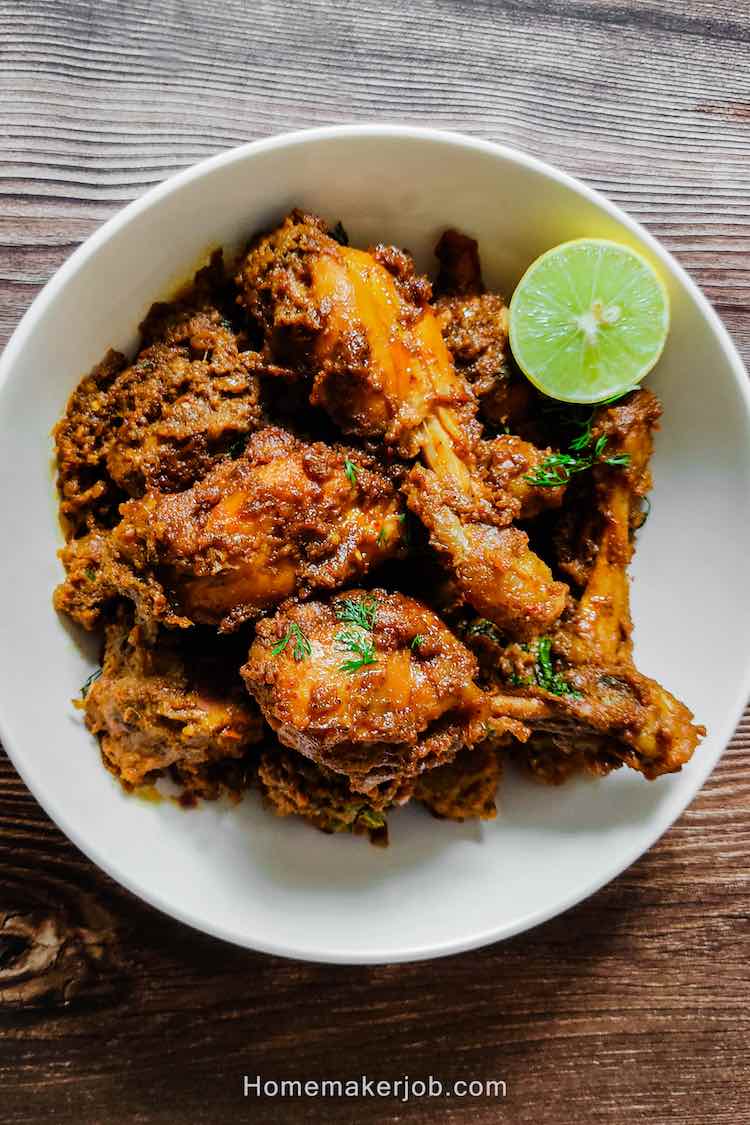 The prepared dish releases a strong aroma as it starts to cook. The aroma is stronger as it uses powdered spices that are heated prior. Heating the spices brings out their aroma, and the powdering process releases it. This fills the kitchen with a spicy, warm, and earthy aroma.
It has a thick, dry curry with a slightly granular texture due to the masala (spice) paste used for it. The curry is dry as it uses very little water. Also, cooking it for a long time evaporates most of the liquid, giving it a thick, dry texture. The curry will surround and coat the meat well, as it easily sticks due to its thickness.
This dish has a complex taste profile. It has a strong, spicy flavor. It can be moderately to highly hot in taste. This makes it unsuitable for those who are not accustomed to eating hot, spicy food.
The meat absorbs the taste of all ingredients as it is coated in thick, dry curry and treated with slow cooking. Due to the dry cooking method, chicken retains its natural juices and flavor. It becomes tender and juicy.
The overall taste is spicy, moderately hot, with a hint of sweet, sour, and tangy flavors. It's a delight for the taste buds.
This is an all-time favorite dish and is consumed throughout the year. It's easily available in most Indian restaurants.
About Chicken Sukka Ingredients: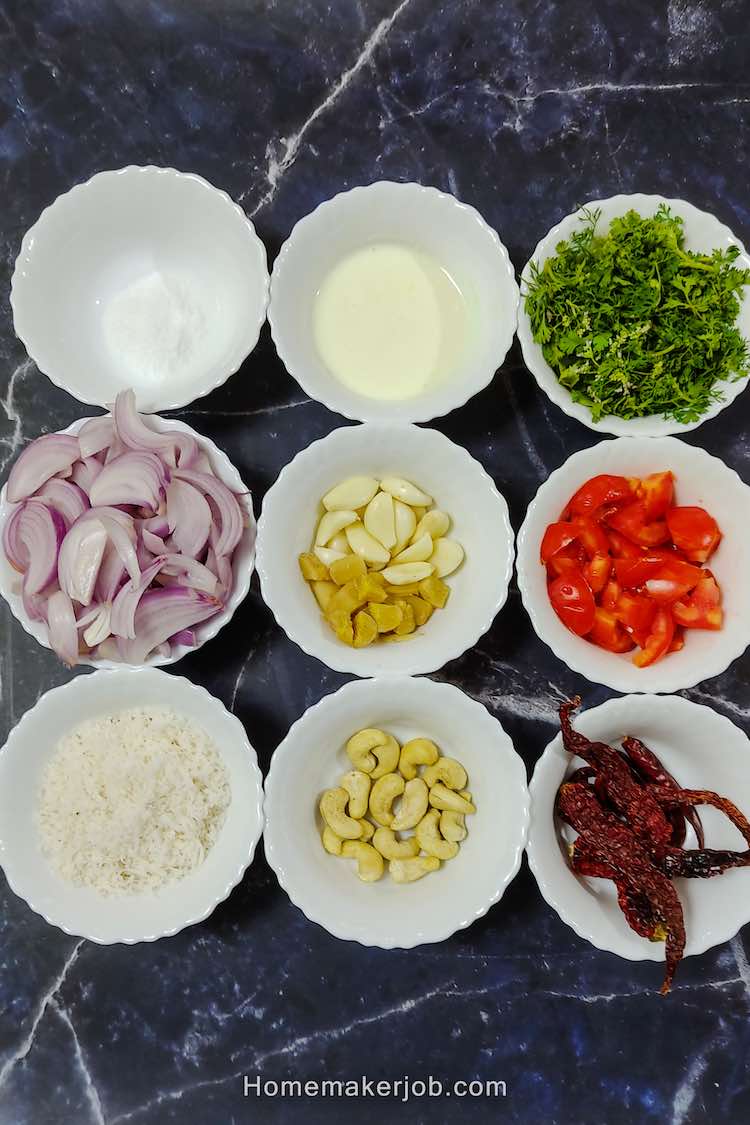 Chicken:
Chicken is the main ingredient in this dish. Choose good-quality, fresh chicken. Bone-in pieces are more suitable for this recipe. They are better for the taste.
Chicken thighs would be ideal. It is inherently juicy compared to the breast part. It won't dry out during dry cooking, unlike the breast part. They'll absorb the flavors of the ingredients better.
Choose medium-sized pieces.
Onions and tomatoes:
These are useful to add thickness to the gravy. They also add moistness, preventing the gravy from becoming too dry. They add nutty, sweet, and tangy flavors to the dish. Choose fresh, ripe, and juicy tomatoes.
Kashmiri chili, or Byadagi chili:
These are lightly hot chilies. They add a hint of hot flavor and a nice red color to the dish.
Sukka masala (dry spices):
Sukka masala is a dry spice mix. It's prepared by heating cumin, black pepper, black cardamom, green cardamom, fennel seeds, cloves, and cinnamon etc. These are dry roasted first and then powdered.
Cumin adds an earthy flavor and a touch of hot taste. Black pepper, cloves, and black cardamom add a strong, hot flavor. Green cardamom, fennel seeds, and cinnamon together add a hint of sweetness. They also improve the aroma. Coconut adds to the sweetness of the taste and gives a granular texture to the gravy.
You can get ready-made sukka masala in the market.
Equipment Details:
You need a thick-bottom kadhai or pan. Thick-bottomed equipment is a better choice to cook everything evenly. It prevents ingredients from burning or sticking to the bottom, as it spreads heat evenly.
Important steps to make chicken sukka :
Marinating the chicken:
We have to marinate the chicken in curd (or yogurt), ginger-garlic paste, spices, turmeric powder, and salt. Marinate for at least half an hour. If you can afford, let it marinate for more time. This will help the chicken absorb the moisture and flavors of the ingredients. It'll make the meat soft and tender.
Roasting the spices:
We need to roast the spices, dry coconut, and cashews lightly. This removes any moisture in the spices. It also helps the spices release oil, bringing out their aromas and flavors. Don't heavily roast any of these ingredients.
Paste for the masala:
Sauté onions, tomatoes, ginger, and garlic in a kadhai. Make their paste using a blender or a food processor. This paste adds wetness to the gravy and helps it stick to the chicken pieces. Cook till the oil separates from the masala.
Simmering and reducing the masala gravy:
In this process, masala is slow cooked for a long time with the spices and the wet paste. It's cooked in the steam and liquids released by these ingredients. A small amount of water is added. Let everything simmer till the gravy becomes thick and the oil starts to rise to the top.
Read the instructions on the recipe card for exact measurements and timings for the above steps.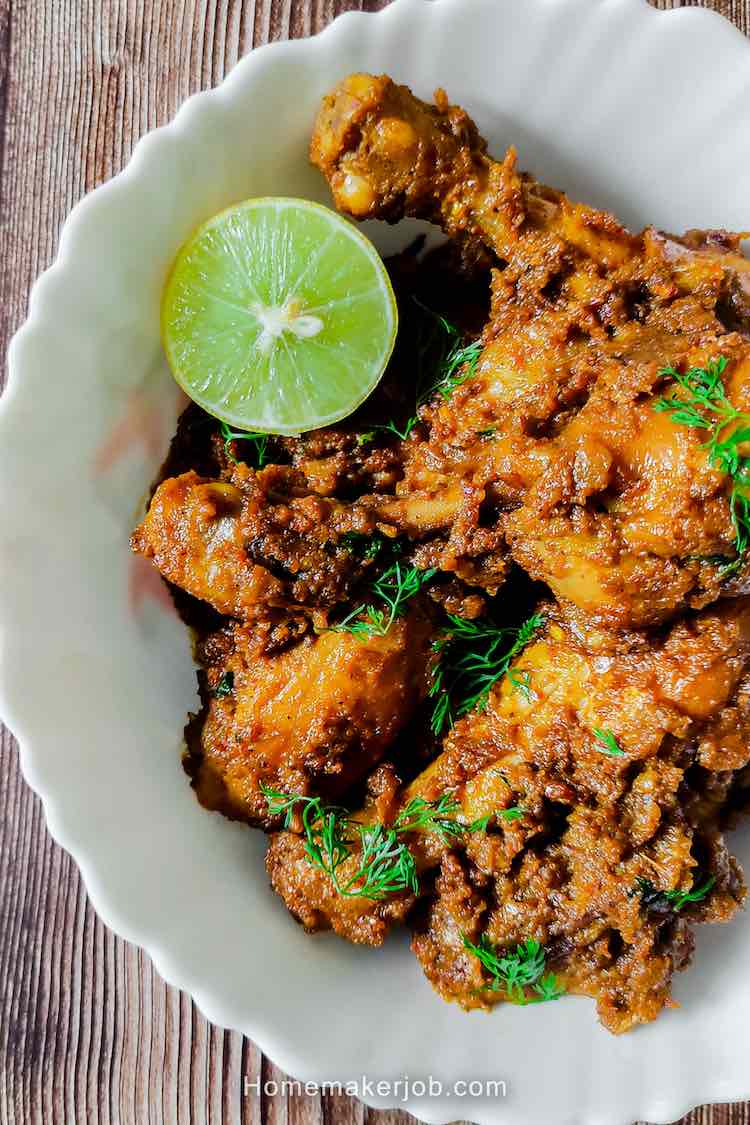 Mistakes to avoid when cooking sukha chicken:
Not marinating enough, or not marinating at all:
Don't skip the marinating process at all. It is an important step in this recipe. If skipped, chicken won't become tender, and it'll get a bland taste inside.
Adding too much water:
This is a dry curry, and it should have a thick consistency. Adding too much water will dilute the taste.
Not using enough oil:
You need to add enough oil. Too little oil will cause the spices to stick to the bottom of the pan. Enough oil will prevent this and help the chicken to cook.
Serving Suggestions:
Garnish it with chopped fresh cilantro. It is traditionally served with steamed rice, roti, or naan. You can experiment by pairing it with other items like biryani or pulao.
Similar main course recipes: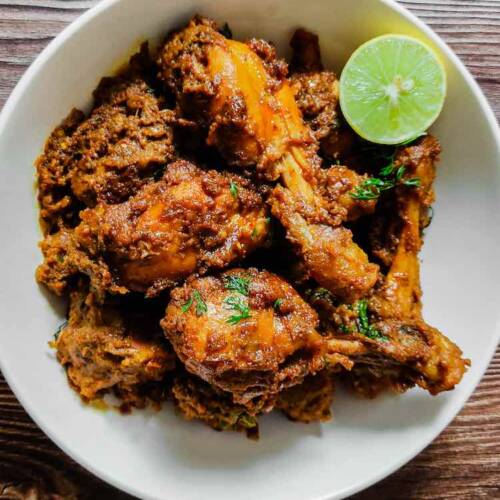 Chicken Sukka Recipe
Chicken sukka is one of the famous and tasty Indian dishes. This semi-dry recipe uses freshly roasted and ground spices. This recipe is easy to make. There are a few different versions of this recipe in different regions. This recipe is the Maharashtrian version, which uses basic spices and tastes superb.
Ingredients
750

gm chicken

1

cup

onions sliced

½

cup

tomatoes

½

cup

finely chopped onions

12-15

garlic cloves

1

inch

fresh ginger

15

cashews

½

tsp

turmeric powder

2

tbsp

curd

oil for cooking

½

cup

coriander leaves

2

tsp

coriander seeds

1

tsp

cumin seeds

1

tsp

black pepper

1

black cardamom

5

cloves

3

green cardamoms

½

tsp

fennel seeds

1

cinnamon

4-5

byadgi chilies

(a.k.a. bedgi chilies)

4

red chilies

(spicy ones)

½

cup

dry coconut grated
Instructions
For marination, take 750 gm chicken in a mixing bowl. Add ½ tsp turmeric powder, 1 tsp salt, and 2 tbsp curd. Mix everything well with the chicken and let it marinate for at least 30 min.

Heat pan on a low flame. Add 2 tsp coriander seeds, 1 tsp cumin seeds, 1 tsp black pepper, 3 green cardamom, and 4-5 cloves. Remove from pan and keep aside. Now, in a pan, add 5 byadgi chilies and 4 red chilies. Roast for a minute and remove from pan.

Next, add 15 cashews and roast for 3 min. Remove cashews from pan and add ½ cup dry grated coconut. Roast it until it turns light brown.

After all the roasted ingredients cool down, add them in a grinder jar. Grind till everything turns smooth.

In a pan, heat 2-3 tbsp oil. Add 1 cup sliced onions and sauté well for 15 min. Then add 1 inch of chopped ginger and 12-15 garlic cloves. Sauté for 4 min. Next, add ½ cup chopped tomatoes and 2 tbsp chopped coriander leaves. Sauté for another 4 min. Once everything becomes soft, remove it from the pan, let it cool down. Once cooled down, transfer it to the blender jar, add 1 tbsp water, and blend till it becomes a smooth paste.

Heat 4 tbsp oil in a kadai. Add ½ cup finely chopped onion and sauté for 10 min on medium flame.

Transfer the marinated chicken in the kadai and cook well for 15 min on a medium high flame.

Next, add the onion and tomato paste. Mix well with the chicken pieces and cook for 7 min. Add roasted ground spices and combine well. Once oil separates from masala, cover the lid and cook on low flame for 20 min or till masala becomes very thick. Keep turning the pieces in between.

After removing the lid, add 2 tbsp chopped coriander leaves and mix well chicken. Cook for another 3 min and turn off the flame.

Serve hot chicken sukka with chapati or rice.
Notes
You can add some more spices of your choice.
Always roast spices on low heat, so they don't burn.
Some ingredients cook faster than others while roasting; hence I have roasted some ingredients separately instead of roasting them all at once.
You can use bone-in chicken or boneless chicken for this recipe. But the bone-in variation will taste better.
Subscribe with us to get delicious recipes directly to your inbox: