Chicken Kosha Recipe | Kosha Murgir Mangsho Ranna
Chicken Kosha is a tasty Bengali delicacy with thick and smooth chicken curry. It is a semi-dry spicy curry, so try it if you prefer spicy food. It's not very suitable for those who are not habitual to spicy food. It is a slow-cooked curry made with onions, tomatoes, spices, and curd.
About the dish:
This dish originated in Bengal. It's also known as Kosha murgir mangsho in Bengali. Kosha is a Bengali word; its literal meaning is 'water taken out of'. It means slowly cooked over a long period. It refers to slow-cooked, thick gravy. Mangsho means 'meat'. So, chicken kosha means 'chicken cooked in a thick curry for a long time'. This dish is derived from 'kosha mangsho'. It means 'mutton curry'. It was made popular by the Golbary eatery in Kolkata.
It's a preferred dish for weekends as well as during festivals in Bengali households. It has a special place on the menu in Bengali restaurants. Being a popular dish, the recipes for it vary a lot.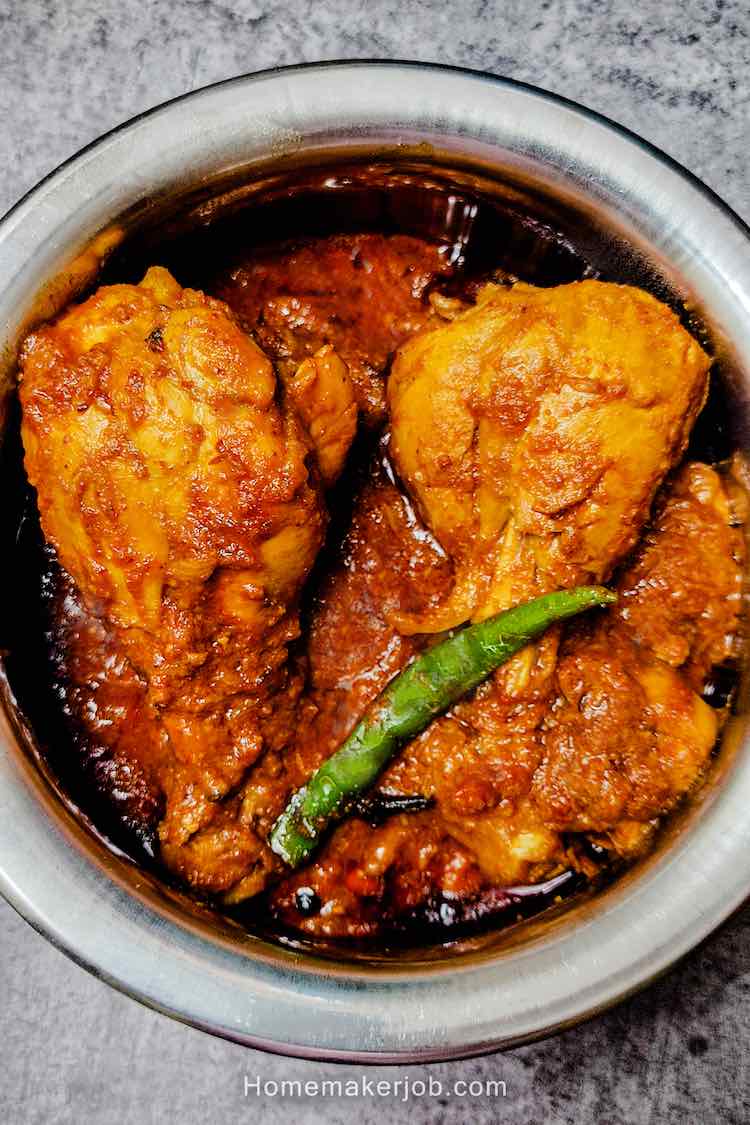 Description:
It has a dark red color due to its curry. It gets its aroma from ginger garlic paste, kasuri methi, and other spices. Its curry is thick and dry. It tastes hot. The meat will be tender and juicy due to the marinade.
Chicken kosha is similar to chicken bhuna. Both have a similar level of spice. Bhuna chicken has a dry and thicker curry. Kosha has semi-thick gravy. In chicken bhuna, spices are powdered, while whole spices are used in kosha. Due to powdered spices, bhuna will be more brown in color, but kosha will be deep red due to the whole spices.
About Chicken Kosha Ingredients: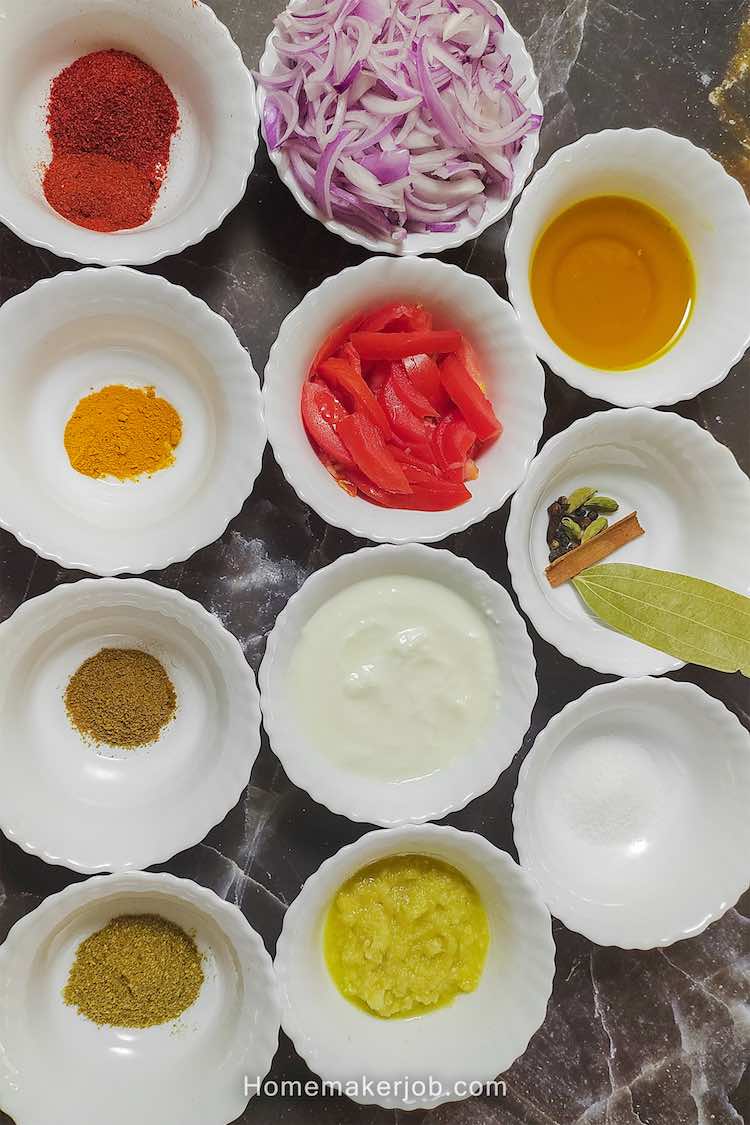 Chicken:
Use fresh chicken. This recipe strictly uses bone-in pieces. It is okay to add a few boneless pieces if you prefer. Wash and clean it properly. Cut the chicken into medium-sized pieces.
Mustard oil:
Bengali people prefer mustard oil for this recipe. It's a thick oil and has a strong aroma. So, heat it at a high temperature first to reduce the aroma; then add the ingredients.
Whole spices:
We need cloves, green cardamom, cinnamon, bay leaves, black pepper, and cumin seeds for spices in this recipe. Take whole, fresh spices. They must be dry and should not be humid. Check their aroma. It should be nice and strong.
Don't powder these spices, use them whole and add them to hot oil when cooking.
Onions:
Choose medium-sized onions for this recipe. Onions should not be too big or too small. Don't use spring or green onions. Chop the onions as instructed in the recipe card section. The onion adds flavor and aroma to the dish. It helps to make the gravy thick and adds a slight touch of sweetness to the overall taste.
Ginger-garlic Paste:
This is a base spice. It adds aroma and a bit of spice to the dish.
Tomatoes, curd, and lemon juice:
Take chopped tomatoes, curd, and lemon juice. These ingredients together add a sour taste to the dish. They have the acidic properties required to soften the chicken. These acids also help to digest the chicken.

Equipment Details:
I've used a big kadai with a lid for this recipe. If it's not available, you can use any utensil with a thick bottom, as it's a slow-cooked recipe. It should have sufficient depth. It should have a lid or something to cover it to trap the steam.
You need patience for this recipe. Do not cook this curry on high heat. Cooking the chicken on a high heat will cook it from the outside, but it will remain raw from the inside. Prolonged high heat will cause the chicken to become tough from the outside and lose its juiciness.

Variations:
Another variation of this recipe adds potatoes to it. You can add the potatoes if you like.

Serving Suggestions:
Chicken kosha is usually served with bread or rice, chapati, roti, or naan.

If you like this recipe, there are similar recipes you may like: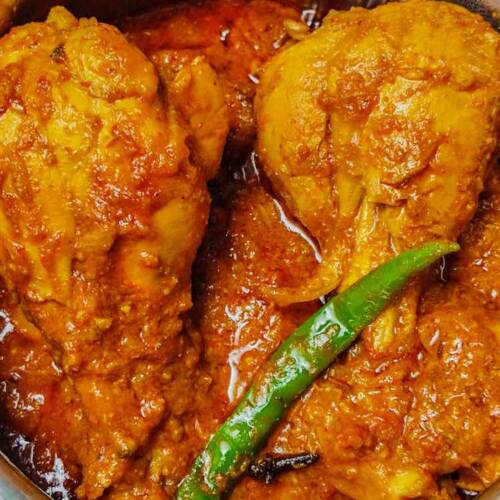 Chicken Kosha Recipe | Kosha Murgir Mangsho Recipe
Chicken Kosha is a popular dish from Bengal,India. It uses a slow cooking method. You need to cook the curry for a longtime until it turns into thick gravy. You can add a little water if you don't want thick gravy. This recipe uses ingredients that will be easily available in every Indian kitchen. Chicken Kosha has a nice aroma and is delicious in taste.
Ingredients
For marination
700

gm

chicken

½

tsp

turmeric powder

½

tsp

red chili powder

½

tsp

salt

2

tsp

lemon juice
For gravy
5

tbsp

mustard oil

3

cloves

4

green cardamoms

½

inch

cinnamon

1

bay leaf

7-8

black pepper

½

tsp

cumin seeds

1½

cups

finely chopped onions

2

tbsp

ginger garlic paste

½

cup

finely chopped tomatoes

1

tsp

kashmiri red chili powder

1

tsp

red chili powder

2

tsp

coriander powder

1

tsp

cumin powder

1

tsp

salt

½

tsp

garam masala

4

tbsp

curd

½

tsp

sugar
Instructions
Take 700 gm chicken in a mixing bowl. Add ½ tsp turmeric powder, ½ tsp red chili powder, ½ tsp salt and 2 tsp lemon juice and mix well with the chicken. Let it marinate for 20 min.

Heat 5 tbsp mustard oil in a kadai on a medium flame.

Once the oil is hot enough, add 3 cloves, 4 green cardamoms, ½ inch cinnamon, 7-8 black pepper, 1 bay leaf, and ½ tsp cumin seeds. Fry well for 5-10 seconds.

Add 1½ cup finely chopped onions and fry well for 5-6 min. Add 2 tbsp of ginger-garlic paste and sauté for 2 min.

Add 1 tsp kashmiri red chili powder, 1 tsp cumin powder,1 tsp red chili powder and 2 coriander powder. Sauté well for 2 min.

Next, add ½ cup finely chopped tomatoes. Fry well for 4-5 min.

Transfer the marinated chicken to the kadai. Mix well and cook for 5 min on a high flame. Then turn the flame to medium and cook for 4 min.

Add 4 tbsp curd, mix well for 5 min. Reduce the heat to low and cook for 10 min. Add 2 green chilies, cover the lid, and cook well. Turn the chicken pieces around in between.

Add ½ tsp sugar and ½ cup water. Mix well and cook for 5 min.

Now, add ½ tsp garam masala, stir well. Turn off the flame after 2-3 min.

Serve hot chicken kosha with roti, naan, parotta, or steamed rice.
Notes
Use bone-in chicken pieces for this recipe.
The curry for this dish should be thick in consistency.
Always peel garlic and ginger before using.
You can use normal vegetable oil, but this recipe will taste better with mustard oil.
Roast the spices on a low flame, so they don't burn. Turn off the flame once you can smell the aroma of spices.
Subscribe with us to get delicious recipes directly to your inbox: