Chicken Do Pyaza is my go-to recipe whenever I want to make chicken with gravy in less time.  It is also referred as chicken dopiaza and murgh do pyaza. There is no authentic source or proof about origin of this recipe. According to Wikipedia, the claim about it being invented during Mughal era; doesn't have any sources.
We think the current recipe in its form can't be that old, as it uses tomatoes in it. Indian cuisine didn't contain tomatoes at that time.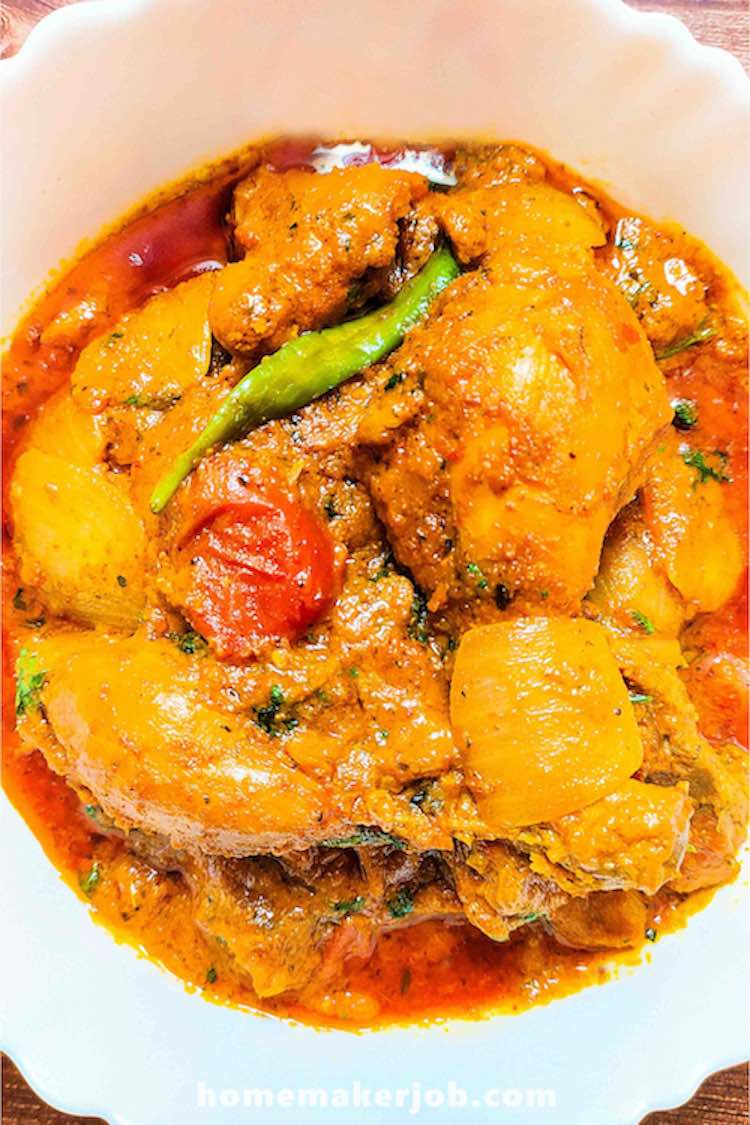 Recipe Description:
Ready dish has a more of a reddish tint as it contains tomato. One might mistake to assume it spicier than it is due to its color. It gets nice aroma due to onions and comparatively fewer spices than curry.
Its taste profile is unique. It is moderately spicy but not too much, though the definition of spicy may vary on individual basis. For someone who never eats anything spicy, this will be spicier. For those who are used to having spices in their food, this is less spicy.
It has a bit sour taste because of the tomatoes and the curd. Onions bring a little of sweetness, a caramel like color. Onions and curd gives it a slight creamy texture. Overall, the dish brings a unique taste experience.
Due to use of tomato purée, more onions and addition of curd, it's thicker than regular chicken curry and hence called gravy. It uses more onions than curry, but fewer spices. In chicken curry, we make paste of spices to make curry. In this recipe, we use very basic regular spices like coriander powder, turmeric powder, ginger garlic paste, cumin powder and garam masala etc.
For aroma, I used coriander leaves and kasuri methi. You can add herbs of your choice as far as they don't affect the taste drastically.
Chicken do pyaza ingredients:
Chicken Pieces:
For this, you can use any part of the chicken. I prefer a mix of thighs and breast pieces. I usually avoid lever part as it may add bitterness.
Onions:
Onions should be medium-sized. White onions will taste better than red onions, but won't make a huge difference in overall taste. You can use any type of onions based on availability in your area. I used red onions. To make onions ready, peel their skins, cut top roots and tails.
How to choose tomatoes:
Other than cherry tomatoes, any tomatoes are fine. Wash and cut them in small pieces. You can use these small pieces, or you can make purée using mixer. I prefer both, first purée as purée tends to mix better in gravy and then later chopped tomatoes for taste.
Marinating:
You should marinate the chicken for at least 15 min. You should let pieces absorb the spices.  I often marinate for half an hour. You can marinate it for more than half an hour if possible. It'll give you juicier texture and better taste.
Equipment:
You'll need a mixer to make tomato purée and ginger garlic paste. Use kadai or frying pan for main cooking.
Serving suggestions:
This will taste better with butter naan. It'll taste good with regular naan, chapatti. You can eat it with rice too.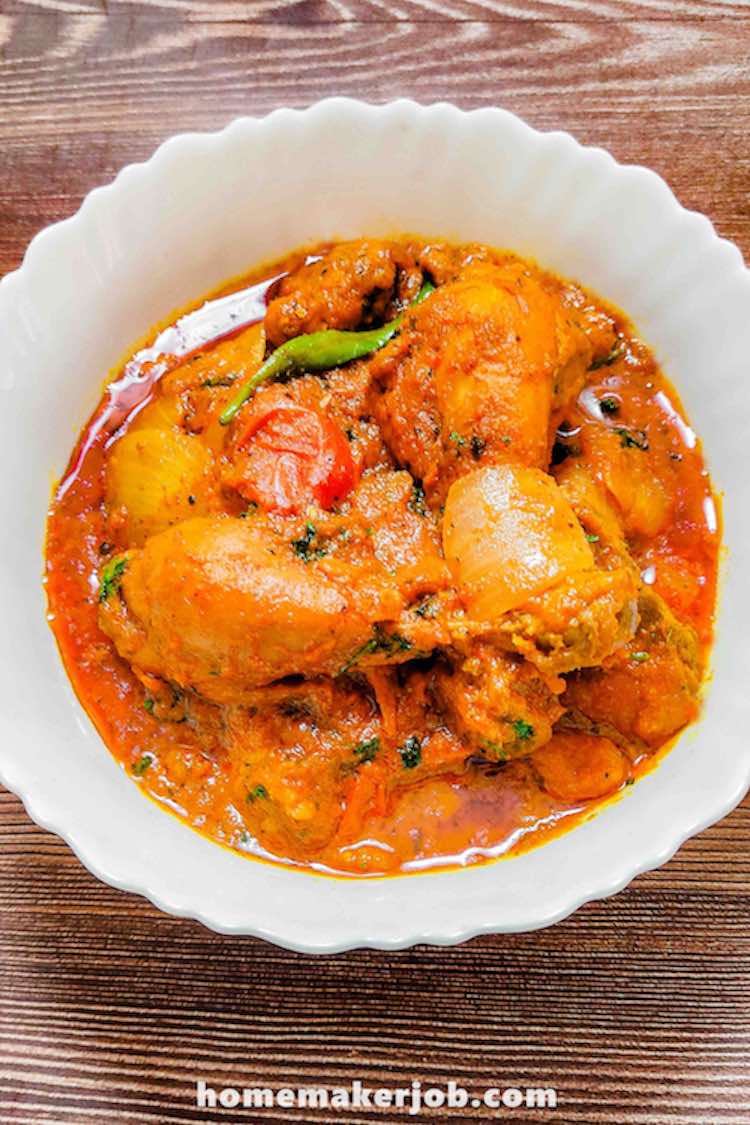 FAQs:
What does Pyaza mean?
'Pyaza' is a hindi word that simply means 'onion' in English.
Why is it called chicken do Pyaza?
There are various claims regarding the name of the recipe. One claim says, it got its name when a courtier named mullah do piazza mistakenly added large amount of onions in a dish. While another claim says, it got its name as it uses onions twice. In conclusion, there is no authentic source about the name.
Whatever the real reason, it has to do with onion being a major ingredient of the recipe.
What is the meaning of do pyaza?
Do pyaaza means 'Two Onions' or 'Double Onions'. It's not sure if it's about amount of onions or frequency of the onions added in the recipe.
Is Dupiaza spicy? 
It is not exactly spicy from Indian cuisine standard. It's mild to moderately spicy. For regular spice eaters, it's nothing. For non-spice eaters, it might taste spicy
Similar main course recipes: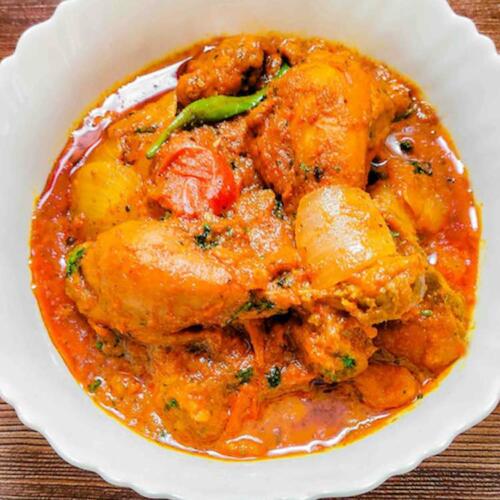 Chicken Do Pyaza
Chicken Do Pyaza is a nice and simple chicken gravy recipe for a change that tastes delicious, has a different taste profile than other similar gravies. It can be made with easily available day-to-day ingredients. It's easy to cook, needs fewer efforts and takes less time. It's a must-try recipe for a dinner. Furthermore, it is well suited for both special occasion and normal dinner. It can be made relatively quickly whenever you want to try something different.
Ingredients
700

gm chicken

2

big onions finely chopped

1

tomato chopped

(seeds removed)

2

tomatoes pureed

2

tbsp

ginger garlic paste

1

onion diced

2

green chillies

1

tbsp

coriander leaves chopped

4

tbsp

curd

4

tbsp

cooking oil

2

tsp

kashmiri red chilli powder

2

tsp

coriander powder

1

tsp

cumin powder

1½

tsp

salt

½

tsp

turmeric powder

½

tsp

kasuri methi

½

tsp

garam masala

1

cup

water
Instructions
In Mixing bowl, add 700 gm chicken, 1 tsp kashmiri red chilli powder and 1 tsp salt. Mix well together and let all marinate for 30 min.

In another small bowl, add 4 tbsp curd, ½ tsp turmeric powder, 2 tsp coriander powder, 1 tsp kashmiri red chilli powder and ½ tsp cumin powder. Mix all the spices well with curd and keep aside.

Heat 4 tbsp oil in a kadai on medium heat. Add 2 big finely chopped onions and fry till they turn golden brown in color.

Add 2 tbsp ginger garlic paste and saute for 2 min. Then add puree of 2 tomatoes and saute for 5 min or until it release the oil.

Next, add curd mixture and cook for 3 min.

Add the marinated chicken and ½ tsp garam masala in the kadai and mix well. Cook it for 5 min on high heat.

Add 1 cup water and cook for 2 min on high heat. Turn heat to low, cover the lid and cook for another 15 min.

Remove the lid and add 1 diced onion, 1 chopped tomato and 2 green chillies and mix. Cover the lid and cook for 5 min or until meat turns juicy and tender.

Now, Add ½ tsp kasuri methi and 1 tbsp chopped coriander leaves. Mix well and cook for 2 min and turn off the heat.

Serve hot chicken do pyaza with roti or rice.
Notes
* You can use boneless chicken pieces for this recipe but bone in pieces will bring more taste to the gravy.
* You can add the chicken stock instead of water for gravy.
* You can skip adding chopped tomatoes.
Subscribe with us to get delicious recipes directly to your inbox: