Palak Chicken Recipe | Delicious Indian Spinach Chicken Curry
Palak chicken curry is a North Indian recipe. Palak is a Hindi word which means Spinach in English. The exact origin of the recipe is unknown. It is a favorite dish across various northern states of India.
This recipe is also known by other names as:
Saagwala Chicken,
Palak Murgh,
Spinach Chicken,
Saag Murgh etc.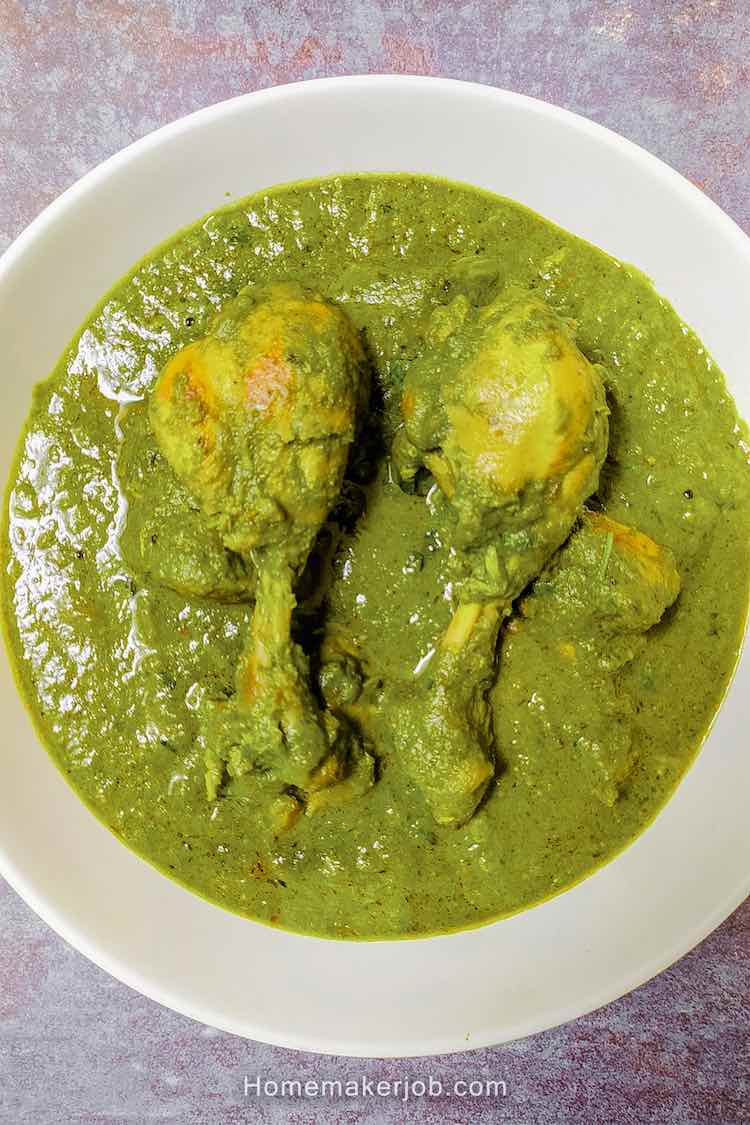 Palak Murgh Description:
This is a gravy recipe with chicken, pureed spinach and all spices. Spices give an aromatic and flavorsome taste to this delicious recipe.
There is one popular Indian dish, Palak paneer. This dish is its non-veg counterpart. It uses poultry meat in place of paneer (cottage cheese).
One may confuse this dish with a similar recipe hariyali (green) chicken. Though they look and sound similar, they are very different recipes. The major difference between the two is that green chicken uses green vegetables other than palak while palak murgh only uses palak as the main vegetable. Palak murgh contains cream as one of the major ingredients. Both dishes taste very different from each other.
This recipe is frequently called saag wala chicken. But saag can mean any green leafy vegetable. Saag doesn't mean palak only. Methi chicken can also be called saag wala chicken though it's uncommon. Most of the time, people will assume saag as palak.

Palak Chicken Ingredients:
Chicken (Murgh):
Use chicken with bones, rinsed and cut well into medium pieces. It is better to use skinless chicken with bone than a boneless one. It is necessary to clean the meat in fresh and clean cold water. When boiling, bones leave gelatin, which makes gravy thicker and tastier. You can use boneless pieces if you prefer so.
The thighs part is preferable for this dish. Thighs are usually tender and tastier after cooking. Also, it is easier to cook cubes from the thigh part compared to the breast part. If you prefer a healthier alternative, you can use the breast part.
Palak (Spinach):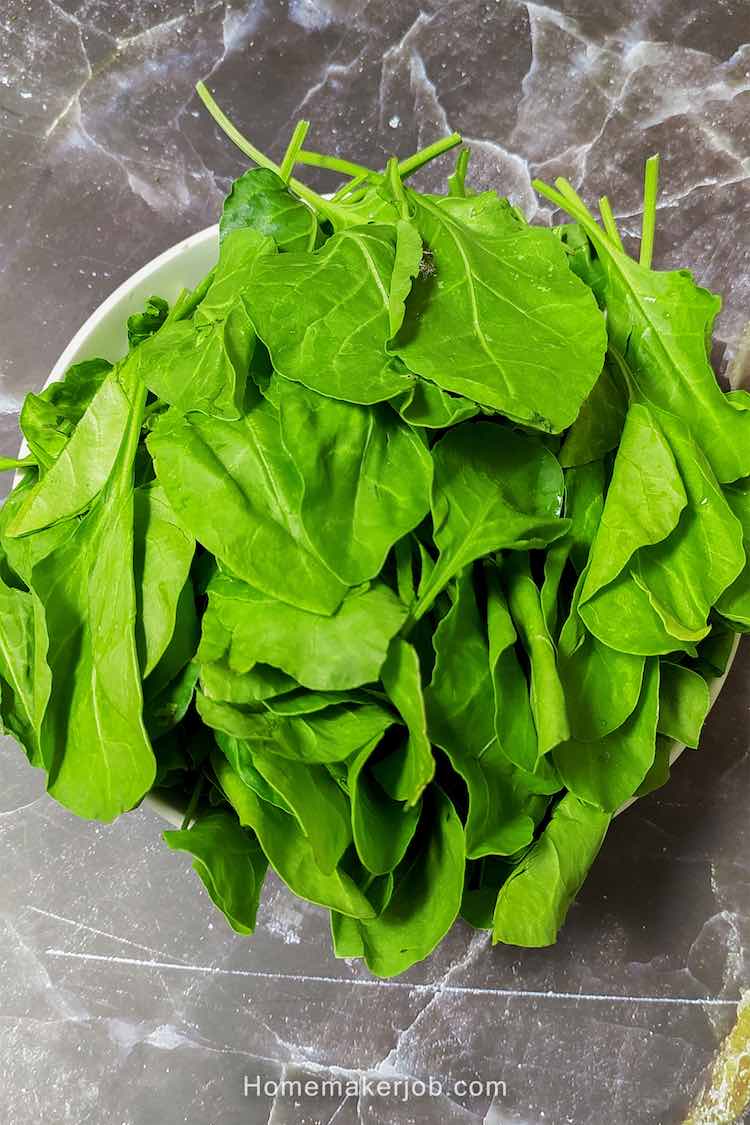 Palak contains potassium magnesium, folic acid, iron, calcium, vitamin B6, B9, C, E and K. Thus, palak is one of the most beneficial vegetables for good health. Poultry meat contains vitamin B12, zinc, iron, and copper which are also necessary for health.
For this recipe, select the medium mature spinach. Avoid baby spinach, too young or too thick (mature) spinach. Only use them if you don't have any alternative available. It's not that you can't use them at all, but the taste will be better with moderately mature palak.
Select fresh leaves only. Make sure the leaves don't have any holes or aren't spoiled. Select stem along with leaves. Stems should be 1 to 1.5 inches long and not more than that.
You can use canned spinach if fresh spinach isn't available, or you can make your own spinach puree.

Garlic, ginger, Green Chili paste:
This paste is a very common ingredient among Indian curries. Most of the curries will have it. It helps to improve the spice, aroma and overall taste of the recipe. Select chilies based on your taste preference. I prefer to keep it moderately hot.
Tomato puree:
Select nice red tomatoes for puree. Tomato puree makes the gravy thick. It also adds sweet and sour touch to the taste.
Roasted Chana (chickpea) Powder:
I added roasted chana (chickpea) powder to this recipe. This is an item that's easily available in India, but difficult to get outside India. This is different from roasting chickpeas directly. You can use cashew powder instead if roasted chickpeas aren't available. Avoid gram flour.
Cream:
Add about 2 tbsp of good quality cream. It makes gravy creamy and thick.
Kasuri methi:
It is optional, but using it adds the subtle aroma and flavour of methi to the recipe.
Equipment Details:
This dish is very easy to cook quickly within an hour. We need to occasionally stir everything during this recipe. So, we need any utensil with enough depth. The suitable equipment for this recipe is kadai. The alternatives are steel pot or any utensil with depth.
Cooking Details:
Blanching the spinach:
We need to blanch palak/spinach before making its puree. For blanching, we need to let the water boil for some time before adding spinach. Once, the water is hot enough, add spinach in it. Let it boil for 3 to 4 minutes. After that, remove the spinach and immediately transfer it in ice-cold water. You can either put some water beforehand in the refrigerator for this or add enough ice in normal water.
Blanching stops enzyme actions and prevents spinach from losing its flavour, color and taste.
Boil palak and make its puree. The taste of meat and palak will mix better.
Cooking the meat:
We'll cook the meat in two stages for this recipe. The major cooking will take place after we add onion paste, garlic ginger chili paste, all the spices, tomato puree and water. This will make a curry. Let the meat cook in a curry for some time till it is cooked well and becomes soft.
In the next stage, we'll cook it with spinach puree. After adding spinach(palak) in the curry made earlier, we get spinach curry. We need to cook chicken with it for a short period to avoid overcooking the spinach.
Cooking Tips:
Don't boil spinach too much during blanching. 3 to 4 minutes are enough.
When you finally mix palak gravy with chicken, make sure not to overcook it. Keep stirring occasionally and don't cook for more than 5 to 6 minutes on medium flame. The reason for this is, that we've boiled palak already in an earlier step. Overcooking will smash the proteins and nutrients from it.
Serving Suggestions:
This dish tastes good with chapati, roti or naan. You can eat it with rice also.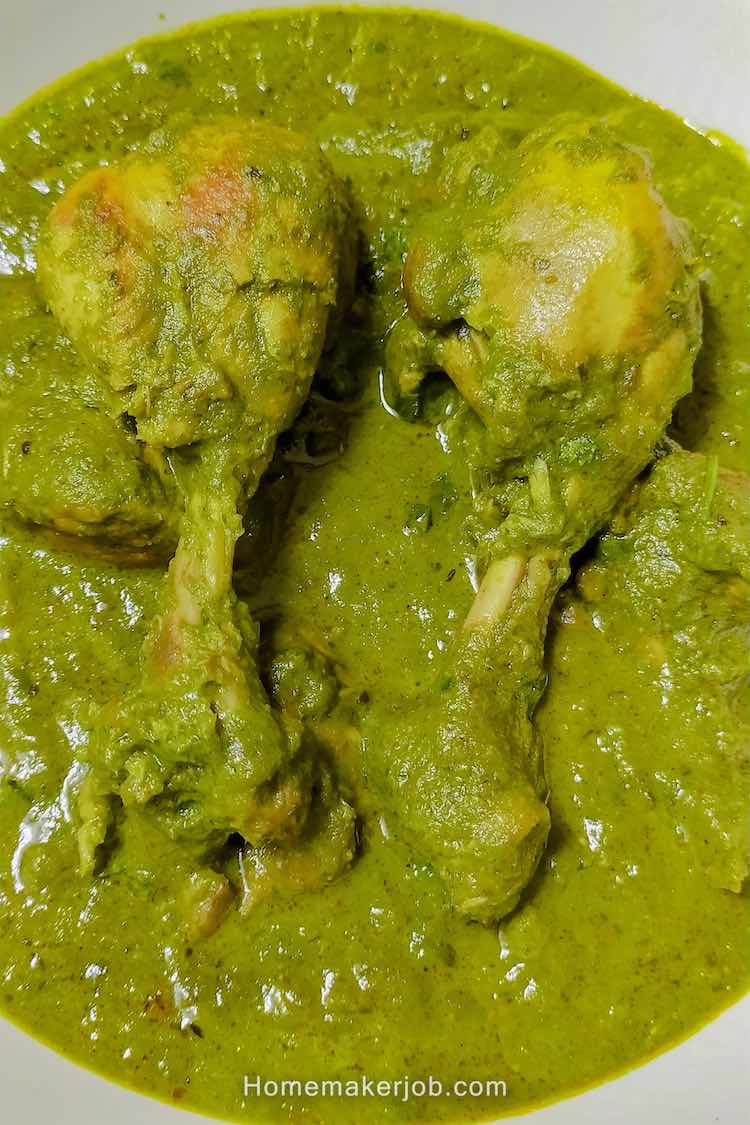 FAQs:
What is chicken Palak made of?
It is made by cooking tender chicken with palak gravy. For taste, it uses tomato puree, onions, cream and regular Indian spices.
What is chicken saag made of?
It is made of chicken with gravy of any green leafy vegetable. It can be made of palak (spinach), methi (fenugreek) or any other leafy vegetable. But typically it is assumed to be palak as other versions are less used.

What is the difference between saag and Palak?
Palak is a popular leafy vegetable while saag is a broader term used for many green leaves vegetables. It can refer to any green leafy vegetable including palak (spinach), methi (fenugreek leaves) and more. So, palak can be called as saag but saag doesn't always mean palak.
How many calories does this dish have?
Calories can vary for the same dish based on the recipe and ingredients used. Our recipe has approximately 418 calories.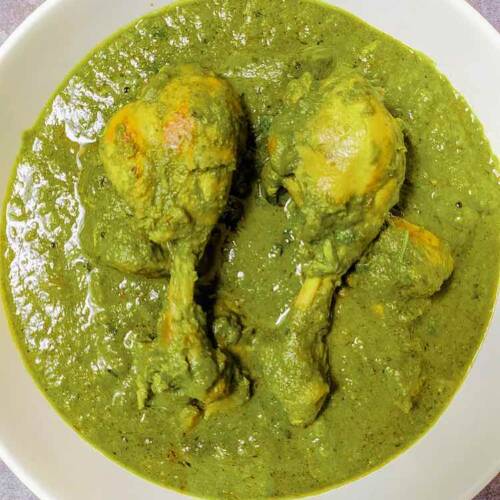 Palak Chicken
When we think of Indian curries, we've a peculiar image in our minds. Many of us would imagine red-colored hot-spicy curries. Palak Chicken is one of the curries different from the usual ones. This bright green color dish is extremely flavorful in taste. It is full of vitamins and nutrients. One can enjoy this delicious dish in any season, summer or winter. If you haven't yet, try this recipe for a change.
Ingredients
650

gm

chicken

225

gm

palak

(spinach)

1

cup

onions, chopped

½

cup

tomatoes, chopped

1

tbsp

ginger, garlic, green chili paste

¼

cup

coriander leaves, chopped

1

tbsp

roasted chana powder

2

tsp

red chilli powder

2

tsp

coriander powder

1

tsp

cumin powder

¼

tsp

turmeric powder

1

tsp

garam masala

1

tsp

kasuri methi

1

tsp

salt

1

tbsp

ghee

(clarified butter)

2

tbsp

cream

3

tbsp

cooking oil
Instructions
Clean and wash spinach with cold water and trim the spinach.

Keep 1 ltr water to boil in a pan on medium-high heat. Once the water comes to a boil, add spinach in it. Let spinach boil for 4-5 min.

Take the spinach out and transfer immediately in ice cold water and let it cool down completely.

Transfer spinach into the blender jar. Add 1/4 cup chopped coriander leaves and blend till smooth.

In another blender jar, add 1 cup of chopped onions and blend to make a paste. Also, make a puree of 1/2 cup of chopped tomatoes separately.

Heat 3 tbsp oil and 1 tbsp ghee in kadai or a pan. Keep the flame on medium. Once the oil is hot, add 1/2 tsp mustard seeds and 1/2 tsp cumin seeds and fry them well.

Add onion paste and sauté for 7-8 min till it turns light brown. Stir in between.

Add 1 tbsp ginger, garlic, and green chili paste and sauté for 2min. Next, add 2 tsp red chili powder,2 tsp coriander powder, 1 tsp cumin powder and 1/4 tsp turmeric powder. Mix all spices well.

Pour tomato puree in a kadai and mix well. Cook for 2 min on medium flame. Then add 650 gm chicken and mix everything well. Cook for 5min high flame. Cover the lid and cook for another 10 min on medium-high flame.

Remove the lid and add1 tbsp roasted chana powder. Mix well, add 1½cup hot water, and cover the lid. Cook for another 2 min on medium flame.

Now, add spinach puree into kadai and give a good mix. Add 1 tsp garam masala, 1 tsp kasoori methi and chopped coriander leaves. Mix well and cook for 2 min. Finally, add 2 tbsp cream and mix well. Turnoff the flame.

Serve hot palak chicken with paratha, naan, roti or rice.
Notes
Use fresh spinach for better taste.
Adjust spice level as per your taste.
You can use boneless chicken, but well cooked  bone-in pieces give a much better taste to the recipe.
Subscribe with us to get delicious recipes directly to your inbox: