Chicken 65 dry recipe | Easy boneless chicken sixty five recipe
Chicken 65 dry is a popular South Indian appetizer recipe. This dish was introduced by the Buhari Hotel in Chennai. Boneless chicken pieces are marinated with spices and curd before deep frying. After deep frying, you need to give it a tadka (tempering) with curry leaves, green chilies, and chopped garlic. It gives a nice aroma to the dish. It is a crispy and spicy appetizer. Try this restaurant-style easy recipe at home.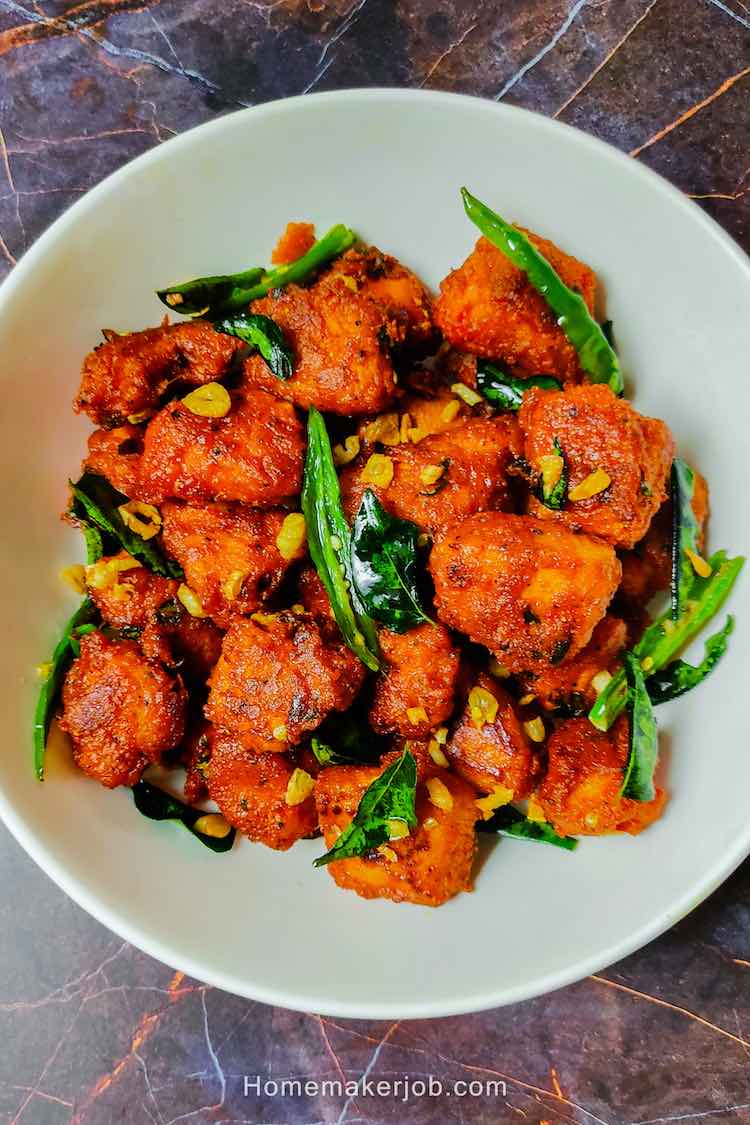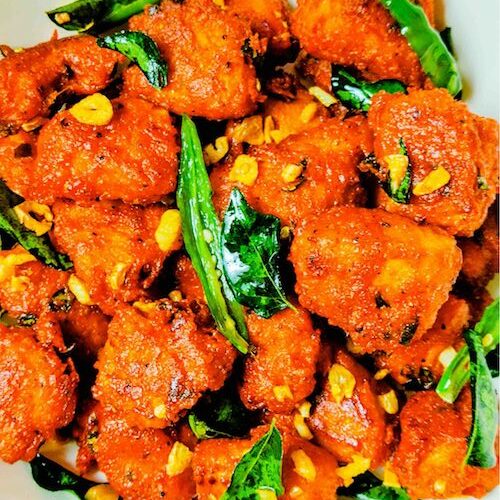 Chicken 65 dry recipe | Easy boneless chicken sixty five recipe
Chicken 65 dry, is a popular Indian starter that originated in South India. It is made by frying chicken pieces coated with Indian spices. Get its amazing taste at home with our step-by-step restaurant-style recipe.
Ingredients
500

gm

chicken boneless & chopped

1½

tsp

Kashmiri red chili powder

1

tbsp

ginger, garlic, and green chili paste

1

tsp

coriander powder

½

tsp

cumin powder

1

tsp

black pepper powder

½

tsp

garam masala

¼

tsp

turmeric powder

2

tbsp

hung curd

1

tsp

salt

1

tsp

lemon juice

3

tbsp

rice flour

2

tbsp

corn flour

1

tbsp

garlic, crushed

15-20

curry leaves

4

green chillies, sliced

Pinch

of red food color

(optional)

Oil for deep frying
Instructions
Take 500 gm boneless chicken pieces in a mixing bowl. Add 2 tbsp hung curd, 1 tbsp paste of ginger,garlic and green chili. Add 1½ tsp Kashmiri red chili powder, 1 tsp black pepper powder, and ½ tsp cumin powder. Then add 1 tsp coriander powder, ¼ tsp turmeric powder, ½ tsp garam masala, 1 tsp lemon juice and 1 tsp salt. Add a pinch of edible red food color. Mix all the spices well with the chicken. Keep aside and let the chicken marinate for 15 min.

After 15 min., add 3 tbsp rice flour and 2 tbsp corn flour to the marinated chicken and mix well.

Heat the oil in a pan or wok on medium-high heat. After the oil is hot enough, turn the heat to low.

Gently, drop the marinated chicken pieces in hot oil. Fry them in batches. Do not put all the pieces at once. Deep fry these pieces for 5-6 min. from each side, or fry them until they turn golden brown on both sides.

Remove the fried chicken and keep it on a kitchen paper towel to drain the excess oil. Fry the remaining pieces.

In another pan, heat 2 tbsp oil. Once oil is hot, add 1 tbsp chopped garlic and saute for 2 min. Next, add 4 sliced green chilies and saute for 20 seconds.

Add the fried pieces and 15-20 curry leaves in a pan and fry for 2 min.

Serve hot chicken 65 with lemon wedges and sliced onions.
Notes
You can use the chicken breast or thigh part for this recipe.
Cut the boneless chicken into even-sized pieces.
Adjust the spice level as per your taste. Add more chili powder to make it spicier.
The marination process gives a good taste to the chicken. Let it marinate for 1-2 hr. if possible.
Subscribe with us to get delicious recipes directly to your inbox: