Stuffed pomfret fry | green masala pomfret rava fry recipe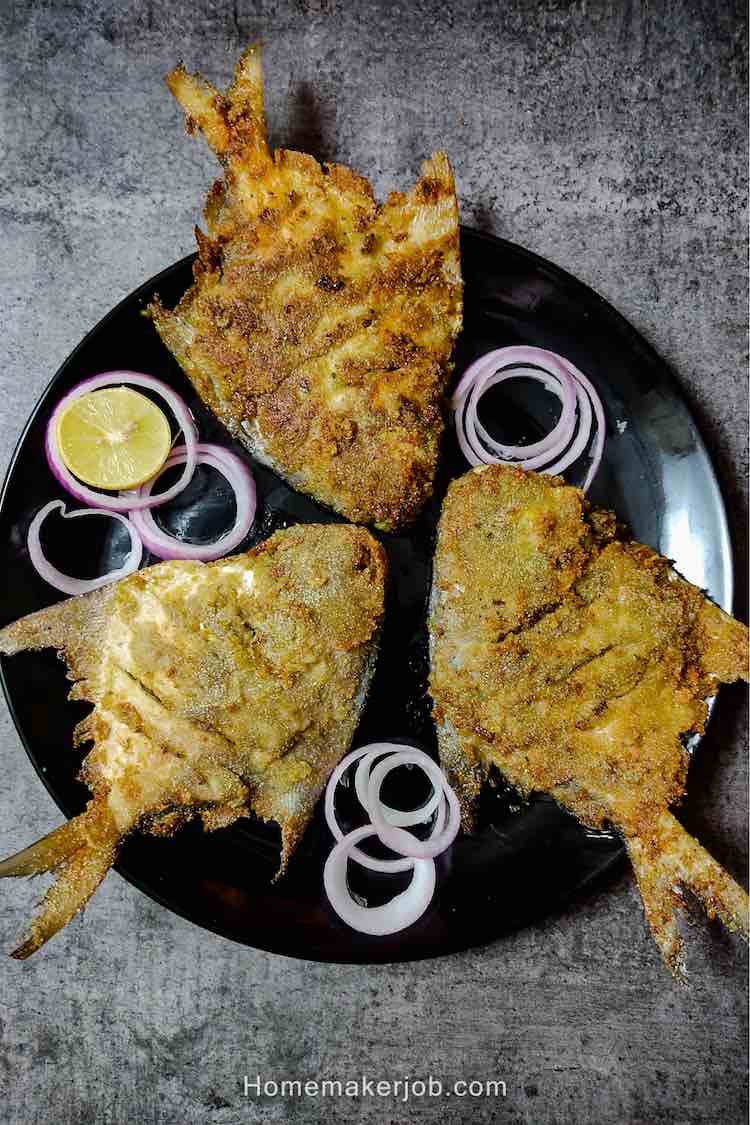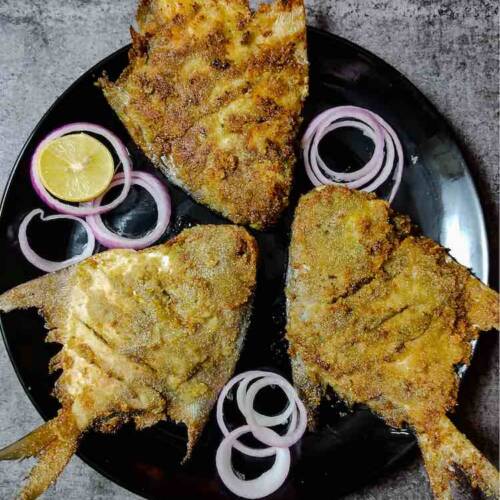 Stuffed pomfret fry
Stuffed pomfret fry is one of the most popular dishes among seafood lovers. This dish is very delicious in taste. Stuffing made for it uses freshly grated coconut, coriander leaves, green chilies, and other ingredients. Together, they create a very delectable taste. The outer coating for fish uses rava (semolina) and rice flour, which gives it a crispy texture. This is a delicious recipe that you should try.
Ingredients
For marination
½

tsp

salt

2

tsp

lemon juice

1

tbsp

garlic-ginger-green chili paste
For masala paste
1

cup

fresh coconut grated

½

cup

coriander leaves

8-10

green chilies

15

garlic cloves

1

inch

ginger

2

tsp

lemon juice

1

tsp

salt

½

tsp

cumin powder

½

tsp

garam masala

4

tbsp

oil
For coating
2

tbsp

rava

(semolina)

4

tbsp

rice flour

¼

tsp

red chili powder

¼

tsp

salt
Instructions
Take 4 pomfret fish in a plate. Wash and clean them thoroughly. Use a knife and make cuts on both sides of the fish. Apply 1 tbsp ginger-garlic-chili paste, 2 tsp lemon juice and ½ tsp salt. Let them mar-inate for 15 min.

In grinder jar, add 1 cup grated fresh coconut, ½ cup coriander leaves, and 8-10 green chilies. Then, add 15 garlic cloves, ginger 1 inch piece, and add 2-3 tbsp water. Make a smooth paste of it. The paste will get a nice green color due to the coriander leaves and green chili.

Heat 4 tbsp oil in a kadai on medium flame. Once oil is hot, add green paste in kadai.

Let the green paste cook for 8-10 min. Keep stirring in between. Add ½ tsp cumin powder, ½ tsp garam masala, and 2 tsp lemon juice. Mix everything well. Let the masala paste cool down.

Once the masala paste is cooled down, divide it equally for 4 pomfrets. Stuff green masala paste inside the slits of the fish on both sides. Also, stuff it inside the fish. Repeat the same process for the remaining pomfrets.

On a plate, take 2 tbsp rava, 4 tbsp rice flower, ¼ tsp salt and ¼ tsp of red chili powder. Mix well together.

Coat all the stuffed fish well with rava mixture. Heat enough oil in a kadai on a medium-high flame for 5 min.

Gently drop the fish in hot oil and turn the flame to medium. Fry 7-8 min for one side. Turn the fish to the other side and let it fry for 7-8 min. Fry one pomfret at a time, so it can cook properly.

Serve hot on a plate with onion rings and lemon wedges.
Notes
Make deep cuts in the fish for stuffing.
Use chili powder as per your taste.
Use a non-stick pan to prevent the fish from sticking to the pan.
Frying on a high flame can burn the coating.
Subscribe with us to get delicious recipes directly to your inbox: