Mackerel Curry | Ayala Curry | Bangda Fish Curry Recipe Indian style
Indian mackerel curry, also known as bangada curry or ayala curry is a delicious dish for fish lovers. This recipe features mackerel, a tasty nutritious fish, cooked in a rich curry made from onions, coconut, and blend of aromatic spices. It brings the perfect harmony of spicy, salty, meaty, and slightly tangy flavors. With its irresistible aroma and taste, this is a truly satisfying fish delicacy.
About mackerel curry:
This is a popular dish across the western coastal areas of India. The recipe varies slightly by region based on the availability and popularity of ingredients in those areas. E.g., Kerala and Karnataka use tamarind as a souring ingredient. Vinegar is used in Goa instead of tamarind, and kokum is popular as a souring agent in Konkan, Maharashtra. Some areas use lemons or tomatoes.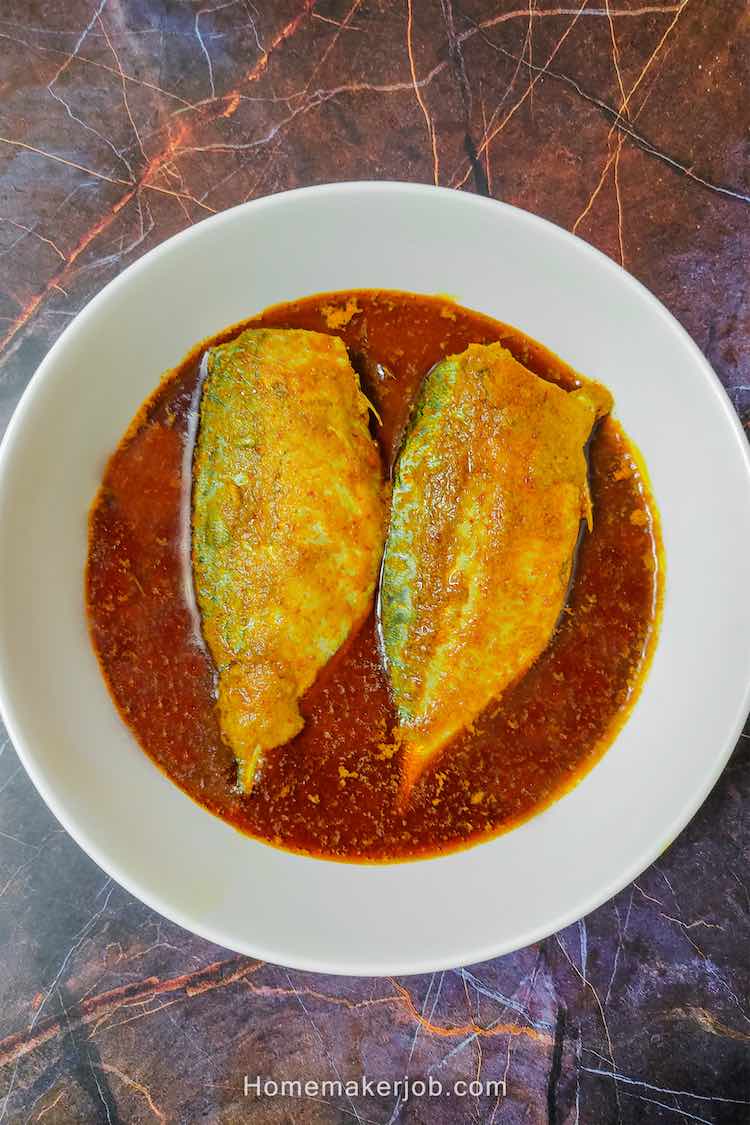 The curry has a deep red color. The fish will have a yellow layer on it due to the spices coated over it. The curry will be semi-thick and have a bit of a granular texture due to the grated coconut paste in it. It'll have the salty seafood flavor of mackerel.
About Ingredients: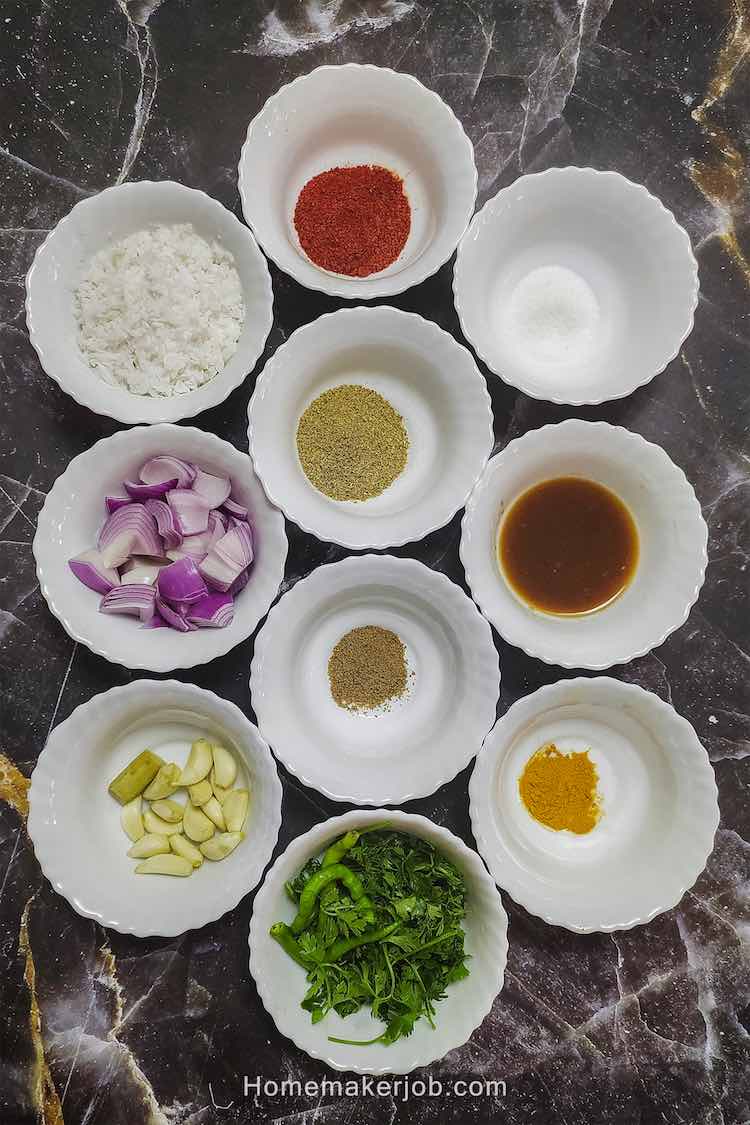 Mackerel (a.k.a. Bangada or Ayala) Fish:
Buy only fresh mackerel. Choose a medium or large sized piece. Avoid very small pieces, as they'll have higher-density fish bones. Avoid a fish with a strong fishy smell, as it might be rotten.
Clean all the material inside the fish. Remove the black film inside. This is very important. If it's not removed, it can make the curry bitter, and this part can be toxic in rare cases.
Fresh coconut:
Take a fresh coconut. Coconut is an integral part of this dish as it is abundant in the area where mackerel is fished. Fresh coconut adds a sweet, milky taste to the dish. It also helps reduce the fishy smell.
Coriander, ginger, garlic, and green chili:
Keep these ingredients as fresh as possible. Refer to the recipe card for their exact amounts. Wash them with clean water to remove any dirt or germs. These are essential ingredients for the curry and bring strong flavors to it.
Souring agent:
Use either kokum, tamarind, lemon, or vinegar based on availability in your region. Use only one of them and not all of them. A souring agent is needed to add flavor to the fish. When fish is marinated with a souring agent, it absorbs the sourness and gains taste. In rare cases, tomatoes can be used instead of the above ingredients.
Powdered spices:
This curry uses minimal spices. Generally, fish curries do not have a heavy amount of spices compared to chicken or mutton curries. The real flavor comes from the fish itself. Only basic spices like red chili powder, coriander powder, cumin powder, salt, and turmeric are used.
Equipment Details:
As the fish is delicate, it needs to be handled carefully. It should be flipped on both sides frequently for marinating purposes. But don't overdo it, or you might break the fish. You'll need a utensil that has a well-spread surface and low depth for the marination. A plate is preferable.
For cooking, you'll need a pan or low-depth pot. If you use a deep pot, the curry will add more pressure and steam to the fish. This will cook the fish earlier than needed.
Cooking Explanation:
Marinating:
Marinate the fish in the souring agent of your choice. You can add a little water to the souring ingredient if you want to dilute it a bit. E.g., in the case of kokum, it's advisable to use a little water to soak the kokum.
This will enhance the taste of mackerel along with the curry it absorbs during cooking.
Coconut, coriander, ginger, garlic, and green chili paste:
Make the paste from the above ingredients as mentioned in the recipe card. This paste will be the base for the curry. These ingredients have a strong flavor and aroma. When they meet the flavors of marinated bangada and powdered spices, it makes an amazing combo of vibrant tastes.
Making the bangada/ayala curry:
Use the paste mentioned above along with powdered spices to make the curry. Don't add more water than mentioned in the card, as it'll dilute the curry. Generally, less water is needed in the case of any fish, as it doesn't need boiling like chicken or mutton. Fish usually tend to cook quickly. So, keep an eye on the timer to avoid overcooking it.
Overcooking will break the fish, make it difficult to handle while eating, and also dilute its flavors. Avoid cooking on a high flame. Handle the fish carefully; don't keep it turning more frequently than needed.
Use the recipe card and follow the instructions as closely as possible to get the best taste.
Important Tips:
Make sure the fish is fresh.
Do not overcook the fish.
Marinate the fish sufficiently prior to cooking.
Use freshly ground spices only.
Use fresh herbs for better flavor.
You can use coconut milk instead of grated coconut.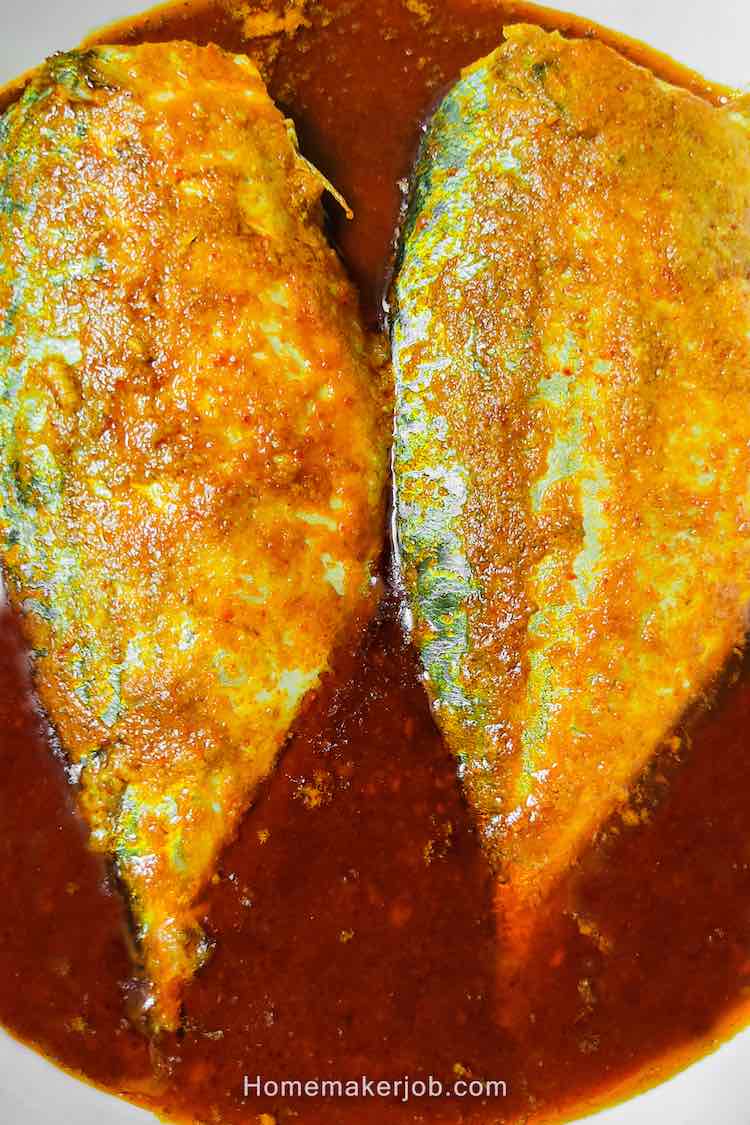 Serving Suggestions:
It is usually served with rice or chapatis. Don't serve it with bread. To balance its heat, you can serve it with side dishes like cold yogurt raita or sliced cucumbers.
Similar main course recipes: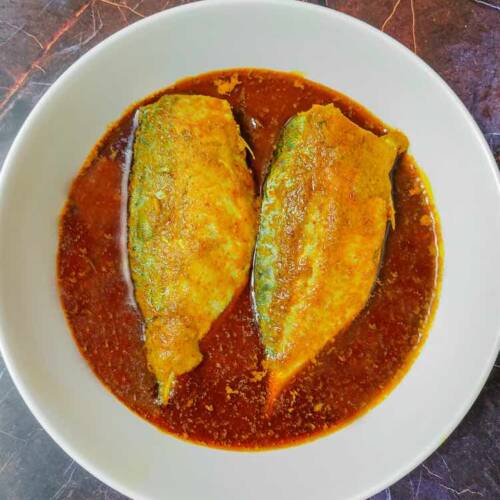 Mackerel (Bangda/Ayala) Curry Recipe
Mackerel (Bangda) fish curry is a tasty and easy recipe to make. The ingredients used in this recipe are easy to find on the market. Red chili powder and lemon juice give it a spicy, tangy flavor. Fresh coconut gives a mild sweetness to the curry.
Ingredients
4

bangda fish

½

cup

fresh coconut grated

½

cup

onions

(diced)

13-15

garlic cloves

1

inch

fresh ginger

3

green chilies

¼

cup

coriander leaves

2

tsp

red chili powder

2

tsp

coriander powder

½

tsp

cumin powder

½

tsp

turmeric powder

1½

tsp

salt

2

tsp

lemon juice

½

tsp

garam masala

4

tbsp

oil
Instructions
Wash and clean 4 pieces of bangda fish. Pat them dry with a clean kitchen paper towel.

Take bangada pieces in a plate. Take 2 tsp lemon juice and spread it on those pieces. Apply evenly from both sides and keep the pieces aside for 15 min.

In a mixer jar, add ½ cup of fresh grated coconut, ½ cup diced onions, and 13-15 garlic cloves. Then add 1 inch ginger, 3 green chilies, and ¼ cup coriander leaves. Add 3 tbsp water in it to make a smooth paste. Cover the lid and blend till it turns into a smooth paste.

Heat 4 tbsp oil in a kadai over medium flame. Once the oil is hot enough, add the paste into the kadai. Sauté well for 10 min till the paste becomes thicker.

Add 2 tsp red chili powder, 2 tsp coriander powder, ½ tsp cumin powder, and ½ tsp turmeric powder. Mix well for 2 min.

Add 2 cups water, 1½ tsp salt and ½ tsp garam masala. Mix everything well and cook for 10 min.

Now add bangada pieces to the kadai and cook well for 5-7 min on low flame. Turn off the flame once the fish is cooked well.

Serve hot bangda fish curry hot with rice or chapati.
Notes
Wash and clean the fish properly.
If you like the curry to be spicier, you can add more red chili powder.
Always buy fresh fish for cooking.
Subscribe with us to get delicious recipes directly to your inbox: