Surmai Rava Fry | Anjal Tawa Fry | Seer/KingFish Fry Recipe
Surmai Rava Fry is my favorite dish if I have a surmai in my refrigerator and I want to make something quick. If you love seafood, you must try this crispy and spicy snack with its vibrant taste.
This tasty fish has various names in various parts of India. The various names include seer fish, kingfish. Below are the names for it across some Indian states.
surmai in western and northern parts
vanjaram fish in Andhra and Tamil Nadu
Iswan in Goa
Ayakoora or Neymeen in Kerala
Anjal in Karnataka.
Its technical name is Indo-Pacific king mackerel, and it belongs to Scombridae family. Other fish belonging to the same family are mackerel (bangda) and tuna. It has a similar, harder texture and contains fewer bones. That's why it is one of the best fish to fry.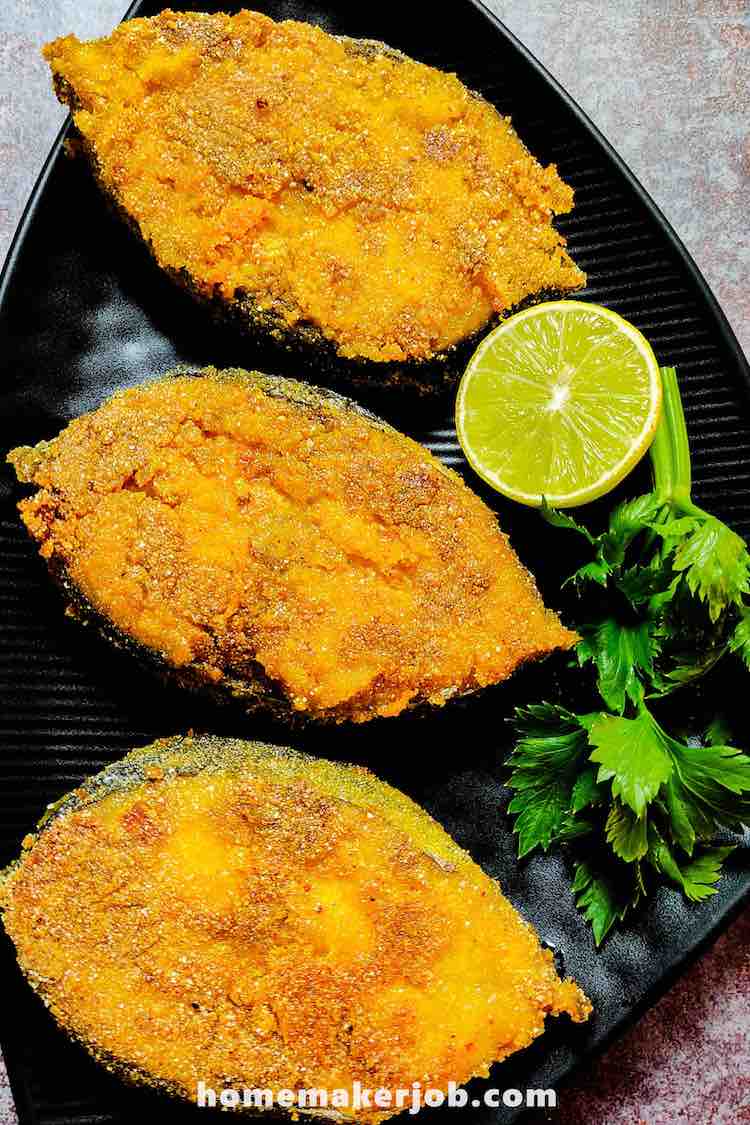 I have combined both rava and tawa fry for my recipe. Generally, there are two popular methods for making fish fry in India. 1. Tawa Fry, 2. Rava Fry. Though they seem to be each other's alternatives, they are not. First one refers to the frying method and second refers to the type of coating that you put on pieces.
Tawa fry means shallow frying. You fry the item on pan or tawa with little amount of oil. Rava fry means you use suji (semolina) in the coating mixture. Rawa fry makes it crispier and Tawa fry gives it better taste without making it much oily.
Surmai Rava Fry Recipe Ingredients: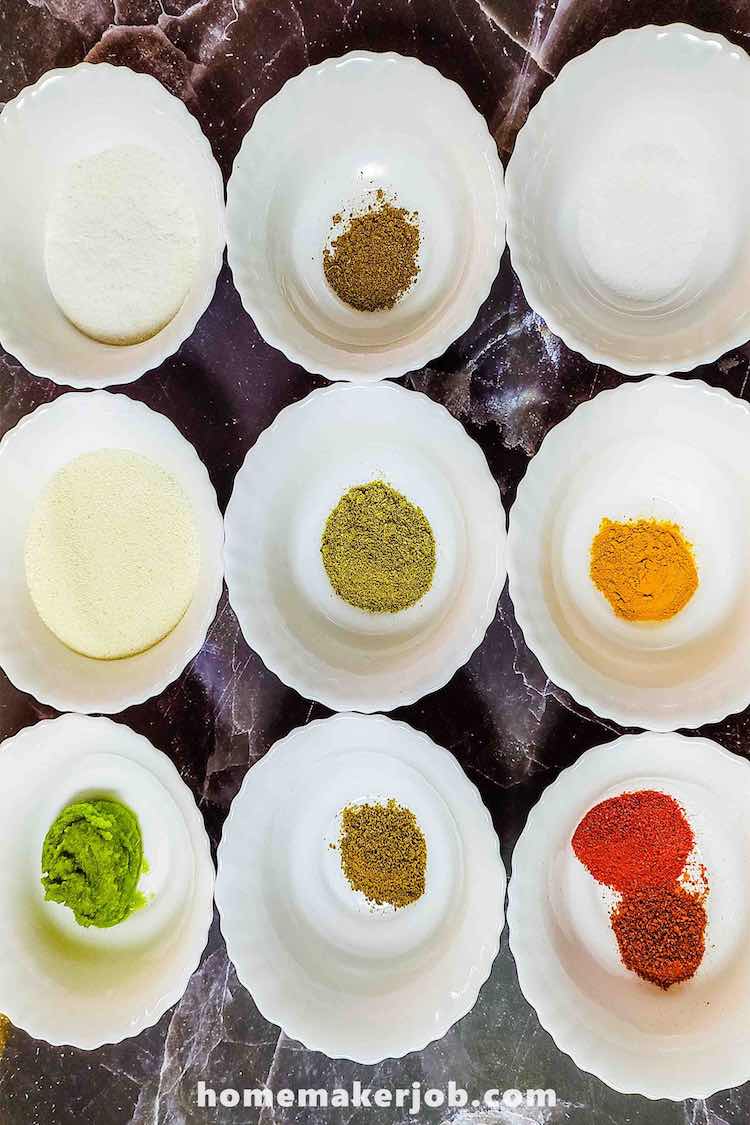 Fish:
Surmai is a perfect Indian fish for a fry. It has less fats, does not have strong smell and has few bones. It is called kingfish for a reason. You will get bigger pieces. It's easier to handle when frying. It won't stick to the pan.
To check if the fish is fresh, press it with thumb. If it appears soft and pressed parts remain in the same pressed position, then it might not be fresh. It should have light color and not brownish tan. Its smell should be salty or seawater like, but not too fishy.
Choose medium to big size piece and avoid smaller ones. Smaller fish will have relatively more and thinner bones. It will make them difficult to eat than bigger ones.
Fillets will be the most suitable for making this dish. If you can't get ready-made fillets, you can ask the seller to cut it in fillets like shape. If you have good knives at home, you can cut them yourselves. Your knives need to be very sharp. Cut slowly with light hand without applying much pressure.
You should not make pieces too thick, as it will make it difficult for spices to get to the inner part. Also, don't cut pieces too thin, or they may break during cooking.
Fish Marination: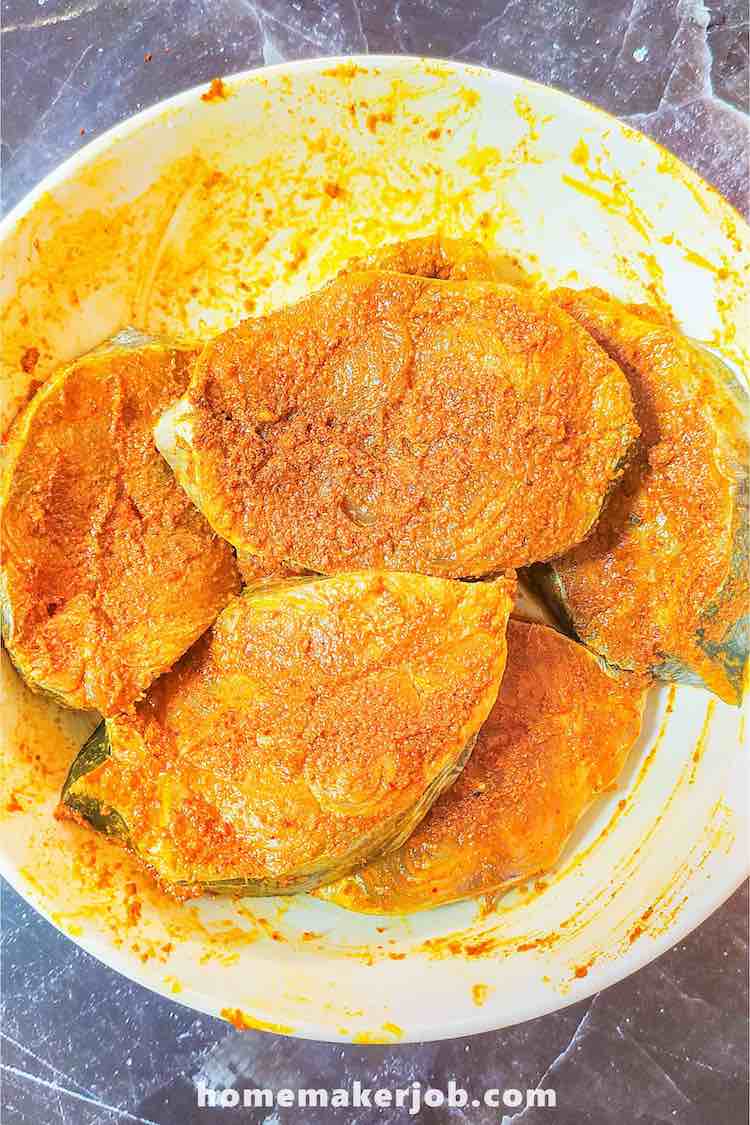 I prefer to marinate twice. During first marination, I apply salt, turmeric powder and lemon juice and then leave it for 10 min. This creates the first layer of taste. It is the base taste. Salt and lemon get absorbed in the pieces and gives it a mix of salty-tangy taste. Turmeric is antibacterial, and it reduces the bacteria formation process in raw fish. It also adds to the taste.
During the second marination, I apply all the remaining spices. Then leave the marinated pieces for 10 min. This creates a second layer of taste. This is what makes our fries spicy and crispy.
Fish generally needs less time for marinating than chicken. It will absorb all the spices and hence 10 minutes are more than enough. Also, it is not good to leave it uncooked at room temperature for a long time. Fish can spoil faster.
I use rawa (aka suji, semolina) and rice flour together for coating. They make it crispier and keeps it same for long. Your fries will not become soft or loose for a long time. Make sure that you coat each piece well from all sides with the marinade for frying.
Frying: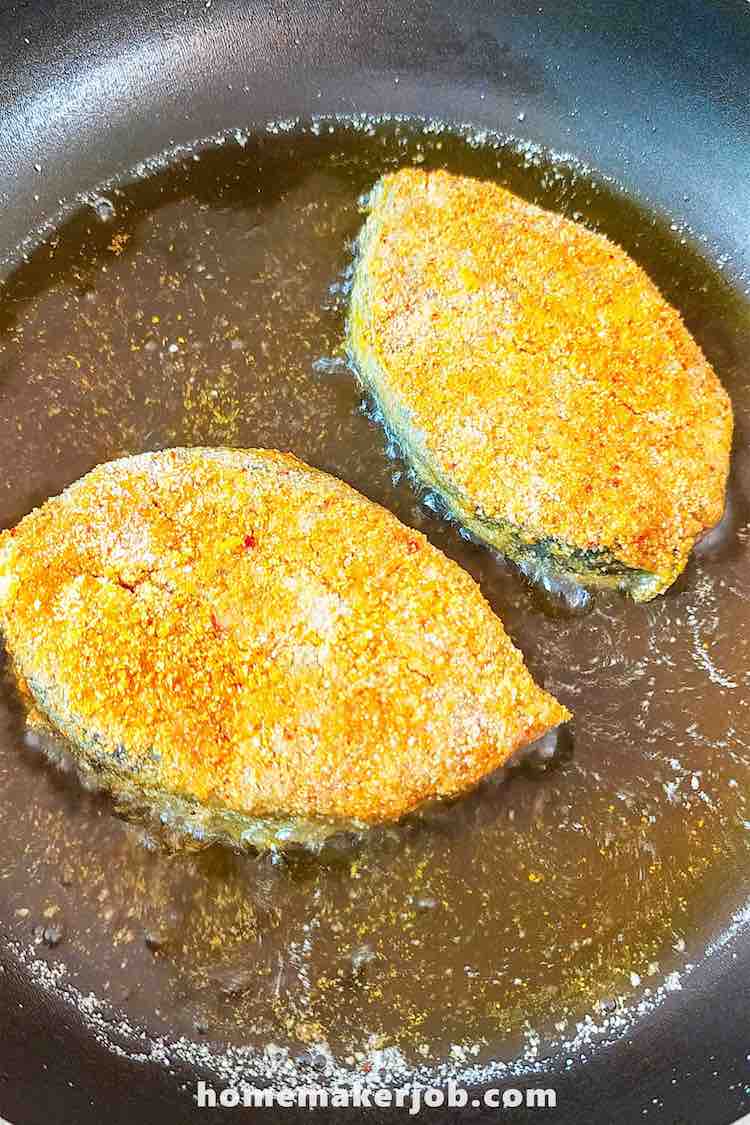 For frying, you can choose any cooking oil of your taste. For shallow frying, you need equipment that's flat, unlike deep-frying. During shallow fry, you'll need to turn the pieces. If they are big enough, you'll need enough space so that it won't stick to another piece. I prefer frying pan or tawa.
Before putting pieces in pan or tawa, let the oil heat well enough, but not too much. If oil is not hot enough, the coating of pieces will stick to the pan. If oil is too hot, it may burn the coating while the inside part may remain raw. So, heat oil to moderate level.
I would like to share a simple tip to know when to add pieces in oil. If oil starts spreading its aroma, it is ready for shallow fry. If it starts spreading smoke, it means the oil is too hot, and you want it to cool down a bit.
To make frying easier, add two pieces at a time. Do not make the pan crowded by adding too many fish pieces. Keep the flame on low when frying the fish. Let each piece fry for at least 5 to 7 min before turning it to the other side. This time varies with the thickness of vanjaram pieces. Keep an eye on color. A slight variation in timing won't make much difference.
Repeat same process for the other side. The better indicator will be color of the pieces. Its coating will form a skin around its frying side and color will turn to yellowish brown. Once you see this color, take fish out of the pan.
Serving:
You can serve surmai (vanjaram) fry with lemon slices and onion rings. You can also serve it with hot rice. It makes a nice side dish.
FAQs:
How do you fry Vanjaram/Surmai/Neymeen fish?
You should shallow fry it. You can choose any cooking oil that you use in your cooking. Choose a flat and bigger equipment for shallow frying. It makes it easier to turn the pieces while frying without them sticking to each other.
Use a frying pan or tawa for this purpose. Let oil heat for 3 minutes on medium to high flame before frying. Once oil is moderately hot, fry each side of the piece for an average 5 to 7 minutes on low flame.
This time may vary based on the thickness of the pieces. Use color as indicator to know if fish is cooked.
How do you eat Surmai Fry?
You can use surmai fry as side dish with other main course. It tastes better with lemon and onion. You can eat it with hot rice too.
How does Surmai fish fry taste?
It tastes crispy and a bit spicy. It has a slight tangy taste due to lemon, and it has its own salty taste. Its texture is a bit harder than other fish. This fish has less bones. You may find its texture like chicken. It is easier to eat. It brings a mix of variety of flavours and tastes great. It's a delight to seafood lovers.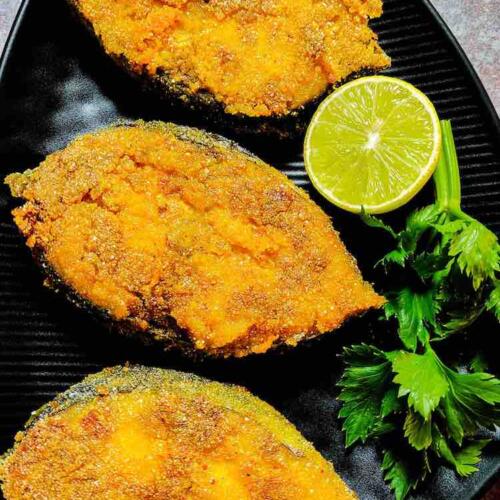 Surmai Fish Fry
Surmai Rava Fry is my favorite dish if I have a surmai in my refrigerator and I want to make something quick. If you love seafood, you must try this crispy and spicy snack with its vibrant taste.
Ingredients
6

pieces of surmai fish

1

tbsp

ginger garlic and green chilli paste

1

tsp

kashmiri red chilli powder

½

tsp

red chilli powder

1

tsp

coriander powder

½

tsp

cumin powder

½

tsp

turmeric (haldi) powder

½

tsp

garam masala

1

tsp

salt

2

tbsp

rice flower

3

tbsp

suji

(semolina)

5-6

tbsp

oil

half a lemon

(or juice of half lemon)
Instructions
For Marination
Wash and clean surmai fish pieces. Transfer them in a mixing bowl. Squeeze half lemon on it. Then add ½ tsp salt and ¼ tsp turmeric powder, mix well and apply to the fish. Keep it aside for 10 min to marinate.

In a bowl, add1 tbsp ginger, garlic and green chilli paste, 1 tsp kashmiri red chilli powder, ½ tsp red chilli powder, 1 tsp coriander powder, ½ tsp cumin powder, ½ tsp garam masala, ¼ tsp turmeric powder, ½ tsp salt and 1 tbsp oil. Mix all the spices well to make a paste.

Now apply paste to each piece of fish and coat well from both sides. Keep aside for another 10 min.

In a plate, add 2 tbsp rice flour, 3 tbsp suji (semolina), pinch of red chilli powder and pinch of salt. Mix everything well.
To Fry
Heat 5 tbsp oil in a pan on high heat for 3 min. Once the oil is hot enough turn heat on low.

Take masala coated fish pieces and coat them well from both sides with rice flour and suji mixture.

Gently put 2-3 pieces in a pan to fry. Do not over crowd the pan by adding all the pieces at once.

Fry fish for 5 min for each side or until they turn golden brown in color. Repeat same process for remaining pieces.

Put fried pieces on kitchen napkin or kitchen towel to drain.

Garnish with lemon and cilantro and serve hot.
Notes
* Do not fry fish on high heat. It will not cook evenly.
* Use red chilli powder as per your taste.
Subscribe with us to get delicious recipes directly to your inbox: