Ulavacharu recipe | Horse gram lentil rasam (soup) | Kollu rasam
Ualvacharu is a rasam with a tangy and spicy flavor. It is a delicious and aromatic dish from India.
The main ingredient of this recipe is horse gram. It has many different names like ulava, kollu, kulith, kolatha, etc. in different regions of India.
Ulava gets soaked in water overnight. Then it gets boiled in the same water in which it was soaked. After separating the horse gram, we get the stock. This resulting stock, when cooked with other ingredients; becomes the delectable ulava charu.
This dish does take some time, but it is easy to make. You can have it with rice.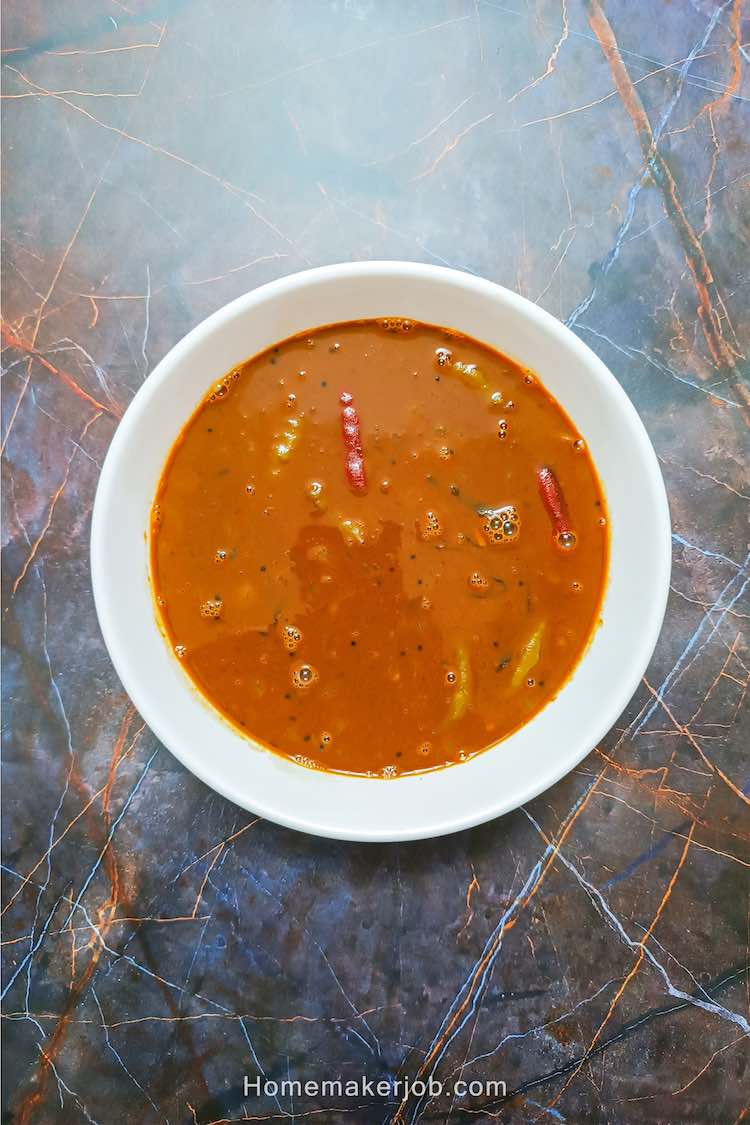 Similar side dish recipes: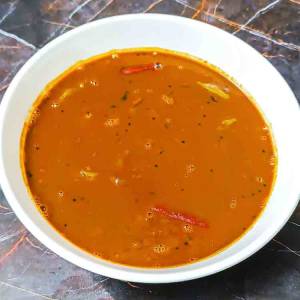 Ulavacharu recipe | Horse gram lentil rasam (soup) | Kollu rasam
Ulavacharu is a delicious and popular dish from Andhra Pradesh, India. It is a rasam made with horse gram, commonly known as ulava, kollu, or kulith in various parts of India.
Ingredients
1

cup

horse gram

4

cups

of water

2

tbsp

oil

½

tsp

mustard seeds

½

tsp

cumin seeds

2

dried red chilies

7 – 8

curry leaves

½

cup

onions, chopped

2

green chilies

1

tbsp

garlic, crushed

2

tsp

kashmiri red chili powder

½

tsp

cumin powder

¼

tsp

turmeric powder

½

tsp

salt

1

tsp

jaggery

(or sugar)

3

tbsp

tamarind sauce
Instructions
Rinse the 1 cup of horse gram (ulava) 2 – 3 times. Place the rinsed ulava in a bowl and add 4 cups of water. Soak it overnight.

Transfer the soaked horsegram into a pressure cooker, along with the water it was soaked in. The water will turn brown due to the gram.

Keep the heat on high. After you hear the first whistle of the pressure cooker, turn the heat to low. Then, let it cook on low heat until you hear 4 whistles.

Turn off the heat and do not open the lid. Once the pressure cooker is cooled down, open the lid.

Use a sieve to separate the horse gram from the water and collect the water in a big bowl. Press the ulava (kollu) using a spoon or ladle to extract any remaining water.

Heat 2 tbsp oil in a kadai on medium heat. Add mustard seeds and cumin seeds and stir-fry till they start crackling.

Break 2 dry red chilies in half and add them to a kadai. Fry for 4 – 5 seconds. Add curry leaves, chopped garlic, halved green chilies, and chopped onions. Fry for about 5 minutes, or until they become soft and translucent.

Add 3 tbsp tamarind sauce, keep stirring, and cook for 30 seconds. Now pour the strained horse gram stock and stir well.

Add 1 tsp of jaggery to the stock and mix well. Cook for 30 min or till it thickens to your desired requirement.

Serve hot ulavacharu in a bowl along with rice.
Notes
If the ulava charu is too thick for your liking, add some water and maintain the consistency as required.
Remember to soak the ulava lentils overnight since they are quite tough.
Water will turn brown in color after soaking horse gram. You'll need to use the same water to boil the lentils in the pressure cooker.
Adjust the amount of spices and tamarind sauce as per your taste.
Subscribe with us to get delicious recipes directly to your inbox: