Chicken rara recipe | Chicken rara masala recipe
Chicken rara is a delectable and flavorful chicken dish. It originates from a region between Punjab and Himachal Pradesh in India. Tender pieces of chicken get cooked with minced boneless chicken. Its gravy has a unique texture due to the use of minced meat. This recipe uses a number of spices, which give it a nice aroma and deep flavor. It has a spicy and tangy taste. You should definitely try this murgh rara dish at home if you want to try something new.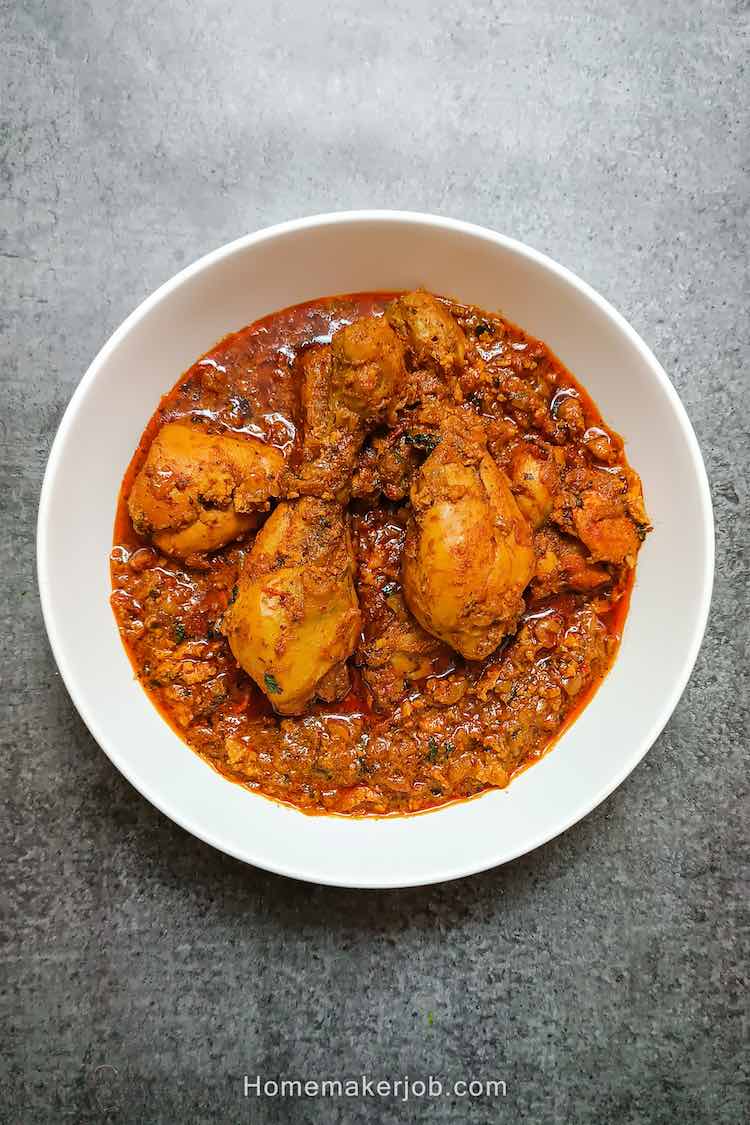 About Ingredients:
Chicken:
Chicken forms the protein-rich foundation of chicken rara. It provides a tender and succulent texture while absorbing the flavors of the ingredients. It adds depth to the dish, making a satisfying and wholesome meal.
Choose fresh chicken from a reputable source to ensure quality and safety. Select pieces with high-quality cuts.
Onion:
Onions play an important role in murgh rara. They provide a savory and slightly sweet base for the gravy. They are caramelized and cooked, with the meat giving a brown tint to the gravy. They help to make the gravy thick and leave a hint of sweetness in the taste.
Yogurt/dahi/curd:
Curd is used as the main acidic agent for marination. It helps to thicken the rara gravy. It gives a bit of soft texture to the gravy and enhances the umami flavor of the meat.
Ginger-garlic paste:
These are the main aromatic ingredients in this recipe. Ginger gives a warm and slightly spicy flavor, while garlic brings its distinct pungent aroma. Together, they infuse the dish with a rich and robust taste.
Green chili:
Green chilies are used to make this dish hot and spicy. Choose fresh green chilies. You can vary their amount based on your preference and tolerance for hot flavors. Don't add them in too much amount. If the dish becomes too hot, you won't be able to enjoy the amazing flavors added by other ingredients.
Tomatoes:
Tomatoes lend a tangy and slightly acidic note to the gravy of rara. They add to the red color of the gravy and help to thicken it. They add a hint of sourness to the gravy.
Spices:
The spices used in making the rara masala are the base of the overall taste. Start cooking the actual dish only after making rara masala. Don't add powdered masala directly, and definitely not before making rara masala. First roast the spices, then make rara masala, and then make the dish.
Whole coriander seeds:
When cooked, coriander seeds spread a nice aroma and add an earthy taste.
Cumin seeds:
Cumin seeds are used for their strong aroma and flavor that gets transferred to the gravy of rara.
Green cardamom and black cardamom:
Green cardamom adds freshness to the spices with its menthol-like notes. It adds a blend of sweet, pungent, and menthol-like tastes to the spice mix.
Black cardamom has a strong, spicy flavor. It adds a smoky and camphor-like flavor to the spice mix.
Clove:
Clove enhances the hot flavor of the spice mix. It contains natural oil, which gives depth and flavor to the dish.
Nutmeg:
Nutmeg adds a nutty, earthy, and slightly sweet flavor to the curry.
Star anise (optional):
It is used as a flavor enhancer in broths, soups, and curries. It has an intense, licorice-like aroma with a distinct and robust warm, sweet, and spicy flavor. Its flavor has prevalent notes of anise, mint, and clove. This ingredient is optional, but I've used it in my recipe.
Powdered spices:
Powdered spices are used during the marinating of the chicken.
Turmeric:
This is used for its anti-bacterial properties to marinate the raw meat. It adds a warm, earthy, and slightly bitter flavor to the dish. It has a vibrant yellow color, which helps enhance the color of the dish. It has a unique aroma and flavor.
Red chili powder and Kashmiri red chili powder:
This is used to add heat to the raw chicken. Kashmiri red chili adds a red color to the curry, making it deeper red.
Herbs:
Kasuri methi and coriander leaves:
These are used to enrich the aroma and flavor of the rara curry. Coriander leaves are also used to garnish the dish. They are added at the end.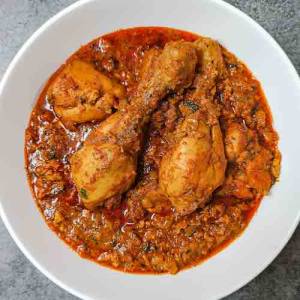 Chicken rara recipe | Chicken rara masala recipe
Chicken rara is a delicious dish from India. Marinated chicken gets cooked in gravy made with spices and minced chicken. Follow my recipe step-by-step to make this aromatic dish at home.
Ingredients
550

g

chicken

125

g

boneless chicken minced
For chicken marination
4

tbsp

curd or yogurt

1

tsp

ginger-garlic paste

1

tsp

red chili powder

½

tsp

turmeric powder

½

tsp

salt
For minced chicken marination
½

tsp

ginger-garlic paste

1

tbsp

curd or yogurt

¼

tsp

salt
For rara masala
1½

tbsp

coriander seeds

1

tsp

cumin seeds

1

inch

cinnamon

1

small mace

3

green cardamoms

1

black cardamom

4

cloves

1

small piece of nutmeg

12

whole black peppers

1

small star anise

1

bay leaf
For rara gravy
4

tbsp

mustard oil

1

bay leaf

1

inch

cinnamon

2

green cardamoms

1½

cup

onions, chopped

1

tbsp

ginger-garlic paste

2

green chilies

1

tsp

kashmiri red chili powder

½

cup

tomatoes, chopped

1

tsp

kasuri methi

(dried fenugreek leaves)

¼

tsp

salt

1

tbsp

coriander leaves

1

cup

water
Instructions
In a mixing bowl, add 550 g of chicken, 4 tbsp curd, and 1 tsp ginger-garlic paste. Then, add 1 tsp red chili powder, ½ tsp turmeric powder, and ½ tsp salt. Mix well with the chicken and let it marinate for 30 min.

In a small mixing bowl, add the minced chicken, ½ tsp ginger-garlic paste, 1 tbsp curd, and ¼ tsp salt. Mix well and let it marinate for 20 min.

Heat the pan on low heat. Add all the spices mentioned for rara masala. Stir and roast for 3-4 min.

Transfer the roasted spices to a plate and let them cool down. Add spices to a mixer jar and grind till you get a fine powder.

Heat 4 tbsp mustard oil in a kadai on medium heat. Once the oil is hot enough, add 1 bay leaf, 1 inch of cinnamon, and 2 green cardamoms. Stir well and fry for 15 seconds.

Add 1½ cups chopped onions and stir well. Fry for 8-10 min till the onions turn golden brown. Add 1 tbsp ginger-garlic paste and mix well. Fry for 2 min .

Add 1 tsp kashmiri red chili powder, 2 green chilies, and ½ cup chopped tomatoes. Mix well and cook for 4-5 min until the oil starts to separate from the mixture.

Next, add the marinated chicken to the kadai and mix well. Cook for 5 min on high heat and then turn the heat to medium. Cover with a lid and cook for 10 min.

Add the marinated minced chicken and mix well. Cover the lid and cook for 5 min on medium heat.

Add ½ cup warm water and stir well. Cover with a lid and cook for 20 min. Open the lid and stir continuously for 2 min.

Add ¼ tsp salt, 1 tsp dried fenugreek leaves, and 1 tbsp chopped coriander leaves. Stir and mix well for 1 min. Turn off the heat.

Serve hot with rumali roti, paratha, naan, or rice.
Notes
Use bone-in chicken pieces for better taste.
Adjust the spice level as per your taste.
Whisk the curd well to make it lump-free before using.
Subscribe with us to get delicious recipes directly to your inbox: