How to make authentic chicken Kolhapuri rassa (curry) | Spicy Kolhapuri chicken recipe
Kolhapuri chicken is a popular dish originating from the city of Kolhapur, Maharashtra. This dish is a part of Kolhapuri cuisine, which is famous for its spiciness. Kolhapuri masala, needed for this dish, is made from many spices roasted and blended together. Kolhapuri masala gives this dish its unique, spicy taste. This is one of the spiciest curries you will ever taste.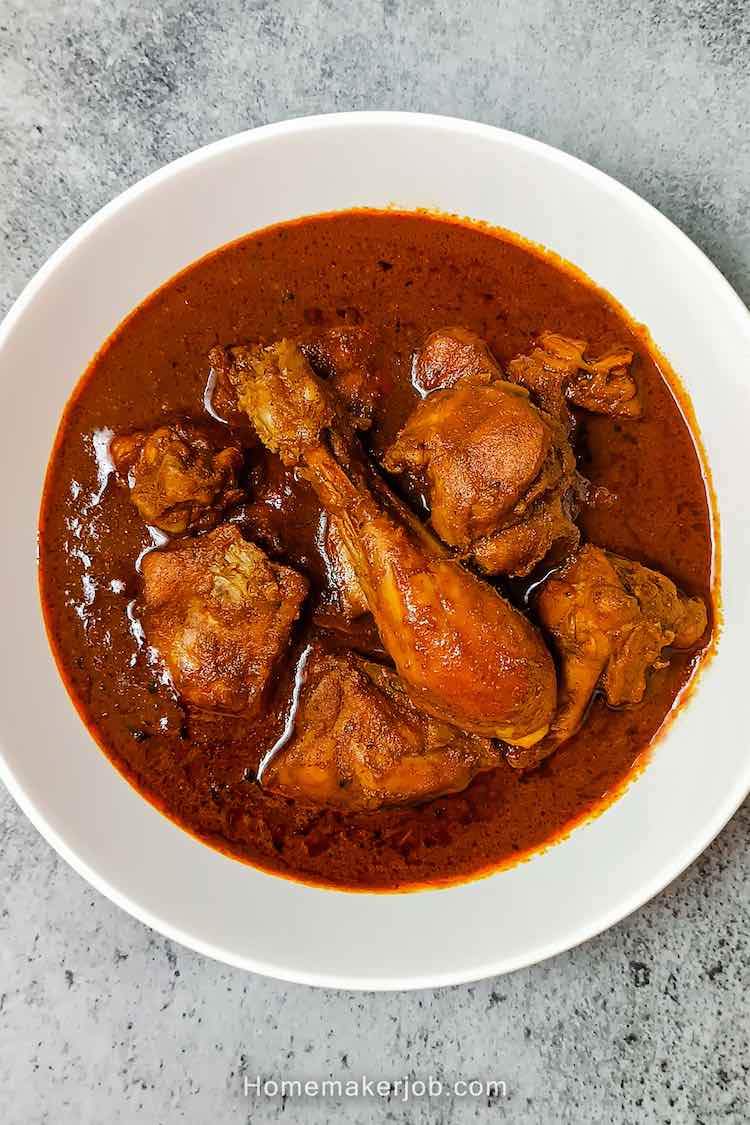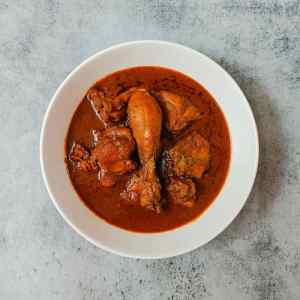 Authentic spicy kolhapuri chicken rassa (curry) recipe
Kolhapuri chicken is a popular spicy curry from Kolhapuri cuisine. Chicken is cooked in a curry made from aromatic spices and chilies. This dish is known for its spiciness; try this dish if you love to eat spicy food.
Ingredients
For marinating chicken
500

gm

chicken

½

tsp

turmeric powder

2

tsp

red chili powder

1

tsp

ginger garlic paste

1

tsp

salt
For making Kolhapuri masala
1

inch

cinnamon

1

black cardamom

1

star anise

6

cloves

4

green cardamom

8

black peppers whole

1

blade of javitri

(mace)

Small piece of nutmeg

2

tbsp

coriander seeds

8

Byadgi dry chilies

5

tbsp

dry coconut grated

1

tbsp

sesame seeds

1

tsp

poppy seeds

2

tbsp

oil

½

cup

onions chopped

½

cup

tomatoes chopped

7-8

garlic cloves

1

inch

ginger chopped

2

tbsp

coriander leaves chopped
For gravy
4

tbsp

oil

½

cup

onions finely chopped
Instructions
Take 500 gm chicken in mixing bowl. Add all the ingredients mentioned for the marinade and mix well with the chicken. Let it marinate for at least 30 min.

Heat a pan on low heat for roasting the spices. Add 1-inch cinnamon, 1 black cardamom, 1 star anise, 6 cloves, and 4 green cardamom. Then add 1 blade of mace, a small piece of nutmeg, 2 tbsp coriander seeds, and 1 tsp cumin seeds. Mix well and roast for 1-2 min or until aromatic. Place them on a plate and keep it aside.

In the same pan, add 8 dried byadi chilies and roast for 2 min. Move the chilies to one side of the pan, then add 5 tbsp grated dry coconut, 1 tbsp sesame seeds, and 1 tsp poppy seeds. Roast for 2 min and transfer to a plate to cool.

Now heat 2 tbsp oil in pan. Add ½ cup chopped onions and fry for 5 min. Add ½ cup chopped tomatoes and cook for 2 min. Then add 1 inch chopped garlic and 7-8 garlic cloves. Fry for min, move to a plate, and let it cool down.

After all the roasted spices have cooled down, add them to a mixer jar. Grind until you get the pow-der.

Next, add the fried onions, tomatoes, ginger, and garlic cloves to the same mixer jar with the grounded spices. Add 2 tbsp chopped coriander leaves and grind all the spices well to make a smooth paste. Add a little water if needed.

Heat 4 tbsp oil in a kadai on medium heat. Add ½ cup finely chopped onions and fry well for 7-8 min or till the onions turns light brown and soft.

Add the prepared masala paste and mix well with the onions. Fry well with onions for 5 min.

Next, add the marinated chicken. Cook for 5 min on medium high heat. Now turn the heat to low.

Cover with a lid and cook for 10 min. Stir the chicken in between.

Remove the lid, add 2½ cup water, and mix well with the chicken. Put the lid back on and cook for 20 min.

Finally, stir the chicken well and turn off the heat. Kolhapuri chicken is ready.

Garnish with chopped coriander leaves and serve hot with naan, roti, or rice.
Notes
Adjust the level of spices as per your taste.
Use bone-in chicken pieces for better taste.
Roast the spices while stirring on low heat to prevent them from burning.
Always cool down the roasted spices before grinding.
Byadgi chilies are less spicy. You can also use Kashmiri red chilies.
Adjust the amount of water if you want to make the curry thinner.
Subscribe with us to get delicious recipes directly to your inbox: