Methi malai chicken recipe | Murgh methi malai restaurant style
About Methi Malai Chicken:
Methi malai chicken is another delicious Indian chicken gravy recipe. You should try this recipe at home if you like Indian chicken curries. This dish is a perfect choice if you want to treat your taste buds with something different.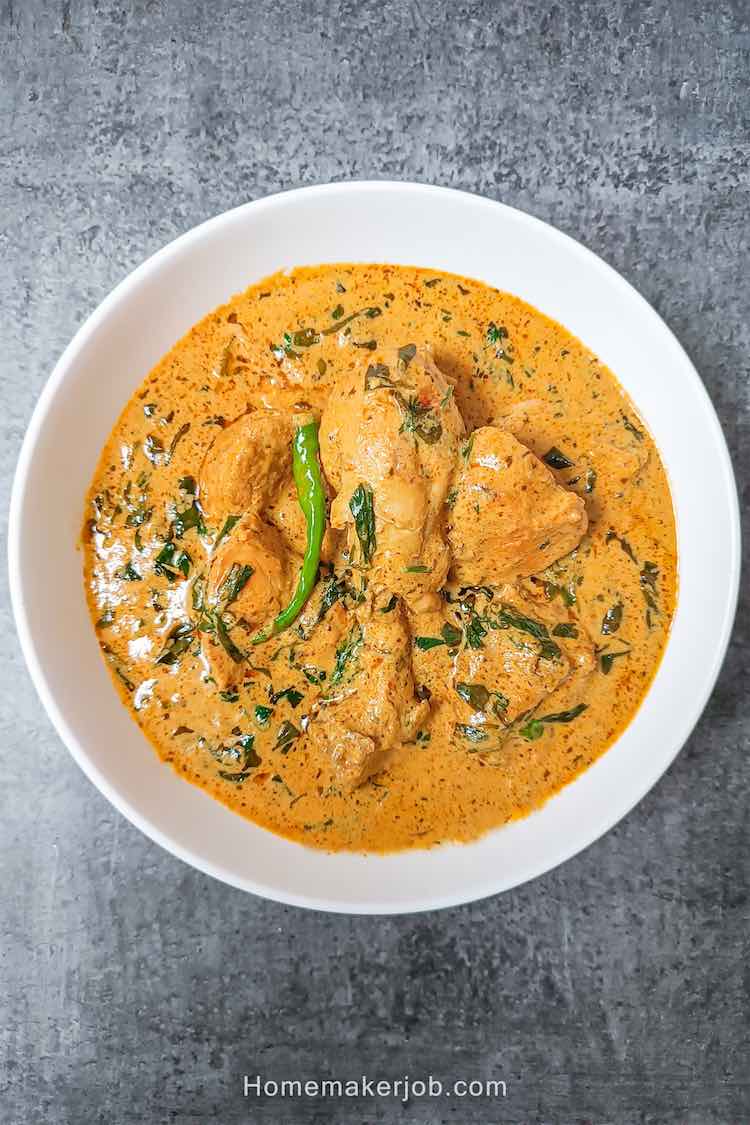 This is a very aromatic, delicious, and easy dish to make at home.
Methi malai chicken description:
Methi malai chicken got its name from its major ingredients: methi (fenugreek), malai (cream), and chicken. It is made of their combination, and you'll experience the taste of all three. It is also known by names like:
Murgh Methi Malai
Malai methi chicken
Methi malai chicken is believed to have originated in the northern part of India. Specifically speaking, It might have been originated in Punjab. Fenugreek (methi), a bitter herb with a strong aroma, has been a part of Indian cuisine for centuries.
This is mainly a winter recipe. Winter offers easy availability of fresh and good-quality fenugreek. It can be made in other seasons, but make sure you're getting good-quality fenugreek.
About Murgh Methi Malai Ingredients: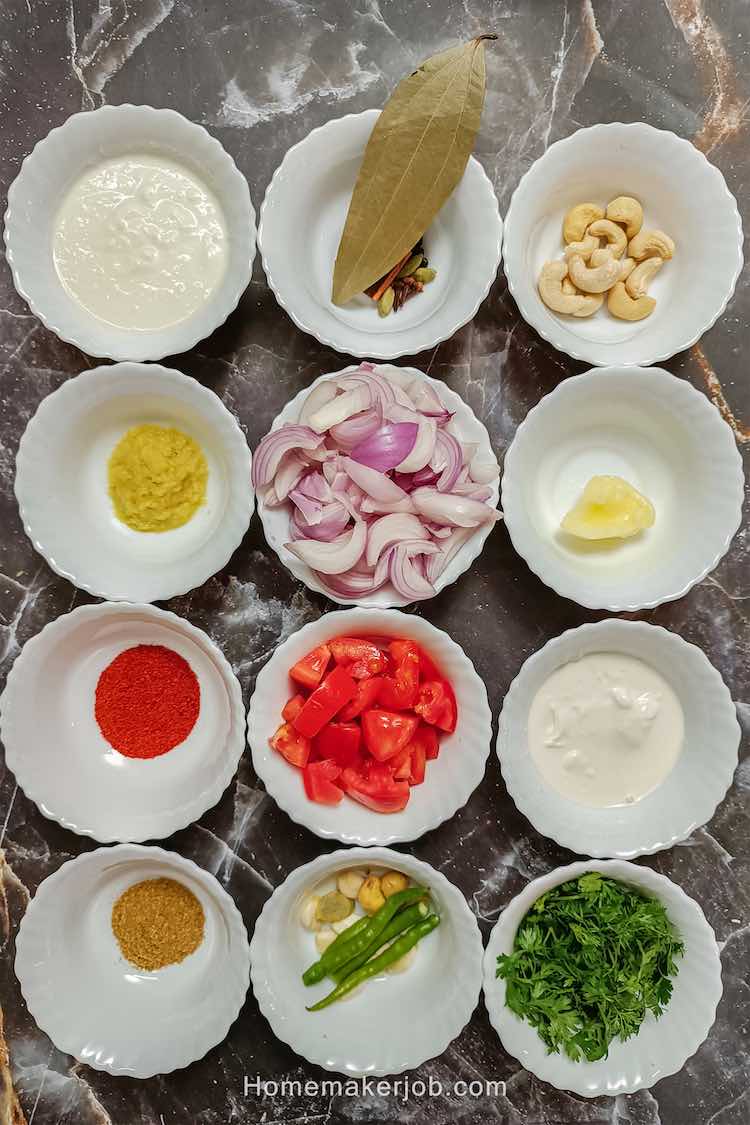 Chicken (Murgh):
Take fresh chicken for the recipe. You can use boneless pieces, but I would recommend bone-in pieces. Bones will help the heat spread evenly. They'll give you a deeper and meatier taste.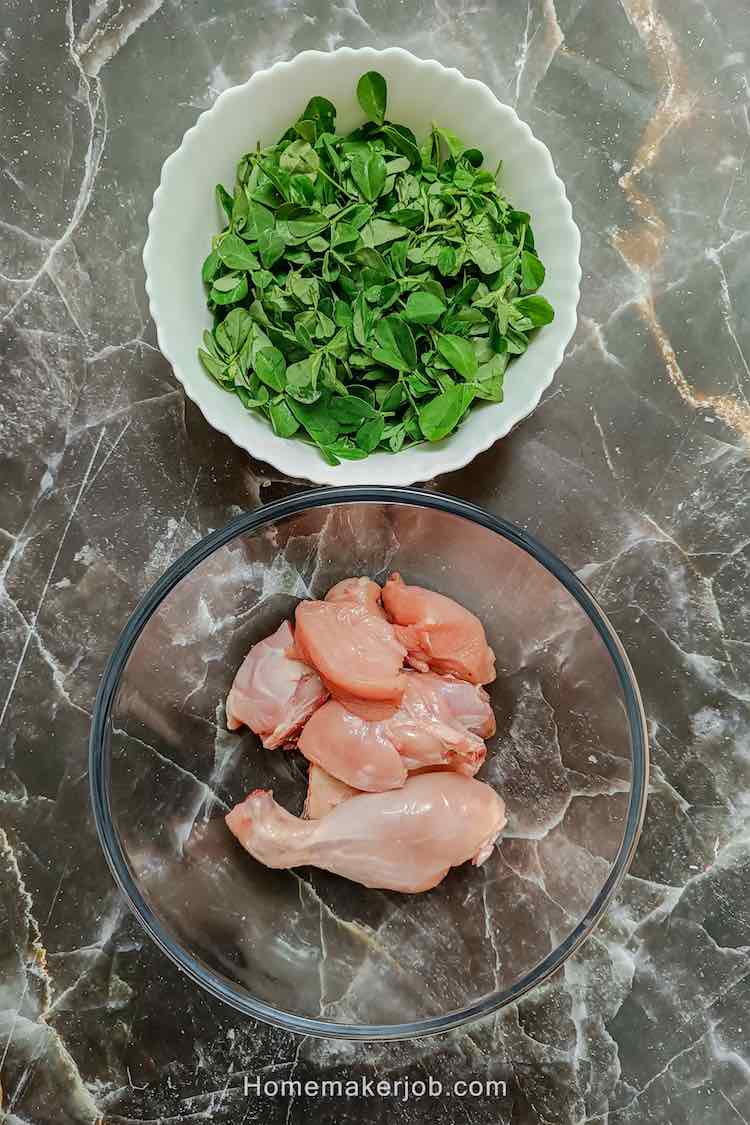 Methi (Fenugreek):
When buying fenugreek, choose the one with tender and pliable leaves. It should have a nice, vibrant green color. It should be fresh. When touched, its leaves should be firm and not easily break or crumble.
Malai (Cream):
Use good-quality fresh cream. I used thick cream in this recipe. It should be consistent and smooth. Its color should be rich and creamy. A fresh malai will have a pleasantly sweet aroma.
Cashews:
Cashews add a smooth and soft texture to the dish. They add a nutty and sweet flavor to the dish. Cashews make the curry rich in flavor.
Yogurt or curd (Dahi):
Take thick, fresh yogurt. It shouldn't be too sour. Yogurt plays an important role in the recipe. It is used to make a marinating paste for the chicken, along with some spices.
Onion and tomato paste:
Onions and tomatoes are first chopped and then lightly fried before making their paste. Onions add a spicy and sweet taste, while tomatoes give the curry a sweet and sour taste.
Powdered Spices:
Red Chili, Turmeric, Cumin, Coriander, and Garam Masala (Hot Spice):
These spices are added to enhance the color, aroma, and the taste of the curry. They are added in powdered form so that they mix well with the curry.
Whole spices:
Cinnamon, bayleaf, green cardamom, cloves, and black pepper:
Unlike powdered spices, these spices are added whole to the hot oil. They release their flavors and aromas due to the heat. Choose fresh spices of good size.
Oil and ghee (clarified butter):
We need cooking oil to fry the spices for the curry. You can use any cooking oil of your choice. Clarified butter is used to increase the richness of the taste and enhance the aroma of the curry.
Cooking Explanation:
Marinating the chicken:
We need to marinate the chicken with curd, ginger-garlic paste, and spices. This helps its meat release the juices and absorb the flavor of spices and the curd.
Let the chicken marinate for as long as possible. If you're in a rush, you can cut the marinating time to 15 minutes.
Sautéing onions and spices:
Sautéing is an important process to make the base for the curry. It is the process of frying onions, garlic, and other aromatic ingredients (e.g., spices) in a small amount of fat or oil over medium to high heat.
Things To Remember:
Choose fresh and tender fenugreek only. Don't use stale or bitter fenugreek leaves.
Don't chop the methi (fenugreek) leaves.
Don't use too much malai. While malai is the star ingredient, you don't want it to dominate the taste.
Serving Suggestions: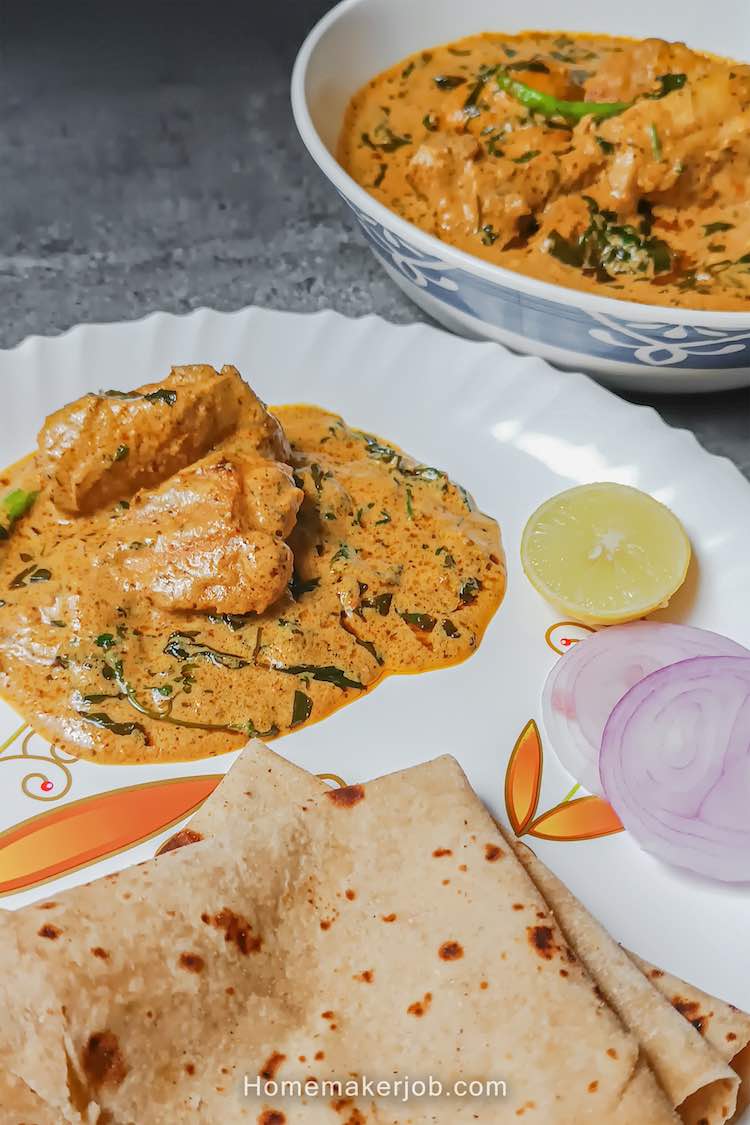 You can serve this dish with parotta, naan, roti, or chapatti. This dish tastes better with these. If they are not available in your area, you can use bread, flatbread, or rice.
Similar main course recipes: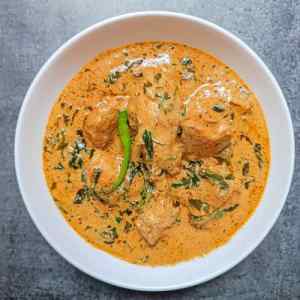 Methi malai chicken recipe | Murgh methi malai restaurant style
Methi malai chicken is one of the delicious dishes that you must try. It has a creamy, mildly bitter, sour, and mildly spicy taste. It is a very flavorful, aromatic, and smooth gravy dish.
Ingredients
For marination
550

gm

chicken

½

cup

curd

1

tbsp

ginger garlic paste

1½

red chili powder

1

tsp

coriander powder

¼

tsp

turmeric powder

½

tsp

cumin powder

½

tsp

garam masala

1

tsp

kasuri methi

1

tsp

salt
For onion-tomato paste
2

tbsp

oil

1

cup

onions chopped

½

cup

tomatoes chopped

6

garlic cloves

1

inch

ginger

12

cashews

1

green chili
For gravy
3

tbsp

oil

1

tbsp

ghee

(clarified butter)

1

inch

cinnamon

2

green cardamoms

4

cloves

1

small piece of mace

1

bay leaf

8

black peppers whole

2

green chilies

2

cup

methi leaves

(fenugreek leaves)

¼

cup

fresh cream

2

tbsp

coriander leaves chopped
Instructions
Take chicken in a mixing bowl. Add the marinating ingredients and mix well with the chicken. Let it marinate for 30 min.

Heat 2 tbsp oil in a kadai on medium-high heat. Add 1 cup chopped onion and fry for 4-5 min. Once onions soften add ½ cup chopped tomatoes and stir well, cook for 3 min.

Add 6 garlic cloves, 1 inch chopped ginger, and 12 cashews. Mix well and fry for 4 min. Place everything on a plate and let it cool down.

Once the onions and tomatoes are cooled down, transfer them to a mixer jar and blend till you get a smooth paste.

Wash the methi leaves with clean water and let them dry.

Heat 3 tbsp oil and 1 tbsp ghee in a kadai on medium high heat.

Turn the heat to medium; add 2 green cardamoms, cinnamon, and 4 cloves. Then add the bay leaf, small piece of mace, and 8 black pepper whole. Fry well for 25 seconds.

Add onion tomato paste and mix well with whole spices. Turn the heat to low and cook for 6 min. Keep stirring in between.

Add the marinated chicken and mix well with the onion and tomato paste. Turn the heat to medium-high and cook for 10 min. Cover with a lid and cook for another 10 min on medium heat.

Now add 2 cup methi leaves and mix well with the chicken. Add ½ cup water and give a good mix. Cover with a lid and cook for 10 min on low heat. Stir the chicken in between.

Add 2 green chilies and ¼ cup cream; mix well with the chicken gravy. Cook for 2 min and add 2 tbsp chopped coriander leaves. Mix well, cook for 15 seconds, and then turn off the heat.

Serve hot methi malai chicken with rice, roti, or naan.
Notes
Rinse methi well with water. Use only methi leaves with tender stems, and cut the thick stems to avoid extra bitterness.
 Do not chop the methi leaves. If chopped, it will increase its bitterness.
If not in a hurry, let the chicken marinate for longer for a better taste.
Adjust spice level as per your taste.
You can add more water for thinner gravy or as per your desired consistency.
Subscribe with us to get delicious recipes directly to your inbox: