Chicken Bharta recipe Kolkata style | Chicken vorta (Bhorta)
Chicken bharta is a popular dish from India. Boiled and shredded boneless chicken, along with sliced boiled eggs, is cooked with a variety of ingredients. This dish has a very rich taste. This dish is very balanced in taste, which makes it perfect for everyone. If you are trying it for the first time, you are going to love this dish.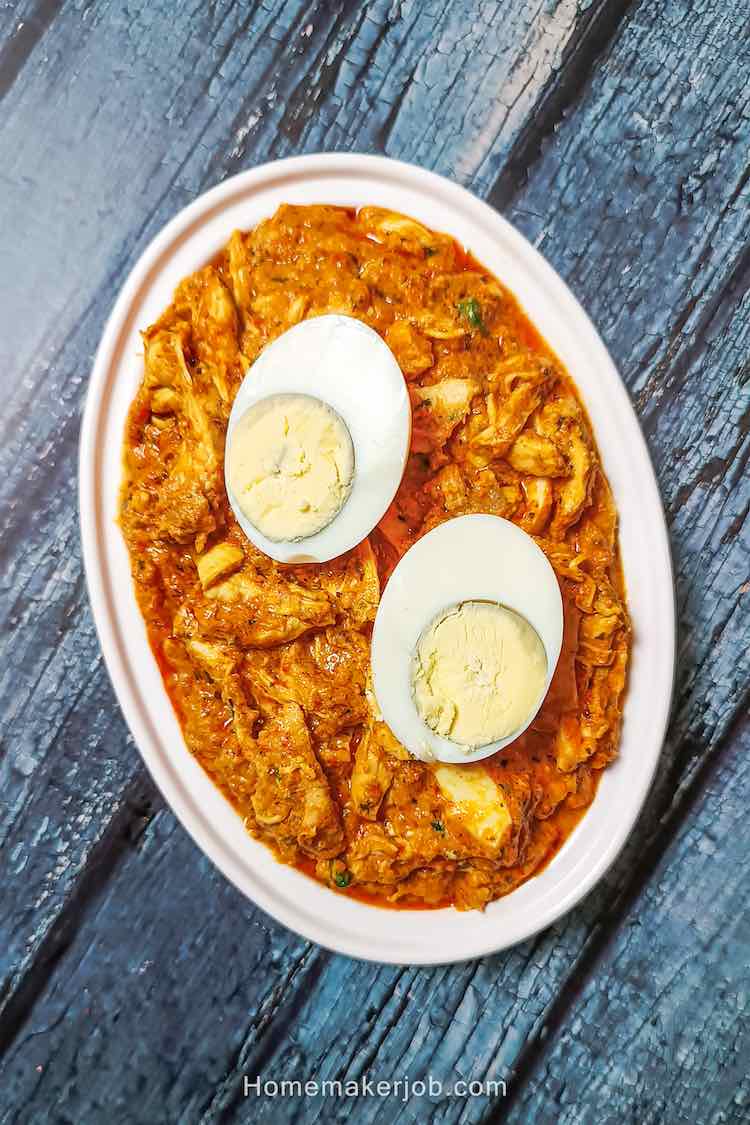 This is the recipe for murgh bhorta that you enjoy in restaurants in Kolkata.
About Recipe:
Bharta means 'mashed'. It's a cooking method in which vegetables or meat is mashed after roasting or boiling. This dish is called chicken bharta because the chicken is shredded after being boiled. It can be shredded after roasting too, though I've used boiled meat.
It is also known by other names like 'murgh bharta', 'chicken bhorta', or 'chicken vorta'.
Unlike other chicken curry dishes, this one has chicken threads instead of whole pieces. It's not exactly curry, or dry curry. It's a mix of curry, shredded chicken, and mashed eggs.
The origin of this dish isn't well documented. It is believed to be inspired by baingan bharta (mashed eggplant).
It might have originated as a fusion between Punjabi and Bengali cuisine. During British rule, many Punjabi people migrated to Bengal for work. So, the restaurants in Bengal started including Punjabi dishes. This dish might have been one of them. Over time, it got adapted to Bengali taste and ingredients. The Kolkata-style chicken bharta recipe has become highly popular.
Chicken Bharta Description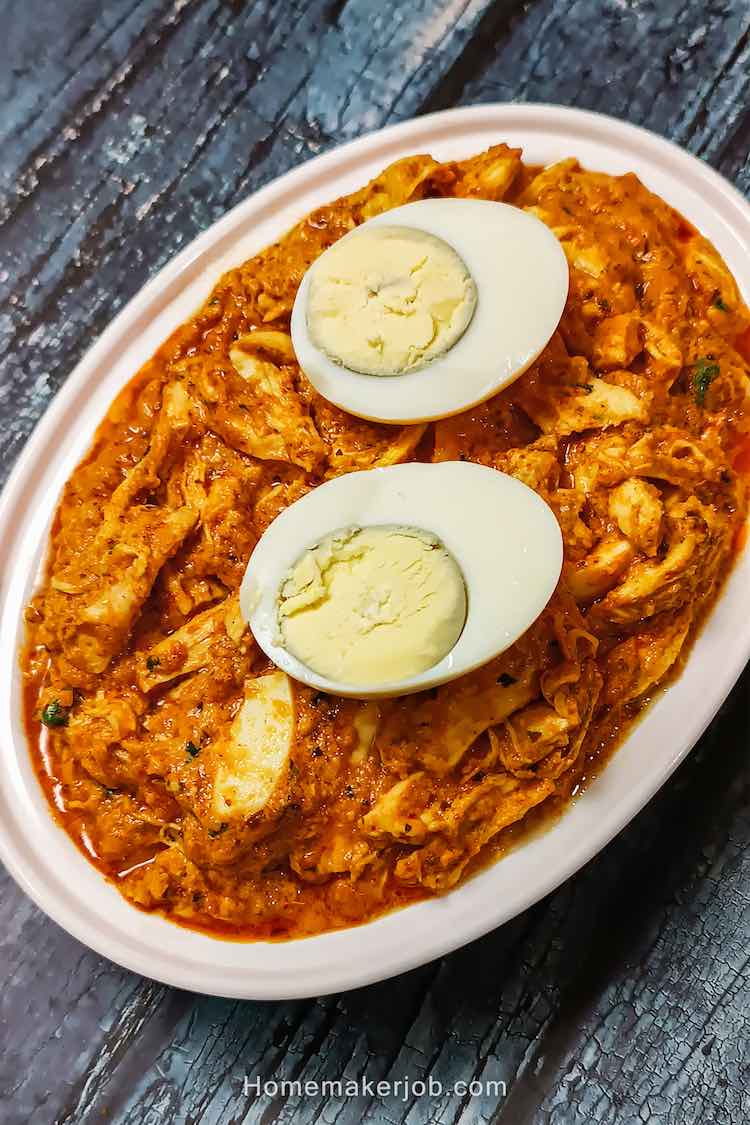 The curry of chicken bharta (vorta) has an orange-red color with yellow pieces of egg spread in between.
The curry is thick and creamy due to the mashed boiled egg yolk mixed with the chicken threads.
It has a strong and sour aroma. It tastes a bit hot and spicy. It has a hint of umami taste and gives a light tingling sensation to the tongue. Overall, it has a unique taste profile that I'd recommend you try.
This is a versatile dish that can be made at any time. Though it is made on many occasions in Bengal, it is consumed throughout the year.
About the Chicken Bharta Ingredients: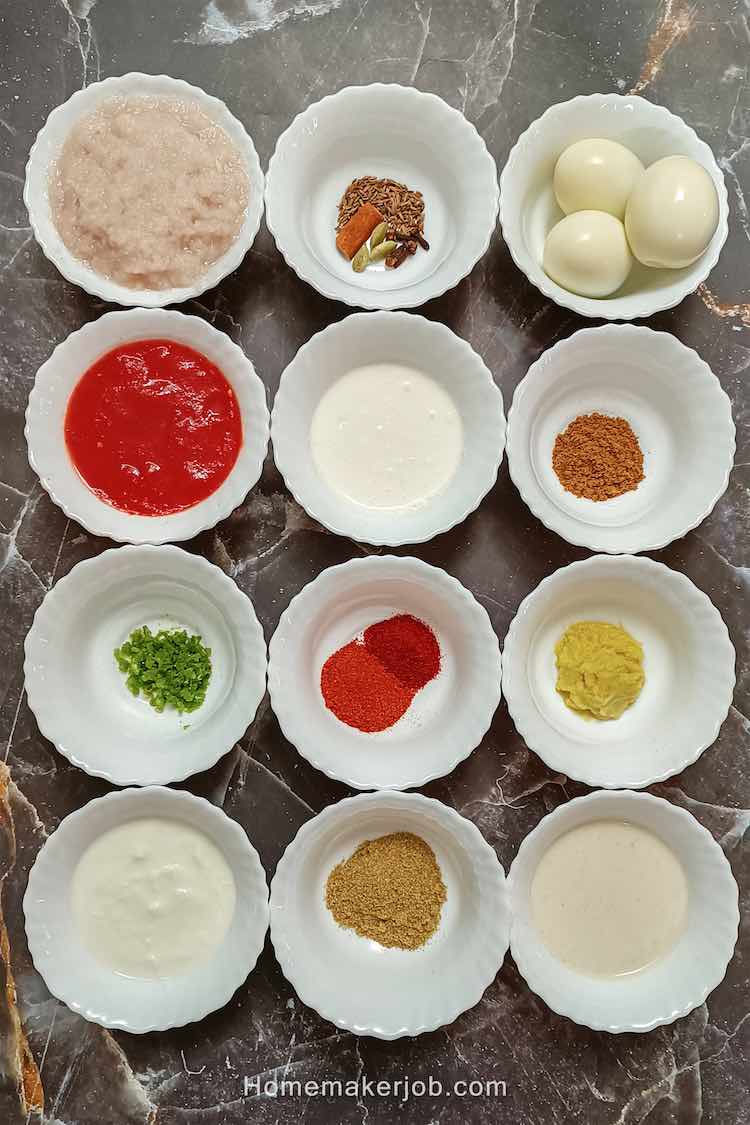 Chicken:
You need the boneless chicken so that you can shred it to make bharta. You can use chicken breasts, thighs, or whole chicken based on your preference and number of servings. Though any shredded part of boiled chicken works for this recipe, I've chosen the breasts for this recipe. It gives a better texture and taste to this recipe, in my opinion. Make sure that there is not a single piece of bone in the meat. Otherwise, it can ruin the experience.
Eggs:
You'll need two fresh eggs as ingredients and one egg for garnishing. Eggs play an important role in this dish. Eggs bring a creamy and soft texture to the dish. The boiled yolk helps hold the shredded chicken threads together with the curry. It adds thickness to the curry. Their taste mixed with chicken and egg whites enhances the overall taste of the dish. Pieces of egg white mixed with the curry improve the experience.
Spices:
Black pepper, bay leaf, and cinnamon:
These spices and salt are needed to add flavor to the chicken when it is boiled. If they are not used, the boiled chicken will have a bland taste and lack any flavor. Cinnamon is needed while making bharta to enhance its flavors.
Green cardamom, cinnamon, bay leaf, cloves, and cumin seeds:
These are needed to add flavor and aroma to the curry base. When these spices are added to the hot oil, their flavors get released as the oil breaks them down.
Onion paste, ginger-garlic paste, and crushed green chilies:
These ingredients make the base for bharta gravy. They add a hot and spicy taste to the base. They contribute to the thickness and softness of the gravy.
Powdered spices:
Chili powder, coriander powder, turmeric powder, and cumin powder:
These are the common ingredients in most Indian chicken curries. Chili powder adds a hot flavor and red color. Coriander powder adds an earthy flavor and a nice aroma. You can increase the amount of coriander powder if you want the gravy to be less hot. Turmeric powder adds a yellow color to the dish along with its own flavor. Cumin powder adds a strong aroma and spicy flavor to the dish.
Tomato puree and yogurt:
These ingredients add a sour taste. Both have a different type of sour taste. Tomatoes add a slight sweetness along with their natural sourness. Yogurt has a tangy and rich taste.
Cashew paste, cream, and watermelon seed paste:
These add a slight sweetness to the gravy. It adds a creamy and silky texture to the gravy. It improves the thickness of the gravy.
Kasuri methi, coriander leaves, and kewra water (pandan or screwpine essence):
They add a nice and strong aroma to the dish. Kasuri methi adds a slight touch of bitterness, which enhances the overall taste profile of the dish.
Garam masala (hot spices):
Garam masala is added at the end to enhance the flavors and aroma.
Butter:
The butter adds a rich flavor to the dish. It is an optional ingredient. You can adjust its amount based on your preference.
Equipment Details:
For boiling the chicken:
You'll need a boiling pot to boil the meat. You can use any utensil with good depth for this purpose.
For boiling eggs:
You need another boiling pot for boiling the eggs. You can use a smaller utensil for this.
For making bharta:
For bharta, I've used kadai. You can use a skillet or non-stick pan. It should be a utensil with a low depth and a thick bottom with enough surface. Don't use a high depth utensil, as it can trap heat and overcook the chicken. A bigger surface utensil will let the steam release, preventing the chicken from getting cooked earlier than required.
Cooking Explanation for chicken bharta:
Boiling the chicken:
Chicken is boiled with bay leaves, peppercorns, cinnamon, and salt. When cooked, the aroma and flavors of these spices get absorbed into the meat. Without them, the chicken will taste bland. Spices are removed after boiling is done. The water in which these ingredients are boiled retains their flavors and aromas. This gives us a nice chicken stock that's used further in the recipe.
Shredding the chicken: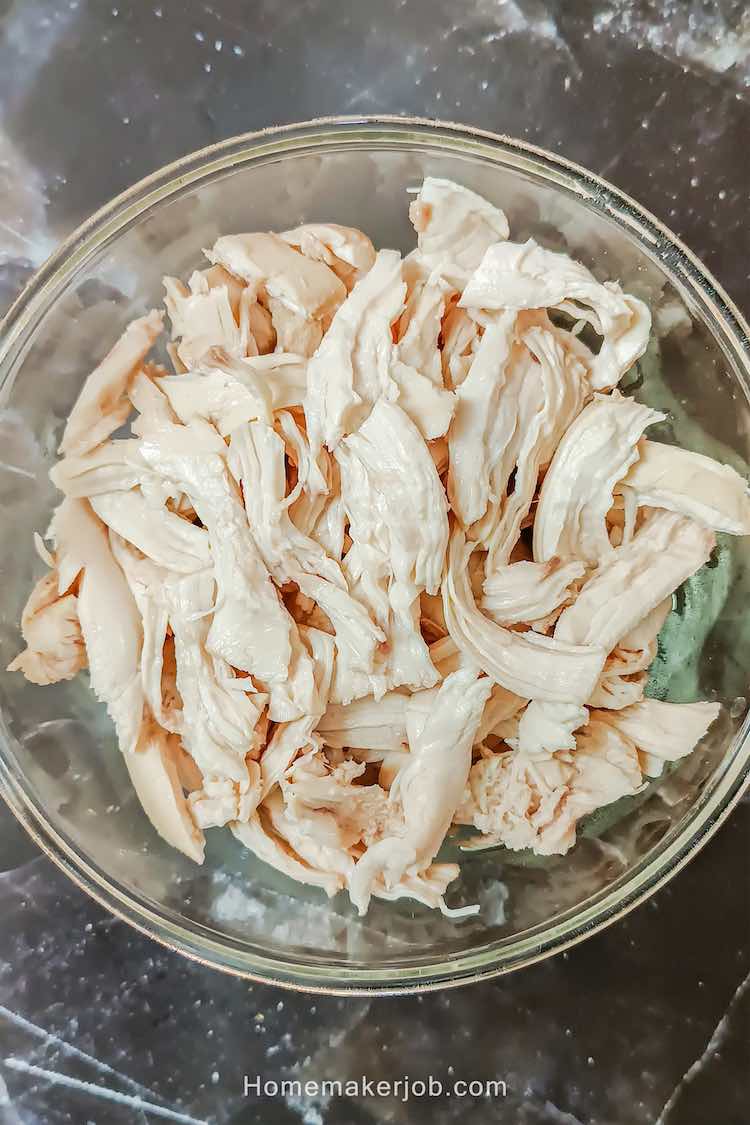 We need to shred the chicken into long strips to make bharta. The strips shouldn't be too thin. Let them be a bit thicker, as they'll break when we stir the chicken when making bharta. If the strips are too thin, they'll become like a paste or pulp instead of chicken bharta. You can keep the thickness of the strips to roughly half a centimeter to be safe.
Preparing the eggs for bharta:
After the eggs are hard-boiled, cut them into strips. Keep their thickness almost the same as the chicken shreds we made earlier.
Making the bharta (bhorta):
When making bharta, stir the chicken strips lightly. If you stir them roughly, they'll lose the threads, and it'll cause our bharta to become more like a paste. Remember, chicken is already boiled, so it won't need much effort to cook. So avoid overcooking the chicken.
Refer to the recipe card for exact measurements and instructions.
Tips for better taste:
Boil the chicken with the spices only instead of plain water. You can add more spices of your choice if you prefer.
Don't make the chicken strips too thin.
Don't add water to this recipe, only use chicken stock instead.
Don't use a high-depth utensil for making bharta.
Don't overcook the meat.
Serving Suggestions: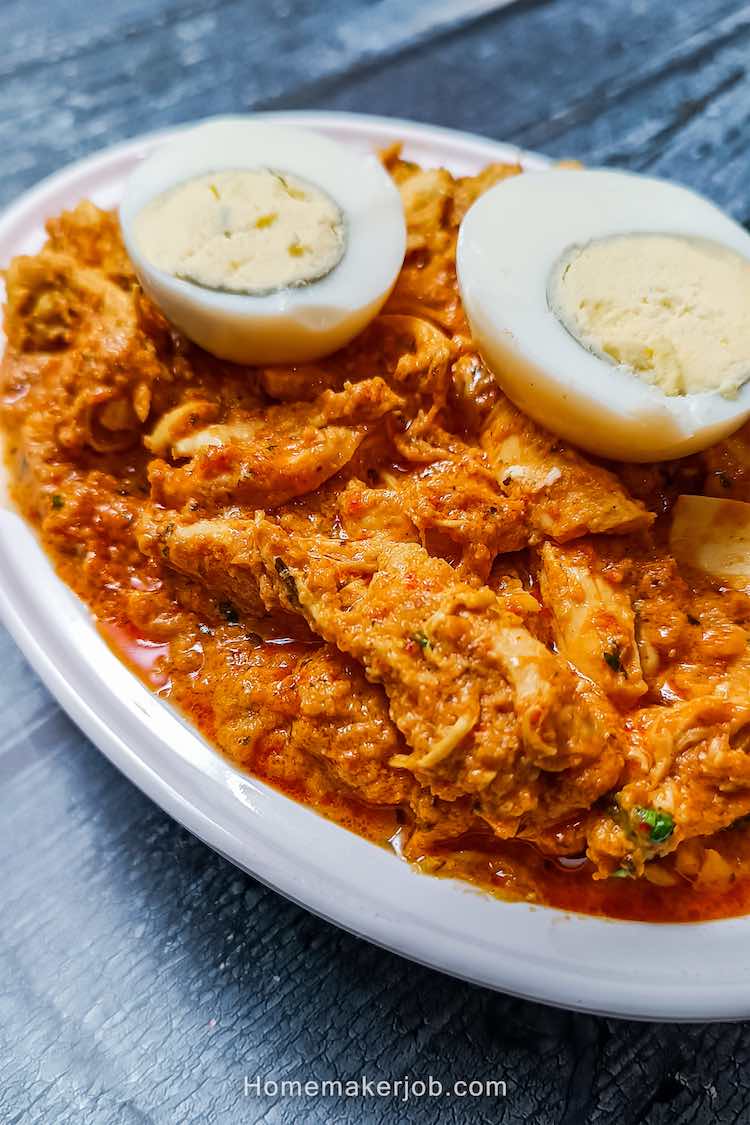 Garnish it with a half-cut boiled egg, as shown in the picture. This dish tastes best with parottas. You can serve it with roti, naan, kulcha, or bread.
Similar main course recipes: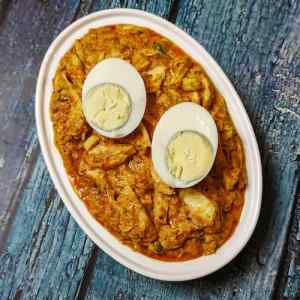 Chicken Bharta recipe Kolkata style
Chicken bharta is a popular Indian dish. This dish is delicious and a must-try recipe if you've never tasted it. This dish is aromatic and easy to make at home. Follow my step-by-step Kolkata style chicken bharta recipe to get the restaurant style taste.
Ingredients
For boiled shredded meat
400

gm

chicken boneless

1

tejpatta

(Indian bay leaf)

4

black peppercorns

½

inch

cinnamon

¼

tsp

salt
For making bharta
4

tbsp

oil

½

inch

cinnamon

3

green cardamoms

4

cloves

1

bay leaf

½

tsp

cumin seeds

1

cup

onion paste

1

tbsp

ginger garlic paste

2

green chilies crushed

½

tsp

Kashmiri red chili powder

1

tsp

chili powder

2

tsp

coriander powder

½

tsp

cumin powder

¼

tsp

turmeric powder

½

cup

tomato puree

1

tsp

salt

3

tbsp

curd

6

cashews soaked

1

tbsp

magaz bee soaked

(watermelon seeds)

½

tsp

garam masala

1

tsp

Kasuri Methi

½

tsp

sugar

4

tbsp

fresh cream

1

tbsp

coriander leaves

1

tsp

Kewra water

1

tbsp

butter

(optional)
Instructions
Heat ½ cup water in a pot on medium heat. Add 400 gm chicken breast, 1 bay leaf, 4 black pepper whole, ½ inch cinnamon, and ¼ tsp salt. Cover with a lid and boil for 15 min.

Remove the boiled chicken breast to a plate and let it cool down. Use a sieve to remove the whole spices from the chicken stock. Keep stock aside in a bowl. Shred the chicken into long strips once it has cooled down.

Heat 4 tbsp oil in a kadai on medium heat. Add ½ inch cinnamon, 3 green cardamom, 4 cloves, 1 bay leaf, and ½ tsp cumin seeds. Stir and fry for 15 seconds.

Add 1 cup onion paste and fry for 4-5 min. Keep stirring while frying. Then add 1 tbsp ginger garlic paste, 2 crushed green chilies, and mix well. Sauté for a minute.

Add ½ tsp Kashmiri red chili powder, 1 tsp red chili powder, and 2 tsp coriander powder. Then add ½ tsp cumin powder, ¼ tsp turmeric powder and mix well. Sauté for 15-20 seconds. Add ½ cup tomato puree, 1 tsp salt and mix well. Keep stirring and cook for 4 min.

Next, add 3 tbsp curd and mix well. Cook for about 1-2 min.

Now, add the shredded chicken pieces and mix well. Cook for 4 min and add ½ cup chicken stock. Stir everything well but lightly, as we don't want the chicken strips to break further in small threads. Cover with a lid, and cook for 2 min.

Blend soaked cashews and magaz seeds together and make a smooth paste. Add this paste to the kadai and mix well with the chicken.

Add ½ tsp garam masala, 1 tsp kasuri methi and ½ tsp sugar and mix well. Then add 2 sliced or chopped boiled eggs and mix well with the chicken.

Now add 4 tbsp cream, and 1 tbsp chopped coriander leaves, mix well. Then add 1 tsp kewra water and 1 tbsp butter and give it a good mix. Cook for 2 min and turn off the heat.

Serve hot with parotta, roti, naan, or bread.
Notes
For boneless chicken, you can use thigh pieces.
Adjust the spice level as per your taste.
Whisk curd well and make it smooth before adding. You can also use thick yogurt.
Subscribe with us to get delicious recipes directly to your inbox: