How to make gobi (cauliflower) manchurian dry, restaurant style
Gobi Manchurian dry is a beloved dish among Indian food enthusiasts all over the world. Originating in Mumbai, India, this dish is a twist on the classic Chinese manchurian recipe. It's the perfect fusion of Chinese and Indian cuisine. The cauliflower (gobi) florets are coated with a batter made of corn flour and all-purpose flour. Then, they're tossed with a flavorful sauce made from soy sauce, vinegar, chili paste, and ginger-garlic paste. These crispy, tangy, and spicy cauliflower florets make a perfect appetizer with a satisfying crunch. Try our restaurant-style recipe to get the best version of the dry cauliflower manchurian.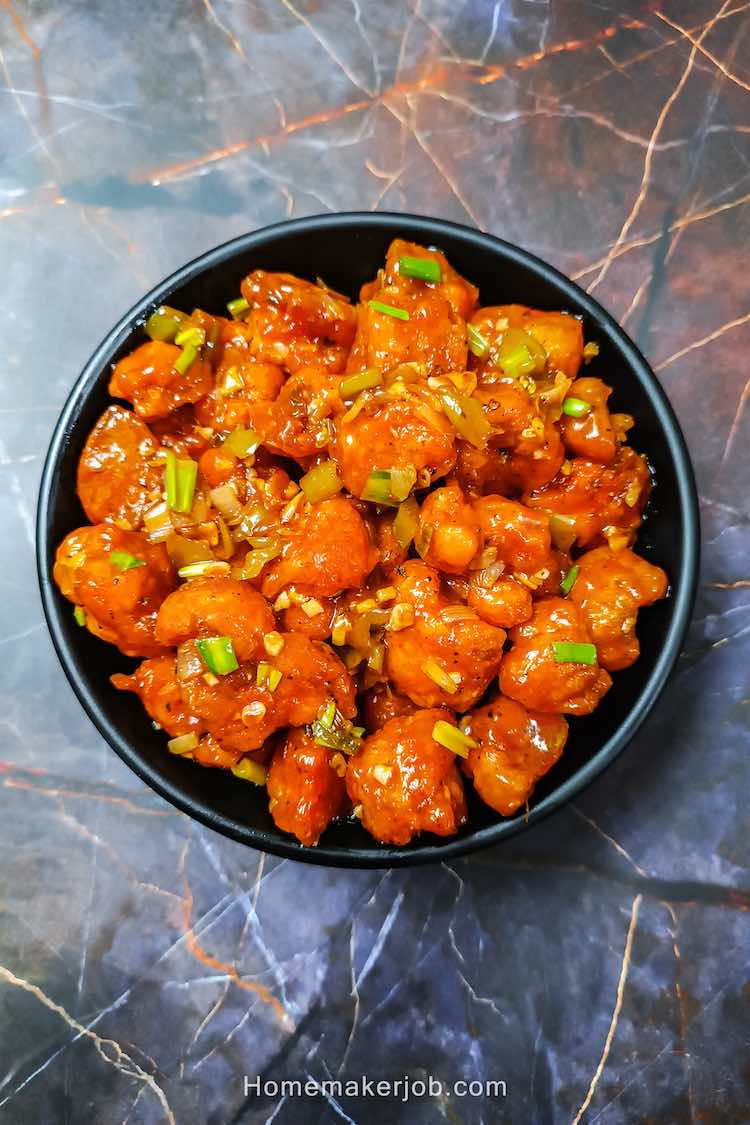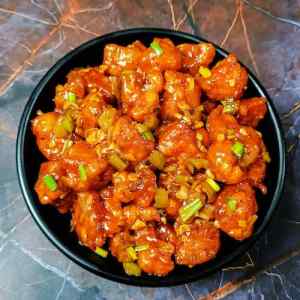 Gobi (cauliflower) manchurian dry recipe
Gobi Manchurian Dry is a popular and delicious appetizer dish from Indo-Chinese cuisine. This is a perfect dish if you want to make something really quick and tasty. Use our recipe to get a restaurant-style flavor at home.
Ingredients
For batter
400

gm

gobi (cauliflower) florets

5

tbsp

all-purpose flour

(maida)

5

tbsp

corn flour

1

tsp

kashmiri red chili powder

¼

tsp

black pepper powder

½

tsp

salt

Oil for deep-frying
For manchurian sauce
2

tbsp

oil

¼

cup

green onions, chopped

1

tbsp

garlic, finely chopped

1

tbsp

ginger, finely chopped

1

tsp

green chilies, finely chopped

¼

cup

capsicum, finely chopped

1

tbsp

soy sauce

1

tbsp

red chili sauce

1

tsp

vinegar

2

tbsp

tomato ketchup

¼

tsp

black pepper powder

1

tbsp

corn flour

½

tsp

sugar
Instructions
Cut the gobi (cauliflower) into medium-sized florets. Wash 400 gm cauliflower florets with clean water.

Boil 4 cups of water in a pot. Once the water starts to boil, add 1 tsp salt. Add gobhi florets to boiling water and blanch them for 4-5 min.

Drain the water and spread the florets on a plate. Pat them dry with kitchen paper towels.

In a mixing bowl, add 5 tbsp all-purpose flour, 5 tbsp corn flour, and 1 tsp kashmiri red chili powder. Then, add ¼ tsp black pepper powder, ½ tsp salt and ½ cup water. Whisk everything well together and make a smooth, lump-free batter.

Heat enough oil in a kadai for deep-frying on medium heat.

Add all the florets to the batter and coat them completely with batter.

Gently drop the batter-coated florets in hot oil. Fry them for 3-4 min flipping them to cook them evenly. Re-fry them a second time for 3 min until they turn golden in color to make them crispier.

Put fried florets on a kitchen paper towel to drain excess oil.

Heat 2 tbsp oil in a kadai on medium heat. Add chopped onions, ginger, garlic, and green chilies. Stir well and fry for 2 min.

Add finely chopped capsicum and fry for 1 min.

Then add 1 tbsp soy sauce, 1 tbsp red chili powder, and 1 tbsp red chili sauce. After that, add 2 tbsp tomato ketchup, 1 tbsp vinegar, and ¼ tsp black pepper powder. Mix well and stir-fry for 2 min.

Add 2 tbsp water and mix everything well. In small bowl, add 1 tbsp cornflour and 1 tbsp water. Mix well to make cornflour slurry.

Now add the cornflour slurry and ½ tsp sugar to the kadai. Mix well, and cook for 1 minute. Add the fried cauliflower florets to the sauce and mix well.

Add the chopped green onions and give it a good mix. Make sure the florets are well coated with sauce.

Serve hot as an appetizer or as a side dish with paneer fried rice, veg fried rice, or veg hakka noodles.
Notes
You can add other veggies like red, yellow capsicum, and celery.
Cut the gobi (cauliflower) into medium-sized florets. Avoid cutting them into too small or too large florets.
Adjust spices as per your taste.
Do not overcrowd the pan while frying the florets. Fry them in batches so they cook evenly.
Do not make the batter too thin or too thick. The batter should be medium thick. Keep adding water little by little to get the desired consistency.
Kashmiri red chili powder is not really spicy and gives a nice red color to the batter. You can add normal red chili powder as per your needs if you want the manchurian to be more spicy.
Subscribe with us to get delicious recipes directly to your inbox: