Punjabi aloo paratha recipe | Dhaba style Punjabi aalu ka paratha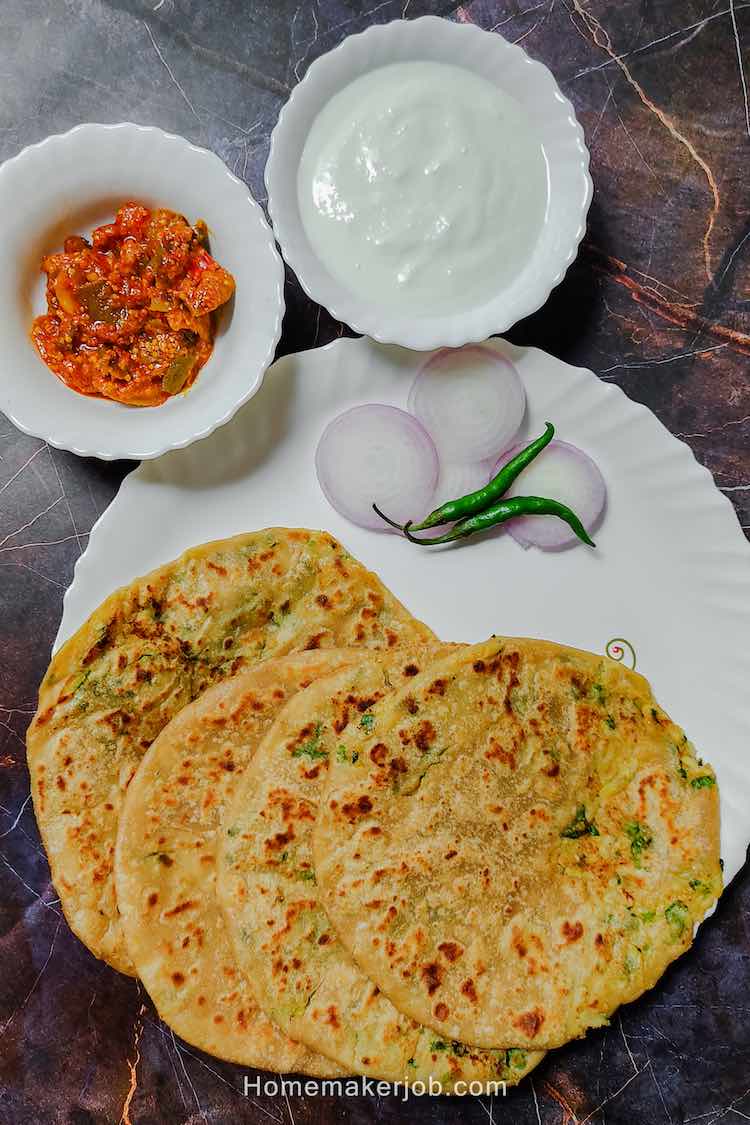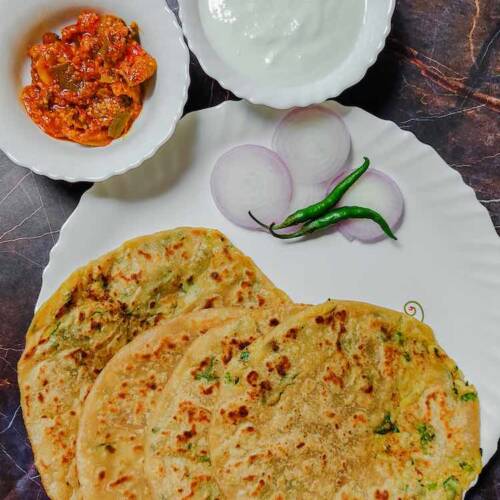 Punjabi Aloo Paratha
Punjabi aloo paratha is stuffed bread, a popular North Indian breakfast recipe. Stuffing is made with mashed boiled potatoes and different spices. There are also some different parathas with different stuffings, but the aloo paratha is popular among those. Try this easy recipe for aloo paratha at home and share your experience.
Ingredients
To make dough
2

cup

wheat flour

½

tsp

salt

1

tbsp

ghee

(clarified butter)

½

tsp

oil

water
For stuffing
500

gm or 4 potatoes boiled

½

tsp

mango powder

½

tsp

cumin powder

½

tsp

red chili powder

1

tsp

coriander powder

2

green chilies chopped

1

tsp

ginger chopped

½

tsp

salt

2

tsp

coriander leaves
Instructions
Place 2 cups wheat flour in a large mixing bowl. Add ½ tsp salt, 1 tbsp ghee, and start adding water to make a dough. Knead well and make a soft dough. Apply ½ tsp oil to the dough and keep it aside.

Boil 4 potatoes for 20 minutes in a pot and set aside to cool.

Grate the boiled potatoes with a grater. Using your hands, mash the grated potatoes.

In the mashed potatoes, add ½ tsp mango powder, ½ tsp cumin powder, ½ tsp red chili powder, and 1 tsp coriander powder. Then add 2 chopped green chilies, 1 tsp chopped ginger, ½ tsp salt and 2 tbsp chopped coriander leaves.

Mix all the spices and mashed potatoes well.

Knead the dough well again for 5 min. and make it soft.

Make small equal balls of the dough. Also, make small balls of potato mixture for stuffing.

Sprinkle some dry flour on a rolling board. Roll the dough ball using the rolling pin and make 5-6 inch diameter circle sheet.

Put the stuffed mixture ball in the center of the circle sheet. Now, bring their edges together and seal them properly.

Gently press the stuffed ball. Use the rolling pin and roll it into a 7-8 inch diameter circle. Sprinkle some flour if needed.

Preheat a tawa or griddle over medium high heat.

Once the tawa is hot, place the paratha on it. Once the paratha is partially cooked, flip it to the other side. Spread some ghee on the cooked side. Repeat the same process for the other side.

Roast each side of paratha for 5-6 min or till they turn golden brown. Prepare the remaining aloo parathas in the same manner.

Serve the hot aloo paratha with curd and pickle.
Notes
Apply some ghee to your hands while kneading the dough. It will make the dough softer.
You can add some veggies of your choice to the potato stuffing.
Don't put more stuffing than needed. The paratha may tear while rolling because of over-stuffing.
If you are mashing potatoes with a potato masher or by hand, make sure there are no lumps in the mashed potatoes.
Subscribe with us to get delicious recipes directly to your inbox: