Chocolate milkshake recipe with chocolate syrup and ice cream
Chocolate milkshake is a super delicious and loved by many around the world. This recipe needs very few ingredients and takes very little time to make. This milkshake is popular among all age groups. Chocolate sauce, milk, vanilla ice cream, and the other ingredients get blended together.
This gives milkshake a thick and creamy texture. Sugar and chocolate give it a perfect sweet taste. Use the best-quality chocolate sauce and syrup for a rich taste. Add a scoop of chocolate ice cream over the chocolate milkshake; it enhances the taste and experience.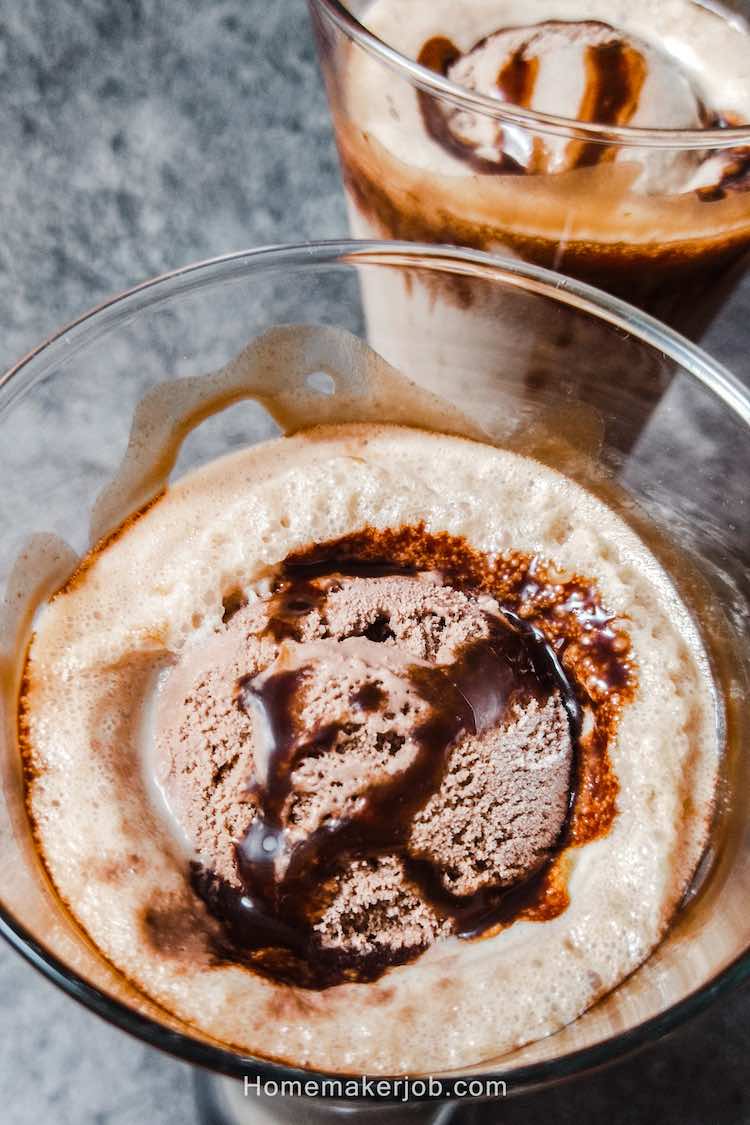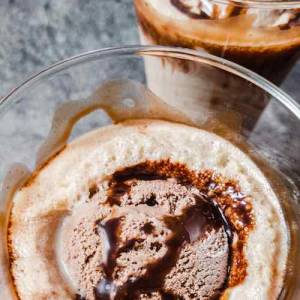 Homemade chocolate milkshake recipe with vanilla ice cream
Chocolate milkshake is a very popular around the world. Not only kids, but adults also love this super easy-to-make milkshake. It is thick and creamy in texture. Follow my recipe step-by-step to make this amazing milkshake at home.
Ingredients
500

ml

milk

(chilled)

2

tbsp

sugar

3

tbsp

chocolate sauce

2

scoops of vanilla ice cream

2

scoops of chocolate ice cream

(for garnish, optional)

Chocolate syrup

(for garnish, optional)
Instructions
In a blender jar, add 2 tbsp sugar, 3 tbsp chocolate sauce, 2 scoops of vanilla ice cream, and 500 ml chilled milk.

Cover the lid and blend until smooth.

Garnish the sides of the serving glass with chocolate syrup.

Pour the ready chocolate milkshake into the serving glasses.

Add scoop of chocolate ice cream in each glass, and add chocolate syrup on top of the chocolate ice cream. Serve chilled.
Notes
Adjust the sugar level as per your taste.
To make the chocolate sauce, add water to a pot and bring it to a simmer. Add 50 g dark chocolate in a big bowl and add 3 tbsp warm milk to it. Place the bowl on top of the pot. The bottom part of the bowl must not touch the water at all during this process. Chocolate will start to melt; stir it gently. Remove the bowl once the whole chocolate is melted.
If you are using a smaller bowl to melt the chocolate, hold it over a pot until the chocolate melts completely.
Add more sauce if you want milkshake more chocolaty.
Subscribe with us to get delicious recipes directly to your inbox: