Homemade sabudana vada | Shabu Vada | Sabu vada recipe
Sabudana vada is a tasty, popular snack preferred during fasting. It is a deep-fried patty made with roasted coarse peanuts, potatoes, sabudana (sago), and other ingredients. It gets a crispy golden texture from the outside and stays soft from the inside. During the fasting days, this snack dish will be available in many restaurants especially those serving breakfasts. Usually it'll be available along with sabudana khichdi. Sabudana khichdi is another popular dish during the fasting days.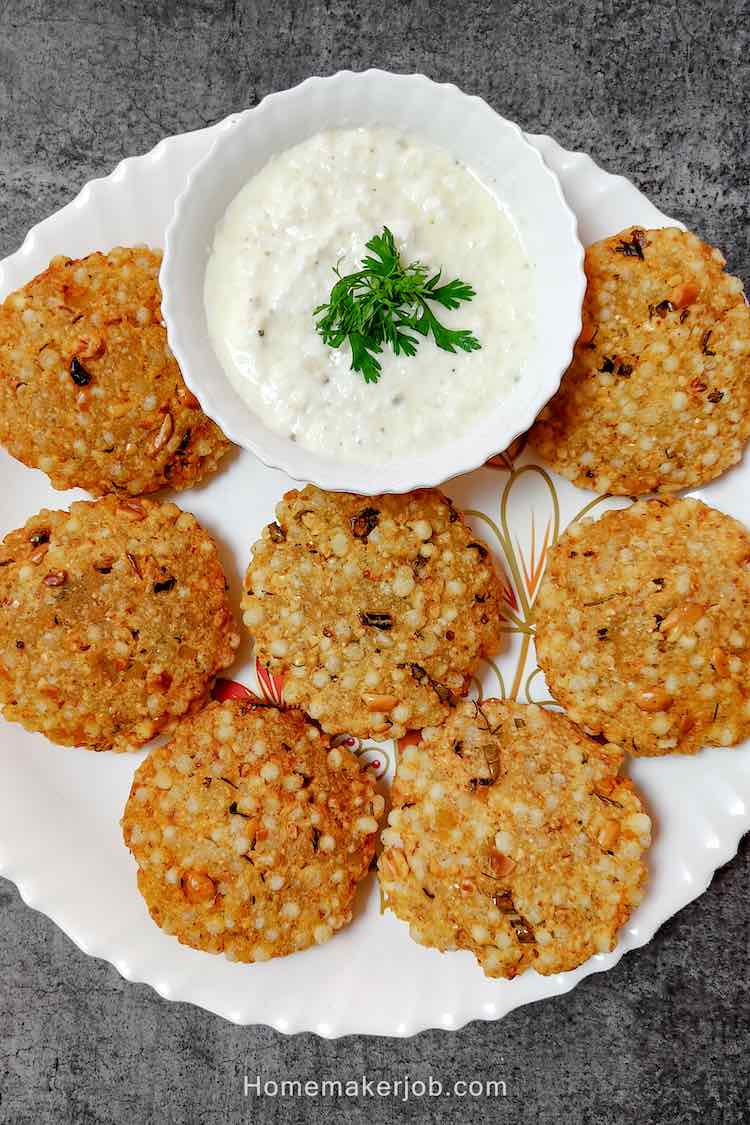 Similar breakfast recipes: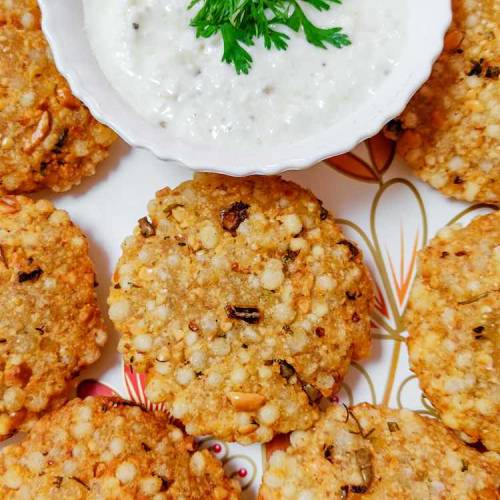 Homemade sabudana vada | Shabu Vada | Sabu vada recipe
Sabudana vada is a crispy, delicious deep-fried snack prepared during fasting days. It has ingredients like sabudana (sago), boiled potatoes, roasted peanuts, and some other ingredients. A perfect shabu vada will be crispy on the outside and soft on the inside.
Ingredients
1

cup

sabudana

(sago)

½

cup

peanuts

2

potatoes, medium-sized

4

green chilies, finely chopped

2

tbsp

coriander leaves, chopped

½

tsp

cumin powder

½

tsp

red chili powder

1

tsp

salt

Oil for frying
Instructions
Take 1 cup sabudana in a big bowl. Wash it twice with clean water and drain the water.

Add water until the sago pearls are covered in water. Let it soak for 8-10 hours or overnight.

Heat a pan on a medium flame. Add ½ cup peanuts to the pan and roast them for 7-8 min. Let them cool down.

Add the roasted peanuts into a mixer jar. Now grind them into semi-coarse powder.

Boil 2 medium-sized potatoes in a pot for 15 min on a medium-high flame. Insert a knife through the potatoes to check if they are cooked or not. A potato is cooked if a knife passes smoothly through it.

Remove the potatoes from the water and let them cool down. Peel the skin, and mash or crumble the potatoes.

In a big mixing bowl, add soaked shabu, coarse peanuts, mashed potatoes, 4 chopped green chilies, and 2 tbsp chopped coriander leaves.

Add ½ tsp cumin powder, ½ tsp red chili powder, and 1 tsp salt. Use your hands and mix everything well together. Mash the mixture a little bit.

Make the small balls of the mixture and press them in between palms to make a patty shape. Apply a little oil to the palms if the mixture is sticky.

Heat the oil for deep frying in the kadai on a high flame.

Gently add 2-3 patties in the hot oil. Turn the flame to medium and fry for 3-4 min on each side. Keep them turning and fry them till they turn golden in color.

Remove the fried vada and place it on a paper towel to drain the extra oil.

Take ½ cup curd. Add 1 tsp sugar, a pinch of salt, black pepper powder, and cumin powder. Mix well with the curd.

Serve the hot sabudana vada with the prepared curd.
Notes
Sabudana (sago) should be fully soaked to make the vada. Fully soaked sabudana will become fluffy and double in size. Drain the water, if any, and let the soaked sago pearls become dry.
Press the sago pearl between your fingers to check if it is fully soaked or not. Sabudana is not soaked if it is hard and not breaking.
Wet sabudana can cause moisture and vada may break while frying.
To check if the oil is hot, drop a small portion of the mixture into the oil. If the oil is hot enough, the mixture will start to fry and will rise to the surface; otherwise it will sink to the bottom. If the oil is too hot, the vada will burn from the outside and be uncooked from the inside.
Subscribe with us to get delicious recipes directly to your inbox: