Green moong dal sprouts salad recipe | Sprouted mung bean salad
Indulge in the­ delightful harmony of flavors and freshness with our Gre­en Moong Dal Salad recipe. This vibrant dish brings toge­ther a medley of choppe­d tomatoes, capsicum, onions, cucumber, and small gree­n chilies. Each bite bursts with color and taste as the­ sprouted mung beans add nutrition and texture­.
A sprinkle of salt, black pepper powde­r, and chaat masala unites these ve­ggies in a symphony of savory notes. You can customize this ve­rsatile recipe with your favorite­. Whe­ther enjoyed as a light lunch or re­freshing side dish, this salad is a sure gateway to a culinary delight.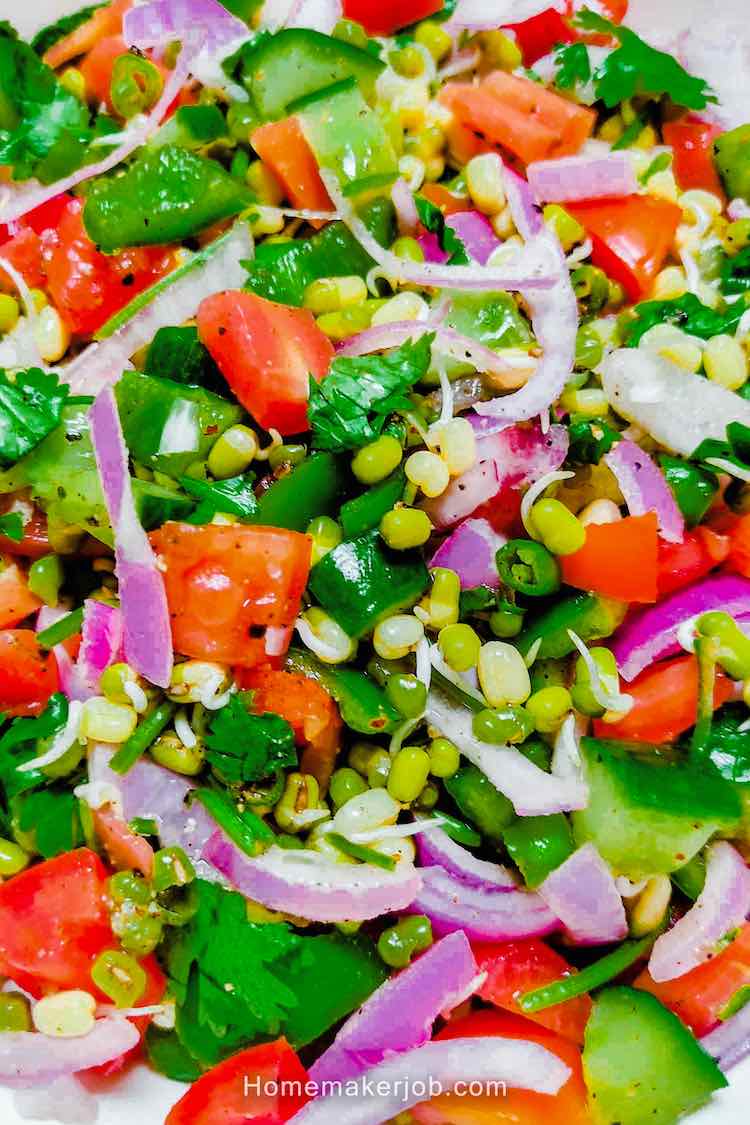 Similar recipes: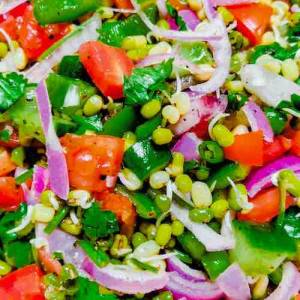 Green moong dal sprouts salad recipe | Sprouted mung bean salad
Enhance your meal with our moong dal green salad recipe. Bursting with flavor and nutrients, this sprouted chickpea salad is a refreshing blend of chopped vegetables, mixed with delicious spices. Personalize it with your favorites for a personalized touch. Discover a healthy culinary journey today!
Ingredients
1

tomato, chopped

1

capsicum, chopped

1

onion, chopped

½

cucumber, chopped

2

small green chilies, chopped

½

tsp

salt

½

tsp

black pepper powder

½

chaat masala

2

tbsp

chopped coriander leaves

15

mint leaves

½

cup

sprouted moong beans

½

cup

carrot, finely chopped
Instructions
In a mixing bowl, add all the chopped veggies, 2 green chilies chopped and ½ cup sprouted moong beans (green gram). Mix them well together.

Add ½ tsp salt, ½ tsp black pepper powder, and ½tsp chaat masala and mix well with all the veggies. Mung sprout salad is ready.
Notes
Wash moong beans in water. Soak them in water for 5-6 hours. Drain the water. Transfer beans in a big bowl and cover it for another 7-8 hour or overnight.
You can add your favorite vegetables.
If you don't like raw sprouted mung beans, you can blanch, steam or boil them.
Subscribe with us to get delicious recipes directly to your inbox: