How to cook sautéed green beans with garlic | Green Bean Sauté Recipe
Sautéed Green Beans is one of the easiest and quickest dishes to make. This recipe uses very few ingredients, and its taste makes it a perfect side dish. Garlic and butter enhance its taste. Try this delicious yet healthy recipe at home.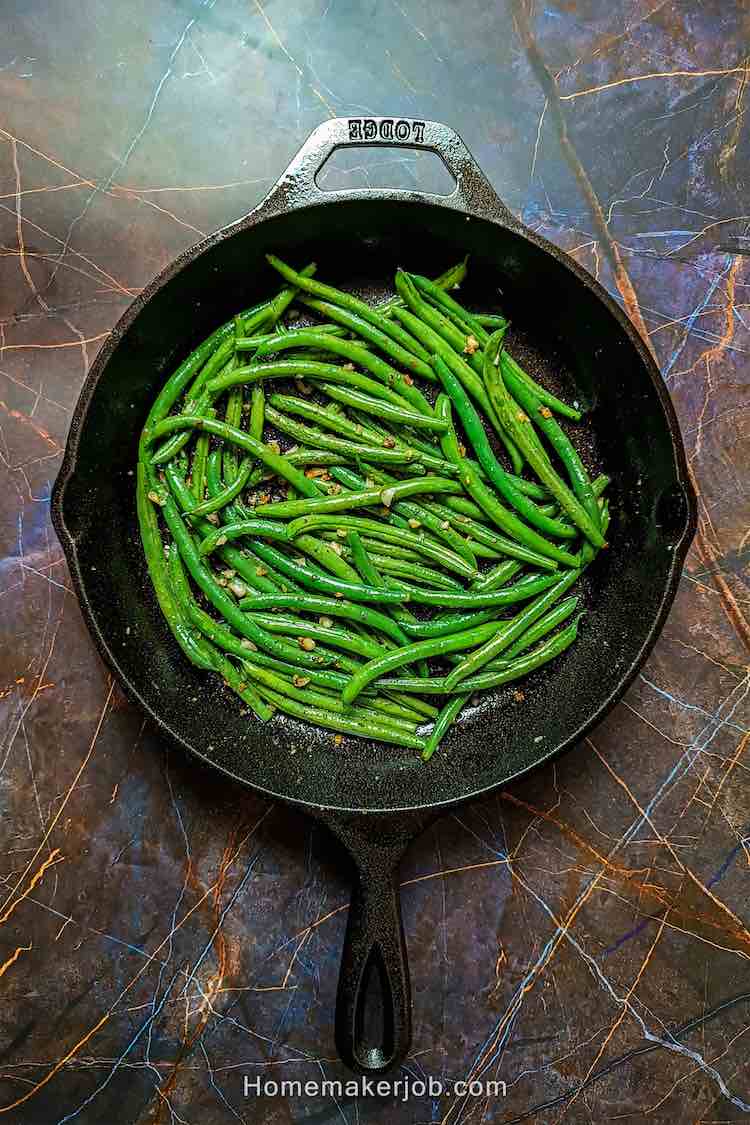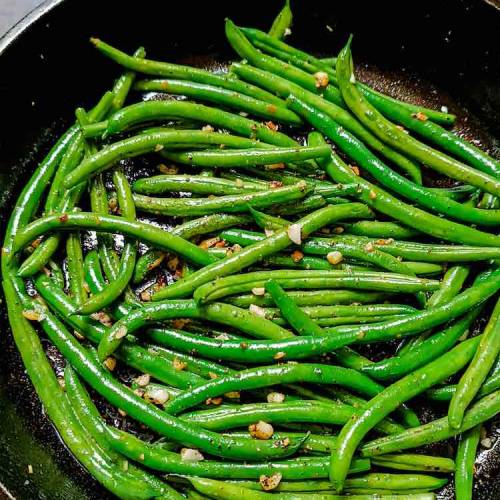 Garlic Sauteed Green Beans Recipe
Ingredients
200

gm

green beans

1

tbsp

oil

1

tbsp

butter

1

tbsp

garlic, crushed

1

tsp

black pepper powder

1¼

tsp

salt

1

tbsp

lime juice
Instructions
Wash the beans well with fresh water. Pat them dry with a paper towel and trim their ends.

Add 3 cups water to a pot and keep it to boil on a medium flame.

Add the green beans in the boiling water. Add 1 tsp salt and let them cook for 3-4 min. Use a colander and drain the water.

Transfer the green beans to ice-cold water and let them cool down.

Heat 1 tbsp olive oil and 1 tbsp butter in a skillet on a medium flame.

Once the butter melts, add 1 tbsp crushed garlic and fry till it turns a little brownish.

Add the beans and mix them well. Fry them for 2 min. Add 1 tsp black pepper powder, ¼ tsp salt and mix well. Cook for another 1 min.

Transfer the beans to a bowl, add 1 tbsp lemon juice, and toss well. Serve them warm.
Notes
Trim the ends of the beans before you cook them. To do this faster, hold them in a bunch and line them up so that all the stems are together. Use a knife or kitchen scissors to cut their ends.
Don't cook the beans for longer than needed.
If you want, you can skip the blanching step. Blanching the beans helps to retain the color
Add more butter or garlic if you like. If you prefer, you can only use olive oil to cook the beans and not add the butter. However, butter enhances its taste.
Subscribe with us to get delicious recipes directly to your inbox: