Homemade butter garlic mashed potatoes recipe with heavy cream and milk
Mashed potatoes are one of the most popular dishes made during the holiday season. This dish is super easy to make and uses very few ingredients. It has a very smooth, fluffy, and creamy texture. This but-tery mashed potato dish is extremely delicious. This dish is mostly served as a side dish and goes really well with everything.
Yukon gold or russet potatoes are normally recommended. If those are not available, you can make the dish with any other type of potato. Just use the ones with more starch. Starchy potatoes help to make the dish fluffy, creamy, and smooth.
Try my step-by-step recipe to make this extremely delicious comfort food at home.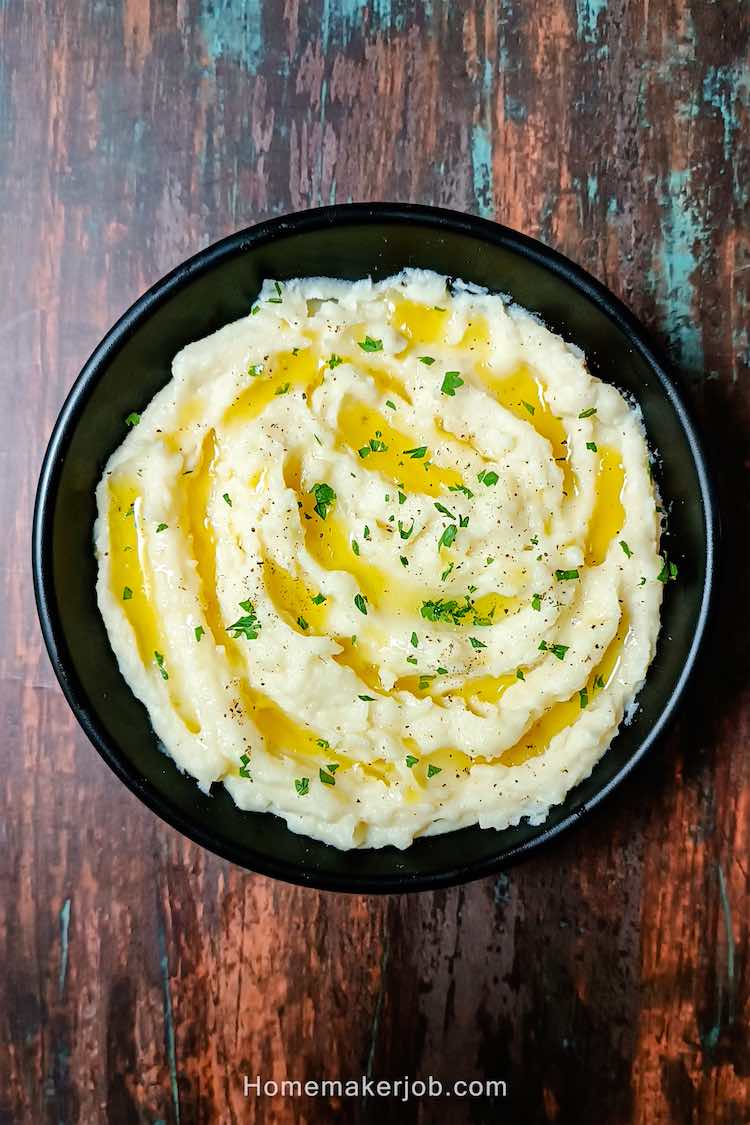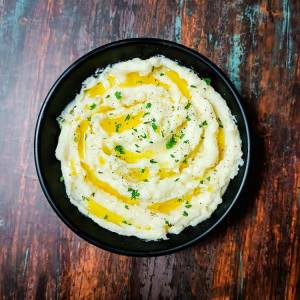 Garlic Mashed Potatoes Recipe with Heavy Cream
Mashed potatoes are one of the most popular holiday side dishes. This buttery and creamy recipe tastes delicious. This is a very easy recipe to make, mainly prepared during Thanksgiving and Christmas.
Ingredients
400

gm potatoes

3

garlic cloves

6

tbsp

butter

½

cup

milk

¼

tsp

white pepper powder

¼

tsp

salt
For garnishing
1

pinch

black pepper powder

¼

tsp

parsley finely, chopped
Instructions
Wash and clean 400 gm of potatoes with fresh water. Remove their skin and cut them into square-shaped pieces.

Boil enough water in a pot to cook potatoes. Add the chopped potato pieces and 3 crushed garlic cloves. Make sure the water line is an inch above the chopped pieces.

For the first 5 min, boil on a medium-high flame, then turn the flame to low and boil for 15-20 min.

Use a colander and drain the water. Put the potatoes and garlic cloves back in the pot in which they were boiled. Mash them using a masher or a ricer. You need something that can mash well. Mash the potatoes till they turn smoother.

While mashing, keep adding 6 tbsp butter and ½ cup warm milk. Combine well.

Also add ¼ tsp salt and ¼ tsp white pepper powder while mashing. Mix well. Make sure there are no big lumps left in the pot.

Transfer the potatoes to a serving bowl. Garnish with a pinch of black pepper powder, chopped parsley, and melted butter.
Notes
You can use a potato ricer, masher, or even a thick, big wooden spoon for the purpose of mashing.
Don't mash for too long; otherwise, your dish will turn gluey.
You can use salted or unsalted butter for this recipe.
Subscribe with us to get delicious recipes directly to your inbox: